Best Boxing Gifts – 15 Amazing Gifts for Boxers & Boxing Fans
Looking for boxing gifts and ideas? Look no further! Everybody is looking for those Birthday, Easter, Christmas, and Thanksgiving gifts! Sometimes the problem isn't finding the gift, it's finding the right one. This can be hard enough with any person, but finding the right boxing gift ideas can be even harder! Whether you want ideas for a boxer, a fan or enthusiast, or even a coach/instructor, we have a gift for everybody!
15 Best Boxing gifts for any boxer or fan
Best Tshirt
This Right Hook - Loading Please Wait t-shirt is a fun apparel for boxing aficionados. Available in solid colors and can be machine washed. Makes a great gift for any boxer.
T-shirts are more often than not a safe bet for pretty much anyone. Particularly a fighter! And this fun red hook boxing t-shirt is the perfect example of why. Sure to gain some laughs as well as respect, this shirt is a cut above the rest in its simple design that speaks loud and clear! Available in a few different color options and tons of sizing, this tee is perfect for any boxer or any skill level.
You may also be interested to read: 21 Best Boxing T-Shirts
---
Best Wearable
2. Punch Tracking Sensor (Hykso tracker)
The Hykso Punch Trackers assist in monitoring punch output in real time, while also helping you analyze and break down your combos.
Fighters will be able to monitor speed and intensity during each training or sparring session and compare data to better monitor their progress.
The Hykso Punch Tracker includes capabilities such as Punch Speed, Punch Count and Intensity score.
A punch tracker helps in measurement and improvement, thus making it a perfect boxing gift and equipment, regardless of boxing skill level. If the Hykso punch tracker is too expensive, check out other boxing tracking options here
---
Top Pick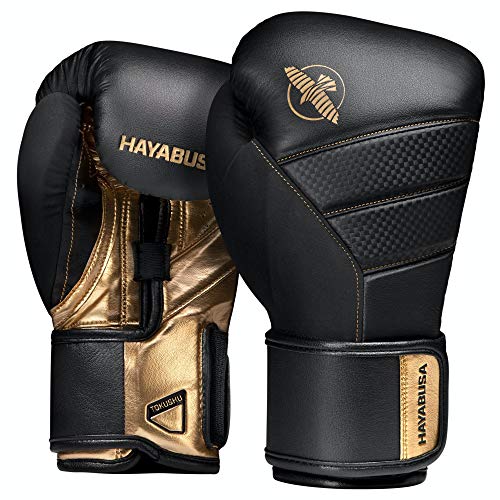 3. High Quality Boxing Gloves (Hayabusa)
Everybody who boxes needs gloves. A good pair of high-quality gloves is always a good gift to any boxer so you can't go wrong buying them a lovely new pair (a boxer can never have enough of good gloves). The
Hayabusa T3
is a good looking versatile pair of gloves but if you want to check more options, have a look at our Top 10 Boxing Gloves list. The Winning and Cleto Reyes gloves may be a good option for your loved one.
---
4. Tabletop stress buster (Mini punching bag)
RELIEVE STRESS FROM YOUR DESK The mini punching bag desk toy can attach to any surface to give you instant stress relief right at your fingertips, perfect as stress relief office funny gifts for coworkers, and great gag gift idea for those men women who have everything.
---
Jumbo gloves are the perfect gift for the boxer or child of a boxer in your life. Measuring about 2 ft. in diameter, they are a super fun option for some live-action boxing fun in the home. These novelty gloves allow for safe bouts with all the fun fighting benefits while ensuring to get a laugh out of anyone who chooses to put them on. Different brands now have jumbo boxing gloves; Title and Revgear are the popular ones.
---
6. Protective headgear (Venum)
For added protection, choose the Venum elite iron headgear, it is reinforced with a high-density foam. The elite iron headgear has been specially designed to ensure a proper fit. It consists of tightening laces on top and Velcro tightening at the back for a perfect fit. Comfortable, lightweight, strong and efficient: the elite iron headgear is the best headgear offered by the brand. The high-density foam for optimum shock absorption
Check our Top 10 Boxing Headgear list if you don't love the Venom
---
Best poster
7. Motivational Boxing Poster
Muhammad Ali Motivational Boxing Poster for decorations and classroom learning
✅ Poster Measures 18 Inches By 12 Inches
✅ Positive Motivational Inspirational Decorations for Library, Classroom, Gym, or Office
✅ Proudly Made in the USA | Family-Owned and Operated Business
---
8. Protective mouth guard (Shock Doctor
The Shock Doctor Pro Mouth Guard is great protective gear for all boxers and boxing aficionados. When buying a gift for somebody new to the sport, protective equipment should be the first item on your list. A gum shield or mouth guard might not be the most fun gift but is definitely the most useful
---
Best for Beginners
9. Boxing Heavy Bag (Fitven)
Training equipment is something we all want to have. The main reasons we don't are usually space and the cost of the equipment. Maybe you know a boxing lover that doesn't have a space issue or even a coach with their gym. The free standing punching bag is a great gift for boxers of all expert levels.
Pros:
Durable and reliable

Profession protection

Silencing layer provides silent workouts

Works for everyone above 7 years
Cons:
Fill with sand for for stability
---
10. American Fist Reflex Ball
If you're following boxing, you would have seen viral videos of professional fighters training with reflex balls, a.k.a tennis ball technique. Trust me, it's not as easy as the experts make it look but it's definitely as fun and super satisfying once you start getting better and better at it. This set has 4 Difficulty Level Training Balls On String, Punching Fight React Head Ball with Headband - a perfect boxing gift for Adults and Kids to improve their hand eye reaction and coordination
---
11. Boxing Jewelry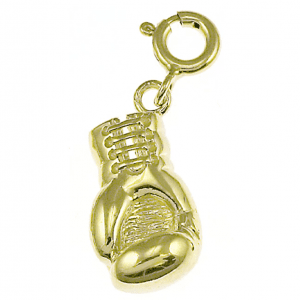 Jewelry is always a great gift! For those who like to wear it and love boxing, there's a variety of chains and pendants available. This particular pendant stood out to me, made with 14k gold.
It may be one of the more expensive ones, but the design sets it off. So if you know somebody that likes flashy gloves and jewelry, why not get them some 'glove bling'? Check Amazon now
---
12. Autographed Gloves & Trunks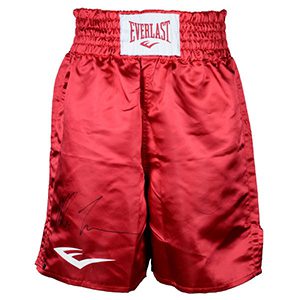 Maybe you need a special gift for your boxer boyfriend, brother, or whoever else you're buying for. Perhaps that person isn't into pictures, posters, and things like that. There are a lot of other signed memorabilia available for them though.
Gloves and trunks/shorts are two of the most popular. You can buy walkout robes, title belts, and even cereal boxes amongst other things. These gifts would be ideal for a collector, or any boxing fanatic.
The Sugar Ray shorts are on: fanatics.com
---
---
14. Miniature Boxing Gloves for Decoration
These mini boxing gloves are great inexpensive gifts that can be used for home decoration or as a souvenir for your family and friends
---
15. Movie Shorts, Robes & T-Shirts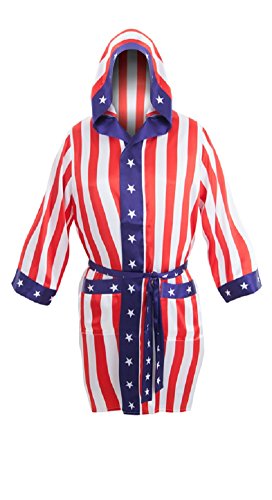 There's more than just regular clothing available for combat sports fans too. Take for example this Rocky robe. Fans of the movie will love wearing this while lounging around the house.
Take a look around on Gift Ideas in Men's Boxing Clothing on Amazon for a lot more movie-themed boxing items, like Rocky t-shirts, robes, shorts, and even Rocky's gold cuff-link necklace.
---
Recap of the Top 10 Boxing gifts
09/14/2022 12:32 pm GMT
We hope you enjoy these great gift ideas for boxers & boxing fans. Check back soon for more great reviews!
[signoff icon="comments"]Do you have any further ideas for boxing gifts? Please share in the comment section below![/signoff]