Best Rival Boxing Products: 2023 Review
When it comes to top-notch boxing gear and equipment, Rival stands out as a brand synonymous with excellence and innovation. With a strong commitment to quality craftsmanship, cutting-edge technology, and athlete-driven designs, Rival has earned its place as a trusted name in the world of combat sports. From gloves to protective gear and training equipment, Rival offers a diverse range of products tailored to meet the needs of both professional fighters and enthusiasts alike. In this comprehensive review, we'll explore some of the best Rival boxing products, showcasing their exceptional features and why they deserve a spot in every fighter's arsenal. Get ready to experience the winning edge with Rival's top-tier gear.
Summary
For your Hands
For your Head
For your Feet
For the Gym
Detailed Reviews of Best Rival Products
For Your Hands
Best Professional Sparring Gloves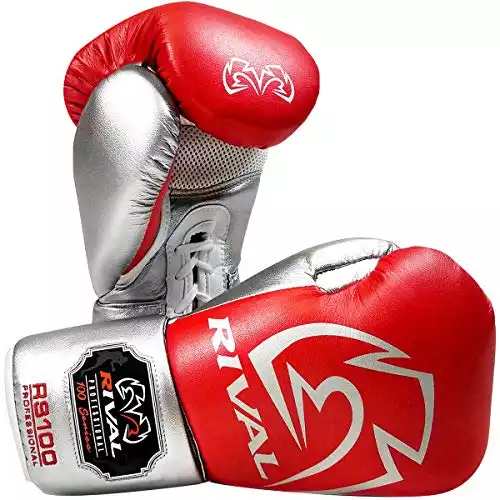 RIVAL RS100 Pro Sparring Boxing Gloves
Rival recently introduced their hot RS100-Professional Sparring Gloves. The Rival RS 100 gloves series is ergonomically designed using Rival's state-of-the-art "Ergonomic True Fist Construction" to be able to effortlessly fit any hand with the utmost ease, comfort, and sense of security.
Rival provides fighters with a unique layered foam padding to ensure the ultimate form of hand protection while still being able to send off some power into the body or face of your opponent. They additionally provide you with their highly regarded "Angled Lace Track" to provide your wrists with top-notch support and perfect comfort all around.
Not to mention the fact that these gloves are strikingly cool and come in several color options, with the Rival RS100 series, you will be more than happy with the investment you made with regards to these gloves.
Pros:
Premium Quality

Excellent Craftsmanship

Comfortable Padding
Cons:
Time-Consuming to Put On

Not Ideal for Quick Glove Changes

High initial Break-In Period
View Deal
Buy on Amazon
Best Super Bag Gloves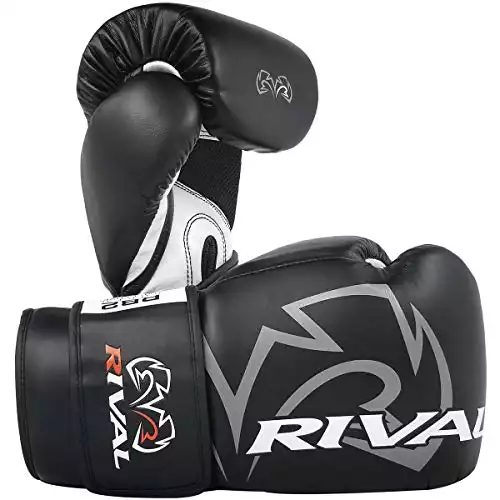 RIVAL Boxing RB2 2.0 Super Bag Gloves
This updated version of the Rival Super Bag Gloves is still a super-resistant, super-durable, and more than affordable bag glove. This is because it is made with a new, improved microfibre. Furthermore, the interior layered padding has been improved for increased comfort and security.
Along with Rival's Original Ergo Strap System, which gives your wrists more support, the hand compartment has been changed to make it easier to make a perfect fist.
The Rival Super Bag Glove, one of Rival's best bang-for-buck products, is still a fantastic option for superior performance and protection for everyone from beginners to pros.
Pros:
Comfortable and durable

Ideal for training purposes
View Deal
Buy on Amazon
Looking for other options or brands that can compete with these gloves? Here is a link to the review of the best boxing gloves: 2023
Best Boxing Hand Wraps
RIVAL Boxing RHWG Guerrero Elastic Handwraps, Available in 5 Sizes, Perfect Hybrid of Mexican
The Rival Guerrero Handwraps have taken the boxing hand wrap line to a new level. Rival Guerrero hand wraps are a perfect blend of Mexican and traditional cotton handwraps.
They have better tension and a thicker, more comfortable wrap, which makes them stronger, more comfortable, and safer. These incredibly robust wraps can be washed repeatedly without fear of deterioration. These wraps come in a range of colors and have a high-quality hook-and-loop closure for a snug fit.
Cons:
Might become loose after rough use
View Deal
Buy on Amazon
Best Traditional Cotton Handwraps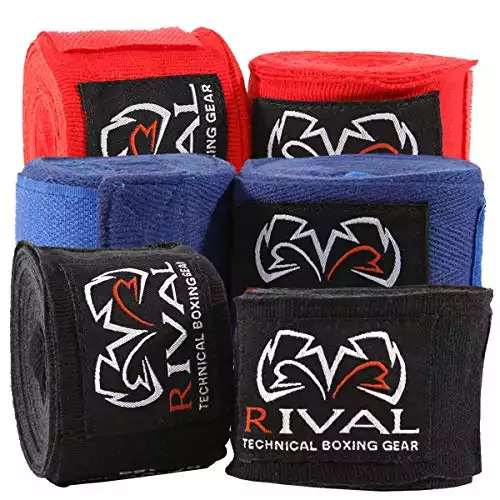 RIVAL Boxing Traditional Cotton Handwraps - 180 in. - Black
These traditional cotton hand wraps are reliable, light, and have a hook-and-loop closure that is even stronger than before. These handwraps are constructed of a thin, supple fabric that is easy to slip between your fingers for a perfect fit.
With a little stretch added, you can create a wrap that perfectly fits the shape of your hand. Cotton hand wraps are thinner than Mexican wraps, taking up less room in your glove while still providing the high level of protection you need.
Pros:
Comfortable on the hand

Very stretchable
View Deal
Buy on Amazon
For Your Head
Best Cheek Protector Headgear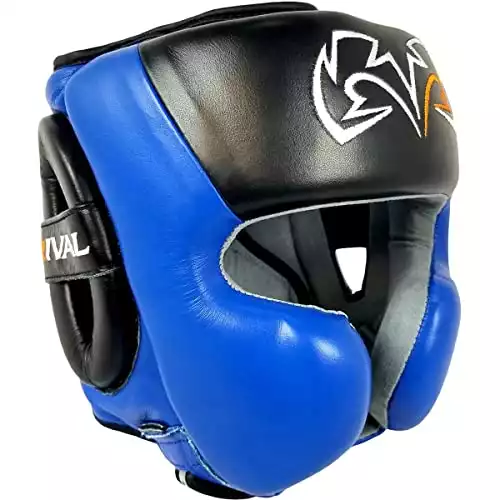 Rival Boxing RHG30 Mexican Style Cheek Protector Headgear - Medium - Black/Blue
This beautifully made headgear is meant to protect you as much as possible while getting in your way as little as possible. This headgear is made entirely of full grain leather and meets all USA Boxing manufacturing standards. It has protectors for the cheeks and four layers of laminated foam padding for the best shock absorption and resistance to impact.
This headgear has two hook-and-loop closures in the back, a top lace adjustment, and a super smooth roller buckle on the chin strap to ensure the ideal fit each and every time. You'll feel as though you're wearing nothing at all with this comfortable inner padding and light-weight headgear.
Pros:
Durable and sturdy

Good quality
View Deal
Buy on Amazon
Best Full Face Headgear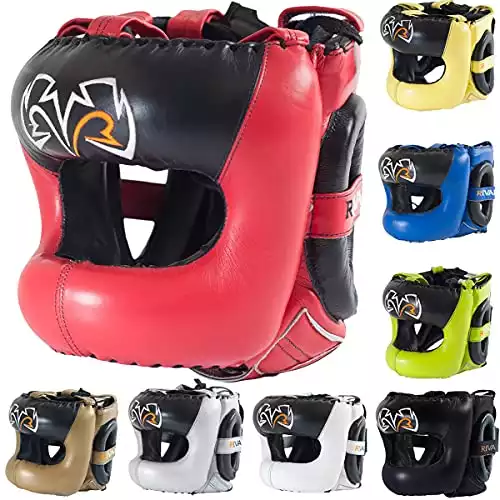 Rival Boxing Guerrero Facesaver Headgear - S/M - Red/Black
Even though it was made to withstand the intense sparring of professionals, this headgear is ideal for amateur or recreational boxers who want an extra layer of facial protection.
The Face-Saver provides a wide eye opening for the best forward and side vision. It has fully adjustable circular lace on the top and a bi-directional hook and loop attachment at the back. This headgear has a metal chin strap buckle and will last for many years in the workplace.
Pros:
Comfortable fit

Very protective
View Deal
Buy on Amazon
For Your Feet
Beste boksschoenen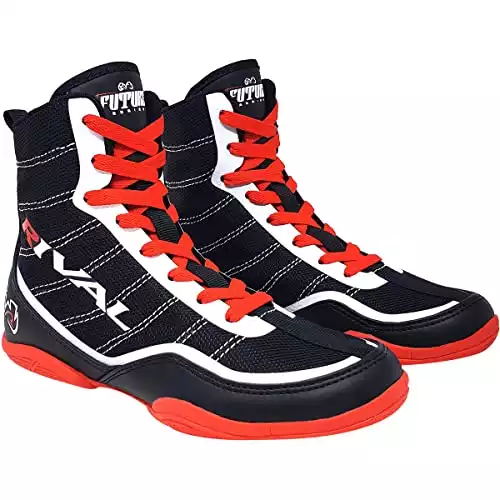 Rival Boxing RSX-Future Youth Lo-Top Shoes
The Rival Future Boxing Boots, which are geared toward young people, offer the ideal entry point for both seasoned young boxers who are already succeeding despite their age and young newcomers who are just starting their journey in the boxing world.
These boots have reinforced toe and heel caps for more stability and durability, and they are made of breathable mesh. The distinct rubber outsole provides the ideal grip for optimum control of your movements on the canvas, and the steel shaft insert offers the midsole unrivaled strength and performance.
Additionally, they are extremely stable and responsive due to their unique design and sit slightly higher on the ankle than a typical running shoe. These boots offer a cozy fit and a fashionable appearance that young boxers will adore.
Pros:
Reliable and long-lasting

Good for training purposes
Cons:
More on the expensive side
View Deal
Buy on Amazon
Looking for other options for boxing shoes? Here is a link to the review of the best boxing shoes: 2023
For The Gym
Best Fight Shorts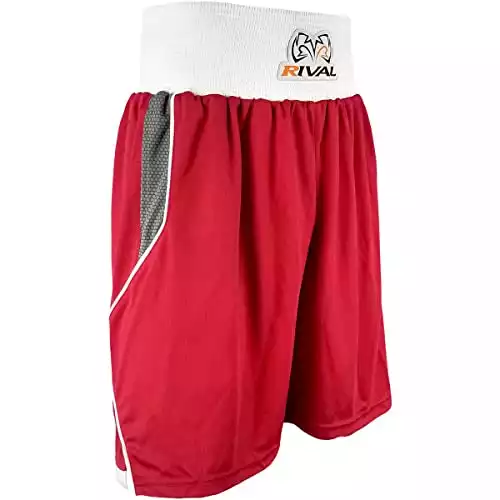 Rival Boxing Amateur Competition Boxing Trunks - XL - Red
The Rival Boxing Trunks are the ideal fusion of comfort, performance, and style. They are the ideal option for both training and competition, with a stylish twist. These trunks will provide you with the performance you want, whether you're working out in the gym or competing.
They're made of a super-breathable, quick-drying rice-knit fabric. These trunks are extremely light-weight and feature a 4-inch elastic waistband that is both fashionable and functional, as well as covert side pockets for your mouthpiece.
These trunks are made to be loose-fitting so that your professional groin guard can be worn with them without restricting your mobility or comfort. Originally, these trunks were made for amateur competitions, but they are also great for regular gym workouts.
Pros:
Good for beginners

Ideal for boxing
View Deal
Buy on Amazon
Best Jersey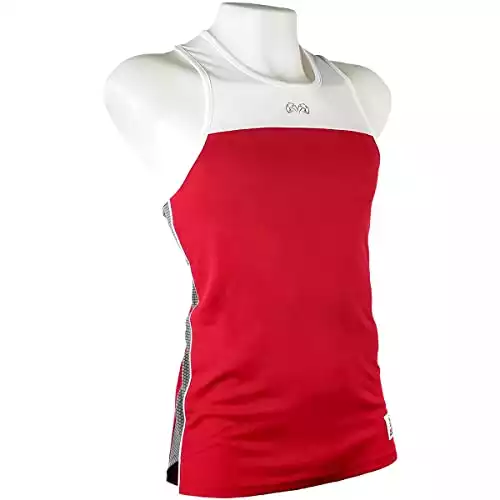 Rival Boxing Amateur Competition Tank Top Jersey - XL - Red
This jersey will provide you with the performance you need in the gym or during a fight because it is made of an incredibly breathable, fast-drying rice-knit fabric.
The ultra-lightweight design, ergonomically sound shoulder straps, and built-in racerback of this jersey offer the best fit and range of motion while giving you the most comfort.
This jersey is ideal for your regular gym workouts, even though it was originally made for amateur competitions. This jersey is the ideal option for everyone, from young people to professionals, because it perfectly balances comfort and style.
Pros:
Suitable for all weather conditions

Long-lasting and flexible
Cons:
Graphics might come off after a while
View Deal
Buy on Amazon
Punch Shield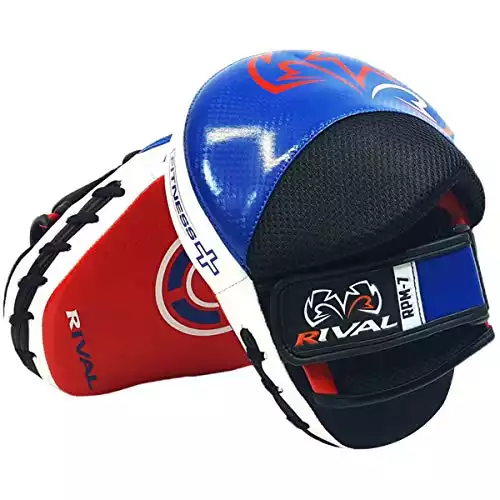 RIVAL Boxing RPM7 Fitness Plus Punch Mitts
The Rival Fitness Punch Mitts come at a suitable price and have a professional vibe. These punch mitts are made of extra-resistant Carbonium PU, and they provide the quality and versatility that fitness enthusiasts, amateur boxers, and trainers are looking for.
The Rival Fitness Punch Mitts are the ideal choice for anyone looking for high-quality mitts at a great price because they not only fit like professional mitts but are also very durable.
Pros:
Sturdy and long-lasting

Great quality
View Deal
Buy on Amazon
Best Punch Shield
RIVAL Boxing RPS7 Fitness Plus Punch Shield
Get ready to feel the power with the RIVAL Boxing RPS7 Fitness Plus Punch Shield! This punch shield is a fantastic addition to your fitness and workout routine, offering an unbeatable combination of firmness and comfort. Crafted from the extra-resistant Carbonium PU, the same material used in the RB7 Bag Glove and RPM7 Punch Mitt, this 7 Series Punch Shield promises outstanding durability and performance.
One of the standout features is the over 3" of layered foam padding on the punching surface. This exceptional shock-absorbing padding ensures a comfortable hitting experience while maintaining the shield's firmness for optimal resistance during workouts. The padded "easy-grip" handles provide added comfort, making it easy to hold and maneuver the shield during intense training sessions.
Measuring at a convenient 12.5" x 12.5" punching surface and boasting a thickness of 3.75", this punch shield is compact yet substantial enough to withstand powerful strikes. Whether you're a seasoned athlete or just starting your fitness journey, this punch shield will elevate your training and help you unleash your full potential. With the added printed Rival graphics, you'll be motivated to take your workouts to the next level. Lightweight, durable, and performance-driven, the RIVAL Boxing RPS7 Fitness Plus Punch Shield is a must-have gear for anyone looking to improve their boxing skills and overall fitness level.
Pros:
High-Quality Materials

Firm and Comfortable Hitting Surface

Easy-Grip Handles
Cons:
Heavier Weight

Limited Availability
View Deal
Buy on Amazon
About Rival
Rival Boxing Gear is a market leader that is owned by Canadians. It makes cutting-edge, stylish gear for boxers. Their product line was made with only the best materials after they did a lot of research and learned a lot about the industry.
Russ Anber, a veteran boxing trainer and cutman, started Rival in 2003. He wanted to change the industry by using the innovations and ideas he had come up with during his 25 years in the sport, including his 13 years of experience bringing foreign boxing brands to the Canadian market and selling them there.
Rival went into the U.S. market in September 2014 and opened an office in Las Vegas. Before that, it had built its reputation in Canada and moved beyond Montreal and Quebec. The opening of a second facility in the UK in July 2017 came after that.
The opening in Australia then came in July 2019. Every Rival office takes pride in having real boxers on staff, as well as people who Rival has known for a long time. Rival and every one of these individuals share a mutual belief in one another.
Summary
Sometimes all it takes to reinvent your training is a little physicality. Boxing and other fighting sports are great ways to get in shape because they include cardio, strength, and agility training all in one routine. But you need the correct equipment to hurl those high-intensity haymakers efficiently and safely. A good set of boxing gloves is one such essential piece of gear. These padded accessories come in different weights to give the most comfort and safety during practice and competition.
Also, gloves have changed along with combat sports. For example, Muay Thai, MMA, and other combat sports use different models and styles of gloves.This list is far from complete, as there are many other great boxing products out there. But even the most pompous among you will find that the top option we listed in each area will serve that function.
Rival uses high-quality materials and the latest technology to make a fit, comfort, and hand stability that can't be beat. When you add a great design, it will be hard to find better boxing products.
For your Hands
For your Head
For your Feet
For the Gym
Frequently Asked Questions
Who uses Rival boxing gloves?
Anthony Joshua is frequently seen using the Rival Guerrero Boxing Gloves. Anthony Joshua looks great wearing these boxers' gloves because this brand is well-known for them. The two kinds of foam that are incorporated into the leather are the keys.
Is Rival boxing gear good?
Rival manufactures high-quality boxing equipment, particularly premium bag gloves, sparring gloves, and head guards with distinctive designs.
Are cheap boxing gloves worth it?
Boxing gloves that seem suspiciously inexpensive are probably of poor quality and won't provide the support or durability you require, especially if you purchase them used or from an unknown online retailer. This can lead to injury, especially if you're just getting started and haven't honed your technique.
Should boxing gloves feel tight?
Boxing gloves should be snug enough to keep them in place and prevent movement, but not so snug that they restrict blood flow or squeeze the hand.