Best Venum Boxing and Fight Gear: 2023
The most important thing for everyone who is into combat sports is the products they use. Choosing the best products for you might be challenging because there are so many different brands available. Venum makes clothes and equipment for fighting sports like Brazilian jiu-jitsu, karate, mixed martial arts, and boxing. Some of the best boxing and fight gear is manufactured by Venum. Venum boxing gear is available in regions like Asia, America, and Europe.
The equipment line of Venum is produced in China and Thailand, while Venum's clothing items, such as rash guards, shorts, and t-shirts, are made in China and Brazil.
This article will look at the best Venum boxing and fight gear such as the most popular Venum boxing gloves (Elite series). We hope you will learn more about Venum products to help you make a better buying decision.
Summary
For your Hands
For your Head
For your Feet
For the Gym
Detailed Reviews of Venum Fight Products
Boxing Gloves
Boxing gloves are an essential piece of equipment for the sport of boxing. They protect the hands of the boxer from injury and also protect their opponents from being hit too hard. Boxing gloves are designed to absorb the impact of punches and distribute the force evenly across the surface of the glove. This helps to prevent injuries such as broken bones, cuts, and bruises. In addition to providing protection, boxing gloves also help to improve the performance of boxers by allowing them to punch harder and more accurately. Overall, the use of boxing gloves is crucial for the safety and effectiveness of the sport of boxing.
Venum boxing gloves are undoubtedly one of the most sought-after products among all Venum products and they are one of the best in the world. The Elite series of the Venum Boxing gloves has a massive fan following. You cannot go wrong with these gloves that we have reviewed below.
Beste bokshandschoenen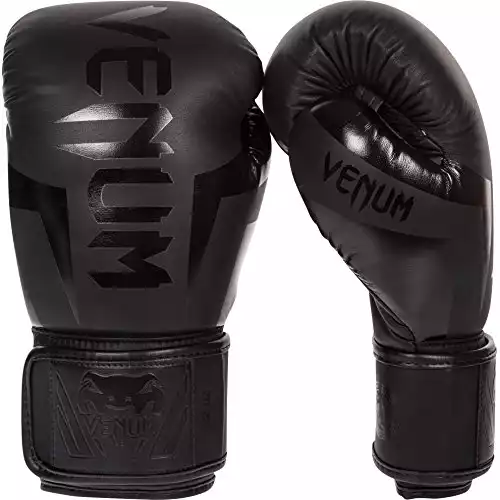 Venum Elite Boxing Gloves, Black, 16 oz
The Venum Elite boxing gloves are fully handmade using only semi-leather. They were created to provide you with the best possible fighting experience for the lowest possible cost.
The 3-density foam evenly distributes the shock, enhancing your fighting skills without placing undue strain on your arms anytime you make contact. No matter what level you are at, you will look great in these gloves with their distinctive design and colors.
Thanks to the mesh panels, reinforced seams, and ergonomic design, the glove will fit you well and make you feel like you are one with it. Each punch you throw with these gloves will guarantee that your opponent feels the superior force of your blows.
Pros:
Great for training

Provides great wrist support
Cons:
Difficulty in finding the accurate size
View Deal
Buy on Amazon
Looking for other options or brands that can compete with this Venum boxing gloves? Here is a link to the review of the best boxing gloves: 2023
Best MMA Gloves
Venum Challenger MMA Gloves, Black/Black, Medium
You will get MMA gloves of exceptional quality at a low cost with the Venum MMA gloves. The Venum MMA gloves were created using PU leather. They are ideal for both in-ring combat and training in the weight room.
The double-closure mechanism ensures excellent support and comfort and offers simple access and a precise fit. The risk of wrist damage is greatly reduced by the wide Velcro clasp.
Due to the high density foam, the Venum MMA gloves protect in a wide range of ways. For every hit that you make, the thumb and finger openings are reinforced in order to absorb every bit of shock.
Pros:
High density thread for needleworks

Layered foam for shock absorption and better protection
View Deal
Buy on Amazon
Looking for other options or brands that can compete with some of the best Venum products? Here is a link to the review of the beste MMA-handschoenen
Best Kids Gloves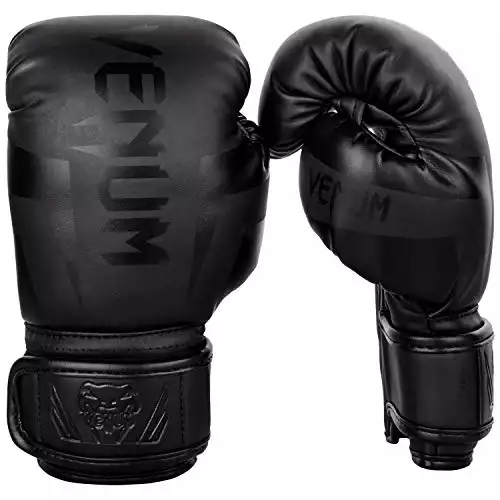 Venum Kids Elite Boxing Gloves, Matte/Black, Medium (6-8 Years)
Venum offers the precisely produced Venum Kids Elite boxing gloves because your budding champions deserve the greatest gear. The triple density foam in the Venum Elite boxing gloves for kids helps them absorb shock better than other gloves.
An ergonomic cut and a ventilation system make exercise quite comfortable. Future champions can fight like professionals thanks to these gloves' style and quality.
Pros:
Comfortable fit

Good quality and lightweight
Cons:
Might not be ideal for rough use
View Deal
Buy on Amazon
The Elite Venum boxing gloves for kids are one of the best in market without a doubt! But if you are looking for other options for beginners and not just kids, we have some great options for you in this post.
Hand Wraps
For support and protection during boxing practice and sparring, boxers wear hand wraps, which are thin strips of fabric wrapped around the wrist and hand. They are a necessary piece of gear for any boxer because they lower the possibility of hand injuries such as sprains, fractures, and dislocations. Additionally, hand wraps assist in stabilizing the hand and supporting the wrist, which can increase a boxer's punching accuracy and force. Hand wraps not only offer defense and support but also aid in sweat absorption and dryness, which can help a boxer maintain a better grip on the boxing gloves. Some boxers also use hand wraps to ensure a better fit if the gloves are slightly bigger for their hand size. Overall, the use of boxing hand wraps is essential for boxers' performance and safety. They are cheap and we highly recommending good hand wraps to enhance your boxing experience. The Gel Wraps is a very unique & best products among Venum fight gear.
Best Hand Wraps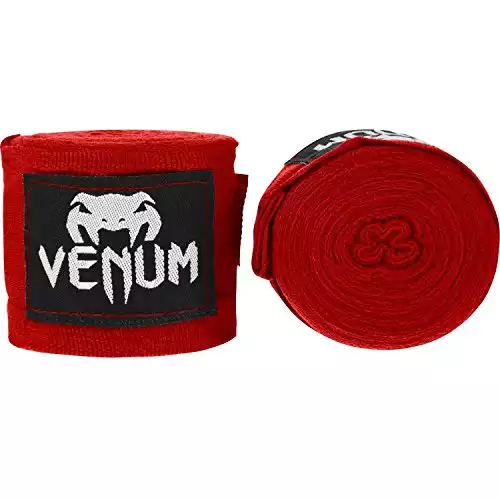 Venum Boxing Hand Wraps, Red, 4-Meter
Venum supplies the top MMA and boxing hand wraps in the world. The Venum Boxing Hand Wraps are a must-have for all strikers. They are made of elasticized cotton and offer support and protection of a high quality.
The ergonomic thumb strap makes things easier to do, and the hook-and-loop clasp on the handwraps keeps them in place. Using these hand wraps will not only keep your hands safe, but they will also prolong the life of your gloves by reducing the effects of perspiration on them.
View Deal
Buy on Amazon
Best Gel Hand Wraps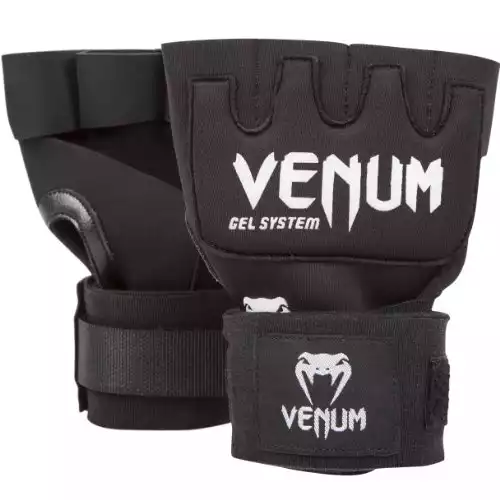 Venum "Kontact" Gel Glove Wraps, Black
You can mix flair and performance with the Venum Gel Hand Wraps. Because they are a more useful alternative and provide more protection than traditional wraps, the Venum Gel Hand Wraps are one of the best-selling products and are used and recommended by many fighters.
Their Gel Shock System protects your hands better than other gel gloves, and their broadband system makes sure they fit snugly around your wrist.
The bi-material neoprene structure and gum reinforcement in the thumb take the user experience to a whole new level. Be aware that these hand wraps can only be used for light workouts like wrestling or working on the speed bag.
Pros:
Comfortable fit

Lightweight
Cons:
More on the expensive side
View Deal
Buy on Amazon
Looking for other options or brands outside of Venum Fight Gear? Here is a link to the review of the best boxing hand wraps: 2023
Headgear
Boxers wear boxing headgear as an essential component of safety gear while practicing and sparring. Its main purpose is to shield the head and face from harm, including concussions, wounds, and bruising. Headgear also lessens the force of punches, which can help avoid permanent brain damage. Boxing headgear can enhance a boxer's performance in addition to protecting them by enhancing their vision and assisting them in focusing on their opponent. Overall, wearing boxing headgear is necessary for boxers' safety and wellbeing and is a crucial piece of their training gear.
Best Headgear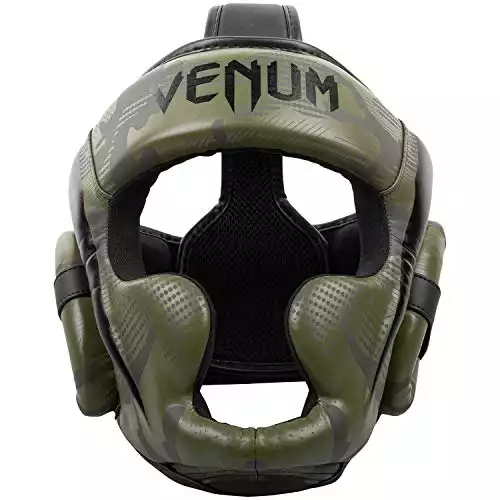 Venum Elite Headgear-Khaki/Camo - OneSize
Your head will be perfectly protected by the Venum Elite Headgear. The semi-leather used to make these headgears makes them comfortable to train in and gives the highest level of protection.
The Venum Elite Headgear is handcrafted in Thailand using the renowned Skintex leather for its durability. A triple-density foam is included in these headgears for improved shock absorption. The whole face is made so that the whole skull is protected and you can see in all directions.
Pros:
Comfortable and lightweight on the head

Great for head protection
View Deal
Buy on Amazon
If you are looking for more Headgear options, please check out our review for the best headgear across all brands
Boxing Shoes
Boxing shoes are a unique category of sports footwear created especially for boxing. They frequently have a low-cut style for optimal mobility and are constructed of breathable, light materials like genuine leather or synthetic leather. Boxing shoes may also feature additional support or padding in the ankle and heel area to prevent injuries. They also have a flat, non-slip sole for stability and traction in the boxing ring.
Regular shoes, on the other hand, are usually not optimized for athletic performance and are instead made for everyday usage. They might be constructed from heavier, more resilient fabrics like canvas or denim, and their soles might be higher profile or cushier for comfort. Regular shoes may not offer the same level of support, stability, or traction in the boxing ring as they are not made specifically with boxers' needs in mind. While Venum makes some of the best fight gear in terms of quality, these shoes also stand out for their design and looks.
Beste boksschoenen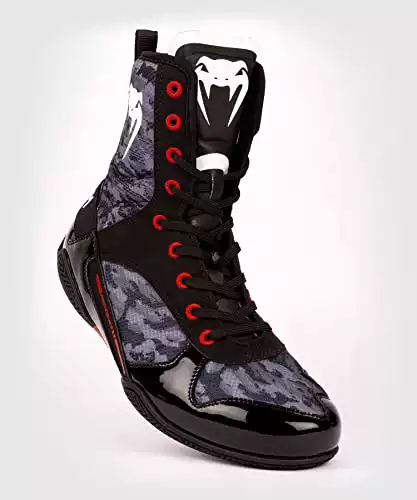 Venum mens Venum Elite Boxing Shoes, Dark Camo, 11.5 US
The front portion of the outsole of the Venum Elite Boxing shoes is incurved. Your ability to throw oneself forward is greatly improved by its contoured shape. The curve of these boxing shoes is crucial to your fighting stance, much to how running shoes help you improve your stride.
You'll be able to develop a fluid, aggressive boxing approach thanks to these shoes. Your range of motion will also be increased by the shoes' high degree of flexibility, and the omnidirectional grip will ensure safer and quicker footwork.
Pros:
Durable

Is ideal for boxing
Cons:
Might not be long lasting
View Deal
Buy on Amazon
Looking for other options or brands? Here is a link to the review of the best boxing shoes: 2023
Gym Bags
Every boxer needs 4-5 accessories that he or she needs to carry to the gym to have an effective training session. Training gear, such as gloves, hand wraps, headgear, shorts, mitts are basic necessities for any boxer. While these can be carried in a regular bag, organizing them in a gym bag built specifically for boxing will be a game changer. These bags often consist of strong materials like nylon or canvas and have multiple pockets or sections to keep things organized and handy. Boxing gym bags are a necessary piece of gear for any boxer since they give them a quick and safe way to transfer all of their equipment to and from the gym. These bags can also be helpful for a boxer to keep all of their equipment organized, reducing the risk of lost or damaged equipment. All things considered, a boxing gym bag is a very practical piece of gear for any boxer and is an integral element of any boxer's training regimen. This bag reviewed below is a great option to carry all of the other fantastic Venum Fight Gear you own!
Best Gym Bags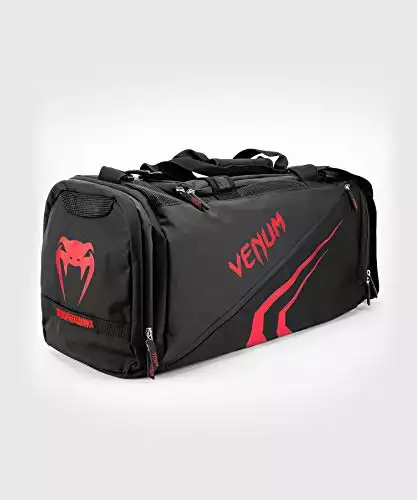 Venum Trainer Lite Evo Sports Bags - Black/Red
The Venum Lite Evo sports bag lets you store all of your equipment in one place. This vintage style features multiple-sized pockets on the side, center, and upper portions for flexible storage options, as well as a separate and vented area for dirty clothing storage.
It can be carried by hand, on the back, or even over the shoulder thanks to its many straps. It will help your equipment dry out faster after a workout because some of the upper parts are made of mesh. Like all other Venum models, this bag has a well-polished surface. You will have this bag with you for a long time.
Pros:
Spacious compartments

Reasonable price
Cons:
May not be ideal for wet items
View Deal
Buy on Amazon
Boxing Shirts
Boxing shirts are a specific kind of athletic garment made just for boxing. They are often constructed from breathable, light materials like polyester or nylon, and are designed with a loose, comfortable fit to promote complete range of motion. Additional features on boxing shirts can include moisture-wicking technology to help the wearer stay cool and dry as well as a longer length to help prevent accidental exposure in the ring.
Regular shirts, on the other hand, are made to be worn every day and are not usually optimized for athletic performance. They could be more structured or fitting, and they might be constructed of thicker, more enduring materials like cotton or denim. Regular shirts may not offer the same level of comfort or performance in the boxing ring as they are not made specifically with boxers' needs in mind.
Best Venum T-Shirt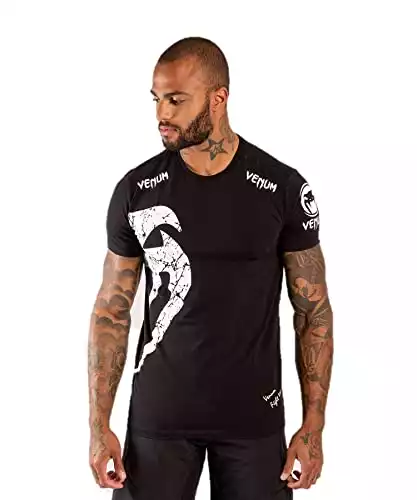 Venum mens Classic novelty t shirts, Black, Large US
The Venum Men's Classic t-shirt is a must-have for any fan of the brand. It is part of Venum's new line of basic goods. The cotton Venum Classic t-shirts will provide you with extraordinary comfort and lightness.
You have the best pricing when it comes to these t-shirts. Therefore, place your order for your men's wear right away. These t-shirts are a unique selection that are available for various sports activities. No matter the weather, the Venum Classic t-shirts will adapt to your needs and provide you with total control.
Pros:
Great wear for heavy training

Comfortable fit
Cons:
Might not be the best fabric
View Deal
Buy on Amazon
Best Jersey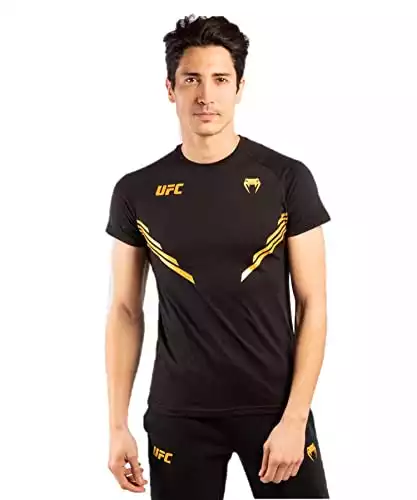 Venum Men's Standard UFC Replica Jersey, Black/Gold, Large
The third line of authentic products from Venum is the Replica series. The tight design and little stretch of the Venum Men's Replica Jersey provide a great fit. You can move about freely while wearing the jersey because it is so supple and soft.
For the ideal look, you can pair the Venom Replica Jersey with cotton shorts from the same line. The clothes that boxers wore on Fight Night gave these bright, strong clothes their style.
Pros:
Gives the best comfort while training

Durable
Cons:
May not be ideal for regular use
View Deal
Buy on Amazon
Boxing Shorts
Boxing shorts are a unique category of sports shorts created especially for boxing. They are often constructed from breathable, lightweight materials like satin or polyester and are meant to allow for a full range of motion during practice and competition. Additionally, compared to conventional shorts, boxing shorts are frequently longer and looser fitting, allowing for more comfort and mobility inside the boxing ring. Regular shorts, on the other hand, are usually composed of thicker, more enduring materials like cotton or denim and are intended for everyday wear as opposed to athletic performance. They may be better fitting and shorter than boxing shorts, but they are often not as breathable or comfortable during vigorous exercise. Most people know that gloves are one of the best Hayabusa products but not many know that Hayabusa makes some of the most comfortable and practical boxing shorts. If you are a fan of Venum Fight gear, these shorts are a must have. The big, beautiful logo of Venum adds so much flair to these regular black shorts.
Best Fight Shorts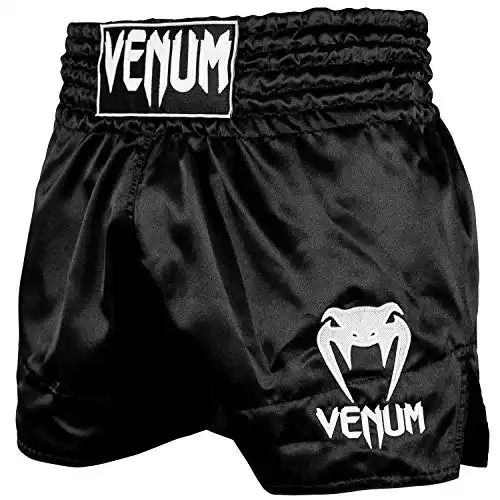 Venum Muay Thai Shorts Classic – Black/White – L
For anyone who practices Thai boxing and is seeking high-quality shorts, the Venum Muay Thai fight shorts are a must-have. These Venum Muay Thai Shorts are made from a breathable, stretchy polyester that gives you freedom of movement.
The side slits can make you more flexible, which will assist you in improving your footwork. The broad traditional belt ensures that the waist will be well-supported throughout the fight. The Venum Muay Thai fight shorts also have an attractive finish and a sleek style.
For a good fit, going a size up is advised, and going a size down is advised for a smooth and looser fit. For the measurements of these shorts, you can refer to Venum's sizing chart.
Pros:
Smooth and lightweight fabric

Provides elastic waistband
View Deal
Buy on Amazon
Focus Mitts
Focus mitts or pads, which are often referred to as boxing mitts, are a crucial piece of equipment for training in combat sports like boxing. To teach a boxer how to throw precise and potent blows, they are worn by a partner or trainer. As well as serving as a secure target for the boxer to aim at, boxing mitts are made to soften the blows of punches. In order to help the boxer, develop their abilities, the trainer might provide real time feedback on their technique, power, and accuracy.
Boxing mitts are used in conditioning exercises to increase a boxer's strength and endurance in addition to their use in training. A boxer can develop the power and stamina necessary for competition by increasing and improving their mitt training. Overall, using boxing mitts is necessary for the growth and development of a boxer's skills and is a crucial component of any boxer's training gear.
Focus Mitts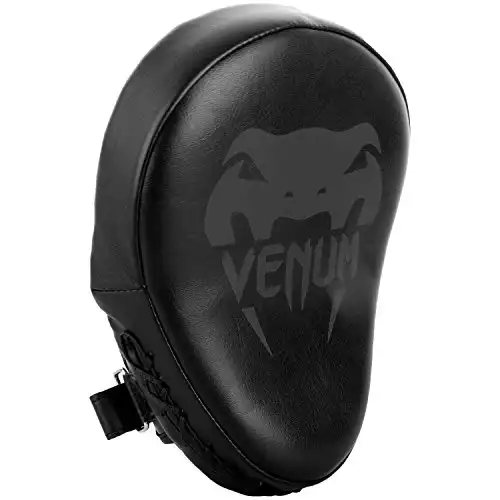 Venum Light Focus Mitts - (Pair), Black/Black, One Size
The Venum Light Focus Mitts are ideal for practicing hand and elbow strikes. The Venum Light Focus Mitts are very light and allow for more detailed and effective work on strike speed and technique.
On one hand, their pro-concave design provides an ideal striking surface, while on the other hand, it provides the trainer with improved comfort while reducing the chance of injury.
Pros:
Good for protection

Comfortable on the hand
Cons:
More on the expensive side
View Deal
Buy on Amazon
Boxing Shields
A form of training gear used in combat sports like boxing and others is the boxing shield. They are typically large, rectangular pads that are held by a trainer or sparring partner and are used to train boxers on how to kick and punch effectively. Boxing shields are made to deflect blows and offer a steady target for the boxer to aim at. As a result, the boxer's technique, power, and accuracy may be monitored closely by the trainer, who can then offer tips and tricks on how to improve. The key here is that the shield can help a boxer focus on a relatively small focus area and improve gradually.
Some of the better boxing shields on the market come with extra padding and better grip. This offers incredibly solid protection for the trainer and he or she can focus more on the technique of their boxers instead of worrying about their safety.
Boxing shields are used both for training and as a conditioning aid to increase a boxer's stamina and strength. Boxing shields are crucial for the trainer's or partner's protection while holding the pad because they add an extra layer of defense from unintentional blows. This mini punch shield is a unique product from Venum and is a popular fight gear.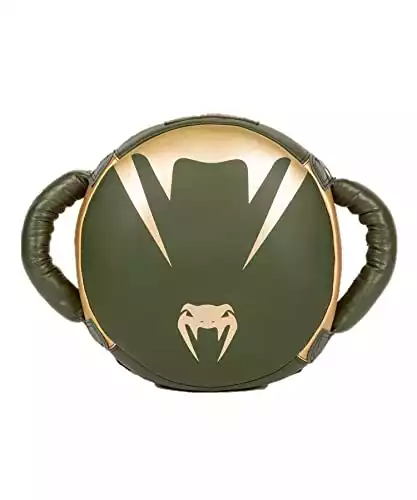 Venum Pro Boxing Mini Round Punch Shield - Khaki/Gold
For strength training, the Venum Boxing Round Punch Shield is perfect. The coach can move it around more easily because of its modest size. The shield has a significant capacity for shock absorption because of the integrated cotton cushion inside, which retains air.
You can practice with precision with the help of the circle at its center. The spherical shield is made of microfibre and is both strong and lightweight. The extra thick leather grips make it easier to keep your grip on the product and make it last longer.
Pros:
Durable and lightweight

Long-lasting
Cons:
Is not for extreme rough use
View Deal
Buy on Amazon
Punching Bags (Kids)
Best Punching Bag (Kids)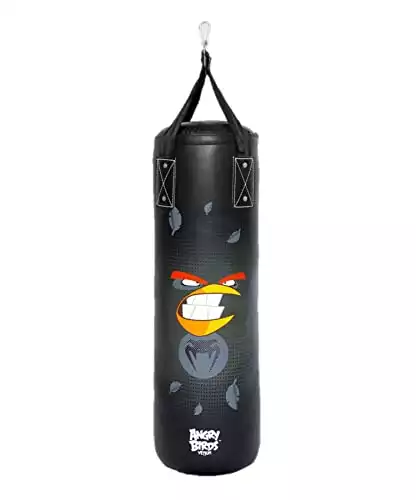 Venum Angry Birds Punching Bag (for Kids)
If your kids are fans of the angry birds game and enthusiastic early boxing fans, this punching bag from Venum is a great investment. You will immediately be drawn to the vibrant colors and the iconic Angry Birds characters adorning the bag. The high-quality graphics truly capture the attention and imagination of children. The size of the punching bag is perfect for kids, allowing them to practice their punches and strikes with ease. The bag is well-made and durable, with strong stitching and sturdy materials that withstand the enthusiastic blows of even the most energetic youngsters.
This is also a great way to let of steam in a healthy way for angry young kids!
Pros:
High-Quality Polyurethane leather

Complies with CE standards

Great price
Cons:
Height adjustability for shorter kids
View Deal
Buy on Amazon
Do you prefer free-standing punching bags instead? Please refer to our review of the best free standing punching bags in 2023 here
About Venum Fight Gear: Why Does Venum Stand Out as a Brand?
Venum is a well-known producer of exercise accessories and gear, as well as equipment for combat sports and martial artists. Franck Dupuis, the company's creator, founded it in the year 2006 and has operations across the globe, in places like Europe, America, and even Asia.
Venum is for champions and has well-known sponsors like Carlos Condit, Fabricio Werdum, and Jose Aldo. Products made by Venum are made of high-quality materials, look great, and provide good comfort and protection. Furthermore, they are reasonably priced, which is a bonus.
Venum has revolutionized the training equipment sector. Venum is a brand that you should definitely think about if you are looking for good sports gear.
With Venum, you will get only the absolute best items, making the company one of the leaders in the market. With Venum, you can take your game to the next level because there is always new products available for both competitors and enthusiasts.
Summary
Venum has made a name for itself as one of the best manufacturers of training equipment. As soon as a customer goes to the website, they are met with an easy-to-use search bar and a way to talk to customer service reps through online chat. Venum is the website for everyone interested in boxing, mixed martial arts, Brazilian jiu-jitsu, or karate. Visit their website to browse their whole inventory of goods, which includes anything from equipment and nutrition to shorts, pants, and tops. This makes it exceedingly simple for Venum customers to find what they need.
There is simply no better brand in terms of product quality than Venum. The business is frequently praised for its great manufacturing, design, and material choices. Any item you purchase from Venum won't let you down in light of this.
Renowned Personalities Who Have Known to Use Venum Fight Gear
Some renowned personalities who have used Venum products include:
Sitthichai Sitsongpeenong
Callum Smith
Jorge Linares
Vasyl Lomachenko
Jordan Burroughs
Kyle Dake
Kyle Snyder
Giorgio Petrosyan
J'den Cox
Bo Nickal
Kurt Angle
Lyoto Machida
Carlos Condit
Pat Downey
Jose Aldo
Mauricio Rua
Wanderlei Silva
Miesha Tate
Fabrício Werdum
Jim Miller
Brad Pickett
Martin Kampmann
Mehdi Zatout
Reza Goodary
Alaverdi Ramazanov
Adam Noi
Sajad Sattari
John Gogan
Pat downey
Nabil Anane
Buying Guide
For your Hands
For your Head
For your Feet
For the Gym
Frequently Asked Questions
Who is Venum owned by?
Venum is a brand that has evolved alongside the sport of MMA as it has surged in popularity throughout the world. Franck Dupuis is the founder and CEO of Venum.
Are venum gloves worth it?
The Venum boxing gloves are great for beginners because they can be used for all kinds of training, such as hitting a heavy bag, and for sparring by more experienced boxers. They undoubtedly do the job of protecting your hand on contact.
How much do UFC fighters get paid for wearing Venum?
Current champions receive $40000 from Venum for each championship match. Reebok's contract, on the other hand, only included a $3000 severance payment.