Best Cleto Reyes Boxing Products: 2023 Review
Imagine having an F1 race car driver who is also a skilled engineer! He will be able to build the best engines with his knowledge of the sport. Cleto Reyes Castro created a legendary brand by combining his skills as a boxer and his talent for making exceptional leather goods. This is one of the most admired and recognized names in the world of boxing. This Mexican boxing company is known for producing top-notch boxing gloves and combat gear. This company exports some of the most cutting-edge boxing equipment in the world. The Reyes family owns and operates a business in Mexico where they produce high-end products that have been used by several world champions.
From manufacturing lace-up gloves to wrap-around sparring gloves, headgear to training bags and t-shirts, they have a large collection of equipment. We have put together a list of the best Cleto Reyes boxing products across categories to make your buying decision easier. If you are a boxing fanatic and a Reyes fan like some of us, this post is all you need to fill your gym bag with the best Cleto Reyes boxing products.
Marcos Maidana, Manny Pacquiao, Juan Marquez, Amir Khan, and many other famous fighters have worn these gloves. It is time for you to start your journey to greatness!
Best Boxing Products: Cleto Reyes
Melhores luvas de boxe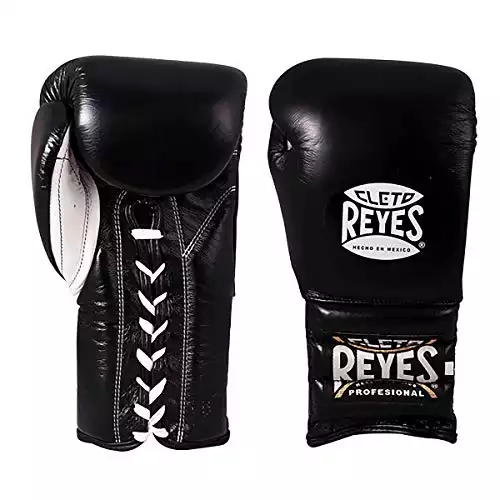 Best Cleto Reyes Lace Up Boxing Gloves
The Cleto Reyes Lace Up Boxing Gloves have an extra-long cuff for security and are made using traditional Mexican workmanship. Made with the best materials under the highest quality supervision, and robust, long-lasting foam padding to provide you with great protection.
Thumbs that are attached reduce the chance of a thumb injury while preventing eye harm. The gloves are perfect for providing the highest level of comfort and protection for sparring, punching bag exercises, and training.
With nylon water repellent lining, which also stops moisture from penetrating the cushioning, the glove is perfectly suited for maximum comfort.
Prós:
Great for amateur training

Designed to prevent odor caused by sweat
Contras:
Not very durable especially for intense training
Ver oferta
Compre na Amazon
Ideal for Professionals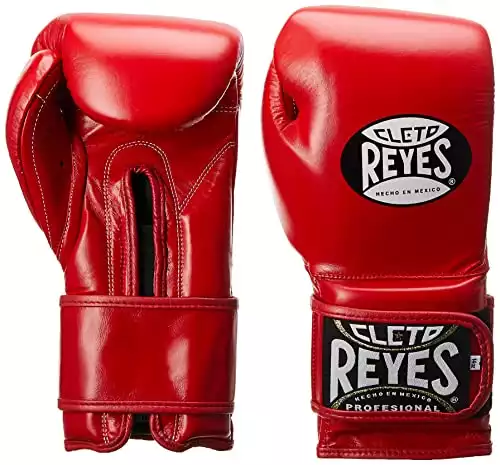 Cleto Reyes kickboxing Gloves
These gloves come with the same high quality and craftsmanship we have come to expect from Cleto Reyes. They are a pair of classic gloves with a reliable leather strap with hook-and-loop closure for a firm and quicker adjustment. It provides extra padding in the punch area for better protection and has a very premium feel when you wear it as it is made from genuine goat skin
The attached thumb helps to prevent eye and thumb injuries when you are sparring. Interior water-repellent lining prevents moisture from entering the padding therefore increasing its lifespan
Prós:
Punch area cushioning of 1/2 inch improves protection

Produced using the highest standards of leather and all materials.

Moisture cannot enter the padding because of the water-repellent nylon lining.
Contras:
May feel heavier than other gloves

Longer break-in time

Expensive
Longevidade: 16-18 months with moderate use
Ver oferta
Compre na Amazon
Best Head Gear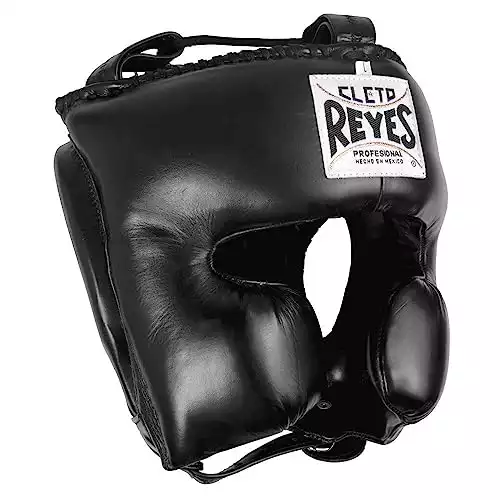 Best Cleto Reyes Head Gear
The Cleto Reyes Headgear is one of the best pieces of boxing headgear you can buy. Traditionally made with latex foam padding and full cowhide leather to offer maximum comfort and durability while providing you that broad field of vision.
The Cleto Reyes Headgear was created to protect even the most well-known fighters on the planet. The best-fitting cheek protection headgear has a three-point anatomical fit that is completely made to fit your head perfectly.
Many competitors, especially experienced boxers, like this Cleto Reyes design because it lets them see and see well during competitions. With a chin strap, lace, and hook and loop fastening, it can be adjusted from the top and back for improved positioning.
Prós:
One of the best products in the market for complete head protection

Comfortable to wear and guaranteed tight fit
Contras:
Finding the right size can be a problem
Ver oferta
Compre na Amazon
Melhores tênis de boxe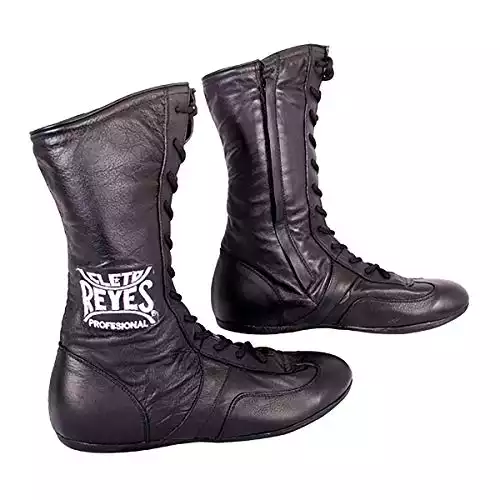 Best Cleto Reyes Boxing Shoes
Wearing the right footwear by Cleto Reyes greatly increases comfort, performance, and most importantly, prevents injury. Boxing can put a lot of strain on the feet, ankles, and legs. Most Cleto Reyes footwear are constructed of rubber, leather, or plastic.
The Cleto Reyes Boxing Shoes is a lightweight footwear made specifically for boxing. They are designed using rigorous quality controls and cutting-edge technologies. The boxer is much more stable because it has a polyurethane insole and a lightweight rubber sole.
Using a traditional system, the wide top and laces create a comfortable fit and reduce flexion tension. They have a front cord, side zipper, and rounded tip. They are made with durable materials like suede and leather.
Prós:
Lighweight non-slip rubber sole gives you more confidence to move freely

Suede and leather construction ensures longer resistance
Contras:
Not available for larger feet
Ver oferta
Compre na Amazon
Best Boxing Hand Wraps
Best Cleto Reyes Boxing Hand Wraps
No matter what kind of exercise you're doing, you should always use hand wraps whenever you're wearing a pair of gloves to ensure you always have the greatest protection. Training hand wraps and professional hand wraps are the two primary categories of hand wraps made by Cleto Reyes.
Under your boxing gloves, the Cleto Reyes Boxing Handwraps are the ideal layer of defense. You can wrap these handwraps around your wrists to give yourself the most stability and a precise fit that fits your wrist.
These handwraps are constructed of cotton and polyester and provide optimum knuckle protection. They are machine washable which makes maintenence easy
The wide elastic band adjustment for the wrist and extra length allows for a tailored cut. All sports requiring hand and wrist protection should definitely use these greatest Cleto Reyes handwraps.
Prós:
Gel pads offers really good knuckle protection

Good length and width allow for customized fit
Contras:
Extra width could be an issue for people with small slender hands
Ver oferta
Compre na Amazon
Best Compression Hand Wraps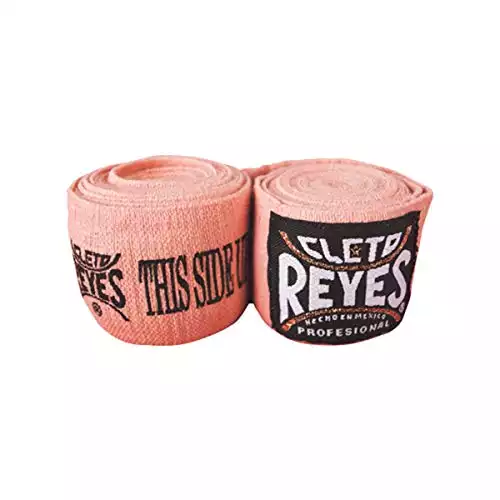 Best Cleto Reyes Compression Hand Wraps
A firm fit is made feasible by the Cleto Reyes Compression Handwraps. Comes with an easy hook and loop fastener, and a flexible fit that applies pressure to the hand. Additionally, the cloth used to make these hand wraps is stretchy and exerts pressure to the hand, enabling a firm fit.
Made from cotton and latex, with these hand wraps, you can immensely support your wrists and protect your hands. Because these hand wraps can be reused multiple times, they can be washed in the washing machine.
Prós:
Can last several training sessions

Flexi fabric ensures tight yet comfortable fit
Ver oferta
Compre na Amazon
Best Gym Bag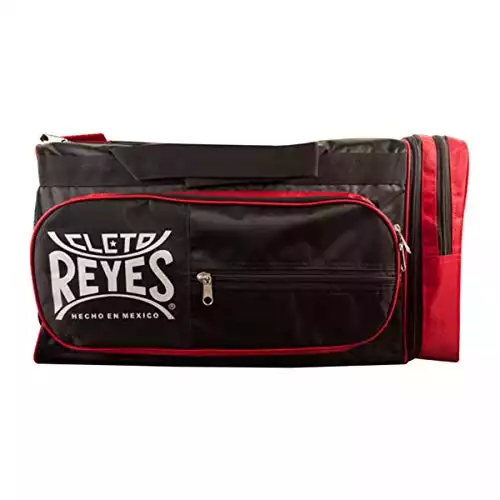 Best Cleto Reyes Gym Bag
Having your equipment in the gym bag is a terrific way to get ready for your training days. Cleto Reyes bags will suit you well, contain additional compartments for shoes or damp stuff, and are compact and light enough for your commute.
The Cleto Reyes Gym Bag offers a superior finish and is abrasion-resistant and robust. It has a front organization pocket with a large zipper. Thanks to its adjustable, comfortable, and padded shoulder strap for all-day wear.
With the Cleto Reyes logo and an embroidered Champy insignia, the original design is on black and red nylon. A large capacity, padded handles, and numerous multipurpose compartments with ventilation holes for your clean items make it comfortable to carry everything you need in one bag.
Prós:
Great for rough use as bottom and side panels are built for abrasion resistance

Padded handles makes it easy to carry
Contras:
May not be ideal for carrying wet items
Ver oferta
Compre na Amazon
Best T-Shirt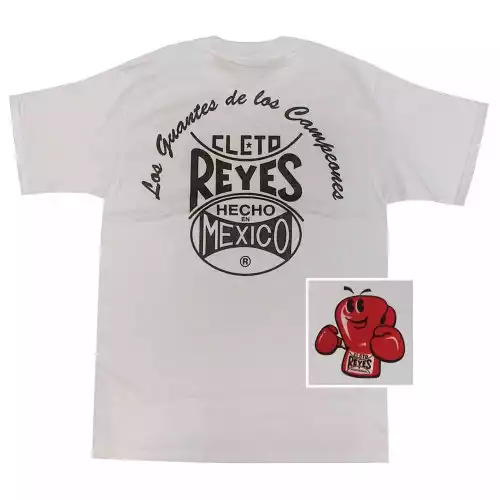 Best Cleto Reyes T-Shirt
The Cleto Reyes Boxing wear offers a variety of extra benefits in addition to helping you prepare your mind for a workout exercise. You should know the benefits of dressing appropriately for exercise to help you understand the importance of choosing the best boxing equipment.
The Cleto Reyes boxing cotton t-shirt is offered in two colors: black and white. A huge Cleto Reyes logo is screen printed on the back and Cleto Reyes' red boxing glove cartoon picture is screen printed on the front left chest.
These cotton t-shirts are perfect for casual or workout wear. For those who wear it, the Cleto Reyes t-shirt stands for great strength that promotes a champion's challenging journey. These t-shirts are available for both men and women.
Prós:
Made from 100% high quality cotton and is very comfortable to wear
Contras:
Not great for people who sweat heavily
Ver oferta
Compre na Amazon
Best Boxing Shorts
Best Cleto Reyes Boxing Shorts
One of the most comfortable boxing shorts are these boxing trunks. For the utmost in functionality and fashion, 100% satin polyester is handcrafted in the Cleto Reyes Boxing Trunks.
These boxing trunks come with front and rear embroidered Cleto Reyes labels. An elastic waistline offers a better fit around the groin protector. With international leg slits for no constraints, they are unusually roomy and long in cut.
Prós:
Feels comfortable to wear

Good quality polyester satin fabric

Fits nicely around the waist and doesn't cut into your skin
Contras:
Finding the right size might be a problem
Ver oferta
Compre na Amazon
Best Boxing Jersey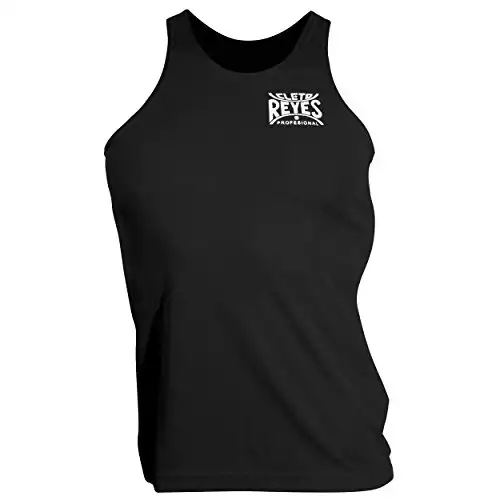 Best Cleto Reyes Boxing Jersey
Every time you wear the lightweight polyester Cleto Reyes Boxing Jersey, it minimizes excessive sweating and feels breathable. Additionally, it allows you to move freely while working out. It has the classic fit and the Cleto Reyes logo.
You can move as freely as possible while wearing this jersey without having to stop what you're doing. It can also be given as a gift to someone who adores sleeveless shirts. You can buy this jersey for both men and women.
Prós:
Classic Cleyto Reyes design

Breathable fabric

Good for people who sweat heavily
Contras:
susceptible to wear and tear
Ver oferta
Compre na Amazon
Best Punch Mitts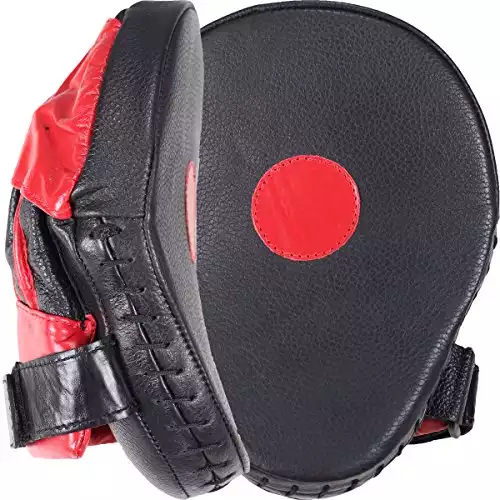 Cleto Reyes Leather Curved Punch Mitts - Black/Red
The way coaches hold the pads has significantly changed as a result of the curved style focus mitts, which Ringside first introduced in the US. These useful training tools, the focus mitts, have currently been given their own version by Cleto Reyes.
The hand compartment hood shields the fingers from being dragged back or jammed, and the built-in curve keeps the coach's forearm and wrist in a more comfortable posture.
Prós:
Built with high quality leather

Confortável de usar
Contras:
Slightly expensive compared to other options on the market
Ver oferta
Compre na Amazon
Best Punching Bag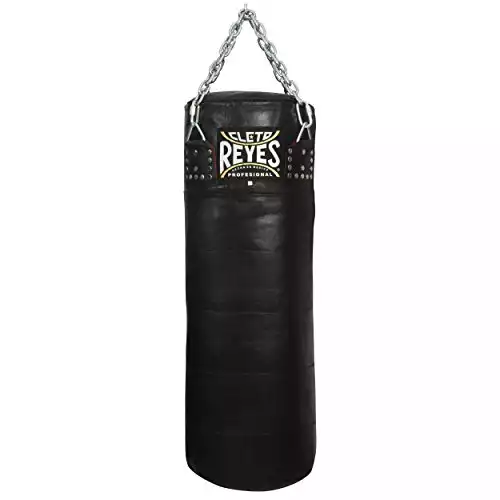 Best Cleto Reyes Punching Bag
The Cleto Reyes Punching Bag is constructed with the best components and is built to last. Your training will be greatly improved by these boxing bags, which will allow you to practice your reflexes, uppercuts, and punches.
You can choose the proper shape and size from the various sizes available for your workout to improve your strength and speed.
Prós:
One of the best small heavy bags

Made with leather
Contras:
The fabric might come off after some time
Ver oferta
Compre na Amazon
Best Double End Bag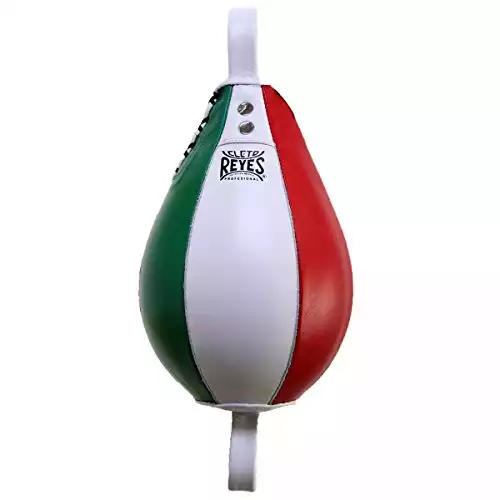 Best Cleto Reyes Double End Bag
Hone your boxing abilities and take on a new challenge with the Cleto Reyes Double End Bag. They have a distinct feature that enhances strategy and reflexes with each strike. It is designed to put a special emphasis on accuracy and timing with the hook and jab blows.
For the floor and ceiling mounting of double ended bags, two swivels and an elastic band are required. These products are offered separately. There is one additional bladder present.
Prós:
Great product for coordination and reflex practice

Lightweight and easy to install
Contras:
Cannot sustain heavy punches, use for coordination practice only
Ver oferta
Compre na Amazon
About Cleto Reyes: Why it Stands Out?
Reyes branded gloves were first used in the year 1945 and the brand was registered in 1975. The president of the company, Guillermo Moreno had the idea of creating the greatest brand that manufactures the best boxing equipment and delivering it to the American market.
The business has been given significant honors like Mexico's National Exports Award in 1994. This award is granted annually by the Mexican Trade and Industry Department to distinguished Mexican companies.
Reyes' products left a permanent effect on the history of boxing. These products have been the weapon of choice for boxing legends like Mike Tyson and Muhammad Ali. What makes these products stand out is their long history of delivering quality and cutting-edge products consistently year over year. You cannot go wrong with this brand.
History of Cleto Reyes
The founder of Cleto Reyes boxing gear was a man by the name of Cleto Reyes Castro. Born on April 26th 1920 in Mexico City in the midst of the reconstruction period that followed a period of 10 years of revolutionary struggle. Due to the hardships that his family struggled with, Cleto entered the workforce at the age of 12 years old in a saddlery where baseball gear was being manufactured.
In 1936, during his elementary school days, Reyes' huge passion for boxing was instilled as the "Peralvillo Cozumel Arena", was directly in front of his school. It was in 1938 that Reyes participated in his first amateur fight and his performance was so incredible that spectators started to throw coins into the ring. Unfortunately, the fight was so difficult that he was decided to never enter the ring again. Instead, he chose to mend the boxing gloves that he had used during this fight. This was the beginning of his career in the manufacturing of his line of boxing gloves.
Crafted in Mexico, Cleto Reyes has a notable reputation for providing their customers with quality boxing equipment. And it is a reputation that has most certainly been well earned. Each and every single piece of their boxing equipment is authentically produced and hand-crafted in both Mexican style and tradition. They are a company that prides themselves on providing boxers of all skill-levels with unique and reliable boxing equipment that is built to reaffirm and ensure that you perform at nothing less than your very best.
Cleto Reyes are truly a fan-favorite in terms of their boxing gloves. As previously stated, they are made in Mexico and are crafted using only the utmost quality. They are handmade and hand stitched, and it most definitely shows. If you are familiar with these gloves, you will agree that they feel awesome. In fact, the vast majority of boxers have noted that it feels as if they are not even there. Cleto Reyes boxing gloves feel incredibly natural when you are wearing them, the conform to your hands in a manner that is completely unmatched.
Cleto Reyes gloves are set apart from others due in large part to the fact that they are actually referred to as "puncher's gloves." Why? Plain and simple because there is significantly less padding on the knuckle area when compared to other gloves, such as Everlast, Winning or Grant. Cleto Reyes gloves are also incredibly soft, you can literally feel your knuckles through the padding when you are wearing them. Which of course means that you have supremely more punch power, however less hand protection.
Cleto Reyes gloves are the preferred boxing glove by such boxers as Manny Pacquiao, Juan Manuel Marquez, Kelly Pavlik, Marcos Maidana, Amir Khan and several other top boxers. They are mainly the most favored by boxers who do not have any kind of history of hand issues and who additionally also have above than average punching power.
As previously stated, Cleto Reyes gloves are sure to protect you just enough to prevent total bone breakage and sprains, while still allowing you to feel the complete power of your punches. Not to mention the fact that with a 100% leather design and cleverly designed grip, Cleto Reyes gloves truly do make for an entirely exhilarating training experience that are sure to last you through many years of training. They additionally offer a great amount of color and design options which means that you can be sure to find the perfect pair to match your unique style.
There are of course always some drawbacks in each and every product. And Cleto Reyes gloves are certainly of no exception. While the unique Mexican style of minimal front padding may be super appealing to some boxers, many others as equally despise the design depending entirely on what exactly they are seeking to expect from their personal boxing gloves. Cleto Reyes training gloves are also well known to last a long time, however they are also require an extremely long break-in period, which can be frustrating to some boxers that expect their gloves to perform effortlessly, immediately.
There are some really incredible Cleto Reyes boxing gloves available that come with some pretty exceptional reviews. The top rated, best selling Cleto Reyes boxing gloves are as follows:
Resumo
Cleto Reyes is one of the best boxing equipment makers in the world because they have been in business for more than 50 years, do great work by hand, and use good materials.
For many years, they have produced boxing gloves to shield the hands of champions who have worn their gear. The fact that each product is manufactured by hand with meticulous attention to detail is what makes them good.
One of its benefits is that each product comes in so many different sizes and colors. There is a variant available for you, whether you like a lace-up model, a Velcro enclosure, or another kind. Since every fighter has their own preferences when it comes to gloves, this level of variety is very welcome.
Because it is created in Mexico and imported inexpensively into the USA, the Cleto Reyes products are also one of the more affordable ones. As a result, purchasers here get an excellent deal in terms of value and price.
Detailed reviews of Cleto Reyes Products
perguntas frequentes