Everlast is one of the largest companies in the world of combat sports that makes, licenses, and sells equipment for mixed martial arts, boxing, and fitness. With a century of boxing experience, Everlast is deeply rooted in the sport's heritage.
They give you the best gloves, shoes, safety gear, punch bags, pads, and other gear and clothing for fights or training.
Although the Everlast Sports sells goods for a wide range of sports, it has made its name by producing martial arts gear, including safety gear, a variety of premium boxing gloves, and punching bags.
Any form of martial arts can be practiced with the help of Everlast products, which are excellent for both beginners and experts. In general, each Everlast product is made for a certain kind of activity, like bag work or professional tournaments.
About Everlast
Since 1910, Everlast, A Manhattan based company has been making equipment for mixed martial arts, boxing, and fitness. Everlast sells its goods in more than 80 nations on six continents.
Everlast has been the brand of choice for world champion athletes for a long time, from Sugar Ray Robinson and Jack Dempsey in the past to Canelo Alvarez and Benson Henderson in the present.
Everlast is an important part of many champions' lives because it was built on a history of strength, dedication, authenticity, and individuality.
Everlast began in the Bronx in 1910 as a producer of swimsuits, but today the name is linked with boxing. Although the swimsuits did not last throughout history, the name Everlast did.
Since more people than ever are getting into MMA and boxing, Everlast has made a range of affordable products for beginners and intermediates who want to get into combat sports or get better at them. There is a sizable fan base for the Everlast brand. At one time, Everlast equipment was available in every gym in the country. During their careers, legends like Holmes, Ali, Tyson, and Leonard have all sported Everlast gear.
However, fewer elite fighters in today's world utilize Everlast equipment. Instead, the company focuses on making high quality products for all levels of boxers.
Detailed Reviews of Best Everlast Products
Luvas de boxe
Boxing gloves are an essential piece of equipment for the sport of boxing. They protect the hands of the boxer from injury and also protect their opponents from being hit too hard. Boxing gloves are designed to absorb the impact of punches and distribute the force evenly across the surface of the glove. This helps to prevent injuries such as broken bones, cuts, and bruises. In addition to providing protection, boxing gloves also help to improve the performance of boxers by allowing them to punch harder and more accurately. Overall, the use of boxing gloves is crucial for the safety and effectiveness of the sport of boxing. Here are some of the melhores luvas de boxe from one of the most famous names in boxing – Everlast
Melhores luvas de boxe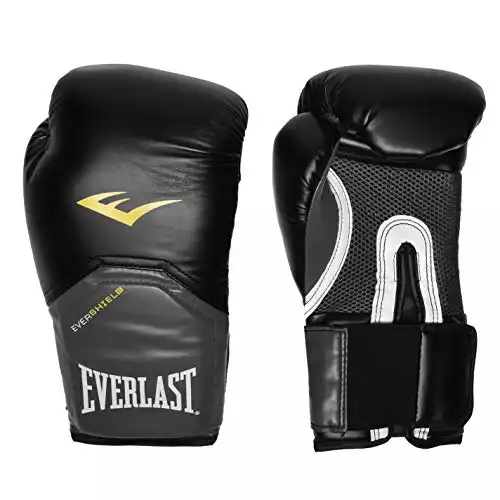 Everlast Pro Style 8-Ounce Training Gloves (Black)
Trusted by most fighters, the Everlast Pro-Style Training Gloves are the best choice for all boxing and fitness programs. The comfortable feel and long-lasting strength come from the high-quality construction and high-end synthetic leather.
The antimicrobial treatment on the mesh of the palm keeps bacteria and bad smells at bay and lets the mesh breathe. Even during the most strenuous activities, you will feel secure and protected because of the curved anatomical fit and grip.
Hook-and-loop fastening is included as well for the most comfortable fit. There are 8-ounce, 12-ounce, 14-ounce, and 16-ounce sizes available.
Prós:
Variety in size

Ideal for training purposes
Contras:
More on the expensive side
Ver oferta
Best Women's Gloves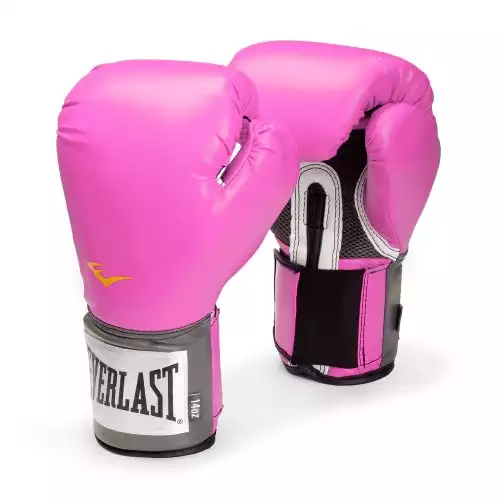 Everlast Women's Pro Style Training Gloves (Pink, 12 oz.)
The Everlast Women's Pro-Style Training Gloves were designed specifically for women. The hands and wrists of female athletes were taken into consideration when creating these gloves. The one-piece design enhances fist placement and natural range of motion.
They are built with closed-cell foam technology for hand protection and a grip cord for added holding power. Ventilation is increased by the Evercool mesh palms.
The hand and wrist are kept in place by an hourglass-shaped wrist with EvershieldTM reinforced padding. This makes for a comfortable, supportive, and really secure fit. For its construction, high-quality synthetic leather is used.
Prós:
Confortável de usar

Provides protection
Contras:
May not be for all hand sizes
Ver oferta
Compre na Amazon
Looking for other options or brands? Here is a link to the review of the best boxing gloves: 2023
Best MMA Gloves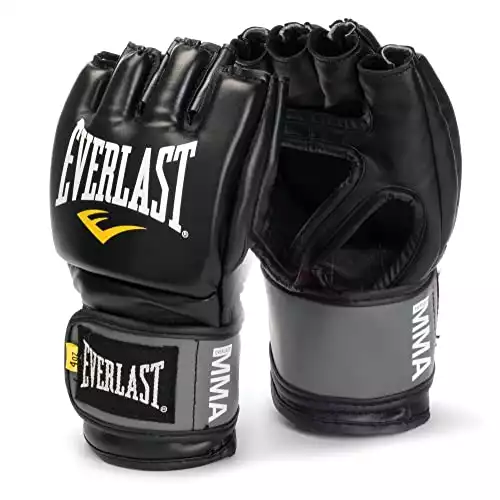 Everlast Pro Style Grappling Gloves Small/ Medium Black
The excellent design of the Everlast Pro-Style MMA Grappling Gloves makes them much more useful and long-lasting. The strap in the wrist wrap enhances wrist support and enables a better fit.
The gloves have MMA grappling glove padding and a shape that makes the fist more comfortable and flexible. These gloves, made from premium synthetic leather, are ideal for MMA and grappling. available in a 5-ounce size.
Prós:
Has good durability

Ideal for beginners
Contras:
Not available in all sizes
Ver oferta
Compre na Amazon
Looking for other options or brands? Here is a link to the review of the melhores luvas de MMA
Boxing Headgear
Boxers wear boxing headgear as an essential component of safety gear while practicing and sparring. Its main purpose is to shield the head and face from harm, including concussions, wounds, and bruising. Headgear also lessens the force of punches, which can help avoid permanent brain damage. Boxing headgear can enhance a boxer's performance in addition to protecting them by enhancing their vision and assisting them in focusing on their opponent. Overall, wearing boxing headgear is necessary for boxers' safety and wellbeing and is a crucial piece of their training gear.
Best Headgear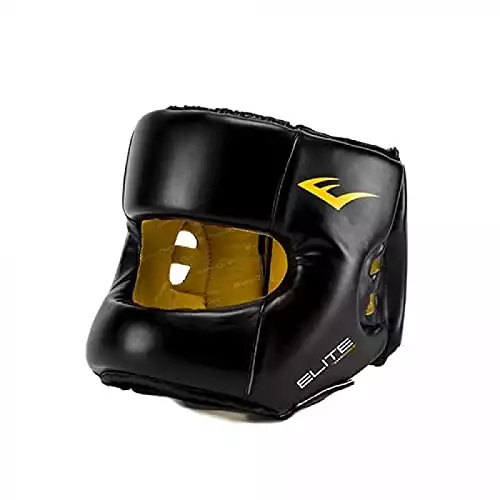 Everlast P00001212 Elite Rtl Headgear Black L/XL
The Everlast Head Guard ensures optimal functionality and great durability. constructed from a premium leather structure. The thick foam padding and EverCool mesh make sure that the helmet breathes well and protects well from even the hardest hits.
For comfortable ring wear, an EverDri wicking lining that repels excessive sweat is used. Maximum impact absorption and added safety are provided by multi-layered, dense foam padding. The headgear also has hook-and-loop fasteners in the back and on top to make it fit securely.
Prós:
Sturdy and protective

Has flexibility
Ver oferta
Compre na Amazon
Looking for other options or brands? Here is a link to the review of the best boxing head gear
Sapatos de boxe
Boxing shoes are a unique category of sports footwear created especially for boxing. They frequently have a low-cut style for optimal mobility and are constructed of breathable, light materials like genuine leather or synthetic leather. Boxing shoes may also feature additional support or padding in the ankle and heel area to prevent injuries. They also have a flat, non-slip sole for stability and traction in the boxing ring.
Regular shoes, on the other hand, are usually not optimized for athletic performance and are instead made for everyday usage. They might be constructed from heavier, more resilient fabrics like canvas or denim, and their soles might be higher profile or cushier for comfort. Regular shoes may not offer the same level of support, stability, or traction in the boxing ring as they are not made specifically with boxers' needs in mind.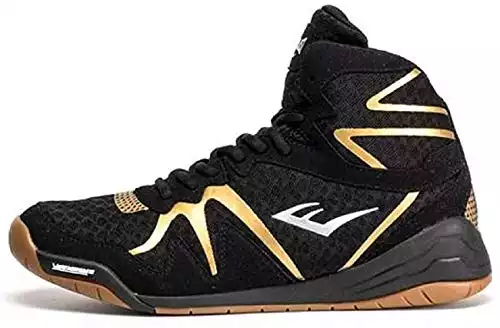 Everlast PIVT Low Top Boxing Shoes
Everlast's PIVT Low-Top Boxing Shoes represent an exceptional value proposition. Crafted with durability, adaptability, and meticulous craftsmanship in mind, these shoes excel in satisfying various needs without breaking the bank. This collaboration between Everlast and Michelin redefines the synergy of function and fashion, catering seamlessly to both gym workouts and in-ring performances.
Constructed from a blend of microfiber and suede, the exterior material guarantees both robustness and a stylish aesthetic. The lace-up closure ensures a secure fit, instilling confidence for unrestricted movement during your training regimen.
The crowning achievement of these boxing shoes is the innovative Michelin Technical Sole, setting a new standard with its remarkable blend of traction, flexibility, and support. Its intricately designed tread pattern strategically prevents slips while enhancing lateral agility, enabling precise pivots, shuffles, and glides.
Additionally, the open-weave mesh upper not only promotes breathability but also maintains a feather-light feel, ensuring comfort during extended training sessions. Moreover, the machine-washable feature adds convenience to your maintenance routine.
Prós:
Much better arch support compared to competing brands

Visually appealing

Lightweight and cozy

Provides sufficient grip due to superior sole quality
Contras:
Rubber toe box separation problems

Generates foot odor potentially due to lesser breathability.

Not all users may find design suitable
Ver oferta
Compre na Amazon
Best High Top Boxing Shoes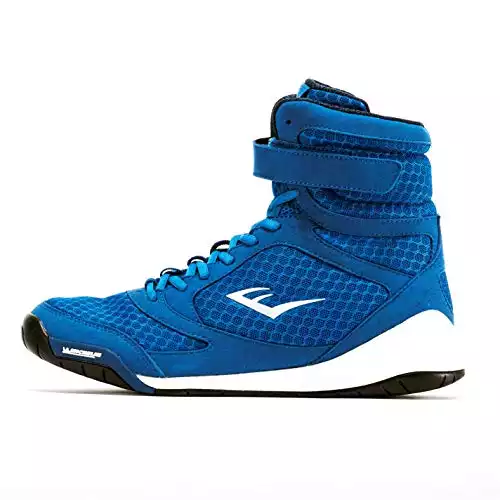 Everlast New Elite High Top Boxing Shoes
A high-top, low-profile boxing shoe that is designed with the knowledge that footwork is equally important is the Everlast High Top Boxing Shoes. Suede and microfiber were used to make it so that comfort, speed, and durability were all just right.
The high-top design of these shoes, along with the additional ankle strap, improves support while moving, punching, and making sharp turns.
Prós:
Comfortable fit

Long-lasting
Ver oferta
Compre na Amazon
Looking for other options or brands? Here is a link to the review of the best boxing shoes : 2023
Boxing Hand Wraps
For support and protection during boxing practice and sparring, boxers wear hand wraps, which are thin strips of fabric wrapped around the wrist and hand. They are a necessary piece of gear for any boxer because they lower the possibility of hand injuries such as sprains, fractures, and dislocations. Additionally, hand wraps assist in stabilizing the hand and supporting the wrist, which can increase a boxer's punching accuracy and force. Hand wraps not only offer defense and support but also aid in sweat absorption and dryness, which can help a boxer maintain a better grip on the boxing gloves. Some boxers also use hand wraps to ensure a better fit if the gloves are slightly bigger for their hand size. Overall, the use of boxing hand wraps is essential for boxers' performance and safety. They are cheap and we highly recommending good hand wraps to enhance your boxing experience
Best Boxing Hand Wraps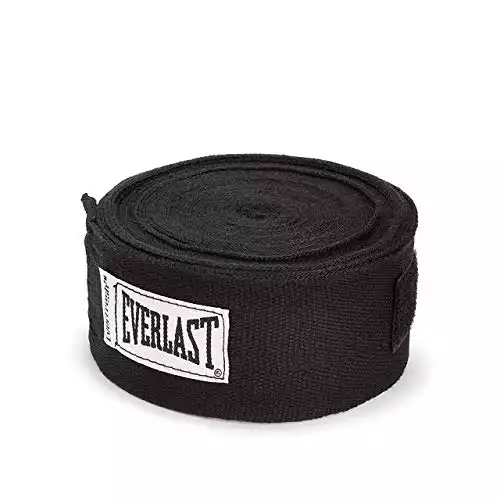 Everlast Professional Hand Wraps, 180-Inch, Black
Everlast Professional Hand Wraps are made of a polyester/nylon blend. It is 180 inches long, which ensures extra comfort and excellent safety. A hook and loop connection on the thumb strap ensures comfort and a secure, tight fit.
EverFresh's antimicrobial solution stops bacteria and bad smells from growing on these hand wraps. This keeps them safe and makes them smell good. They can be washed with ease in the washing machine.
Prós:
Stretchable fabric

Provides protection
Contras:
The elastic might become loose after a while
Ver oferta
Compre na Amazon
Best Gel Hand Wraps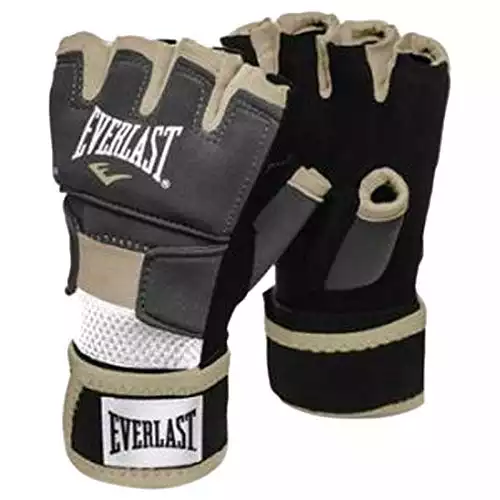 Everlast P00000740 Evergel Handwraps Grey/Gold ML
The compression technology built into the Everlast Evergel Hand Wraps makes them fit better and give your wrists more support. When training or in the ring, the EverGelTM material protects the knuckles and spreads out the impact energy.
The Evercool mesh ventilation panels and neoprene palm vent make the gloves comfortable and easy to breathe in.
Ver oferta
Compre na Amazon
Looking for other options or brands? Here is a link to the review of the best boxing hand wraps : 2023
Boxing Shirts
Boxing shirts are a specific kind of athletic garment made just for boxing. They are often constructed from breathable, light materials like polyester or nylon, and are designed with a loose, comfortable fit to promote complete range of motion. Additional features on boxing shirts can include moisture-wicking technology to help the wearer stay cool and dry as well as a longer length to help prevent accidental exposure in the ring.
Regular shirts, on the other hand, are made to be worn every day and are not usually optimized for athletic performance. They could be more structured or fitting, and they might be constructed of thicker, more enduring materials like cotton or denim. Regular shirts may not offer the same level of comfort or performance in the boxing ring as they are not made specifically with boxers' needs in mind
Best T-Shirt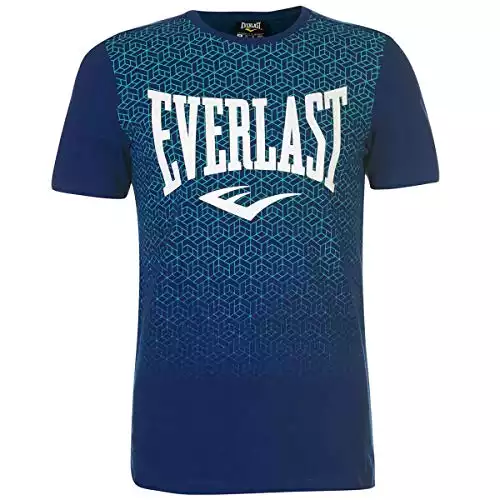 Everlast Men's Geo Print Short-Sleeve Tee Blue L
Crew neckline and short sleeves are features of the Everlast Men's Short-Sleeve Tee that give it a timeless appearance.
The technology in these t-shirts keeps the skin dry, cool, and comfortable by preventing chafing and wicking away sweat. These lightweight t-shirts have a trademark logo and Everlast branding for a nice sports look.
Prós:
Comfortable and loose

Ideal for extreme hit
Contras:
Graphics might come off easily
Ver oferta
Compre na Amazon
Boxing Shorts
Boxing shorts are a unique category of sports shorts created especially for boxing. They are often constructed from breathable, lightweight materials like satin or polyester and are meant to allow for a full range of motion during practice and competition. Additionally, compared to conventional shorts, boxing shorts are frequently longer and looser fitting, allowing for more comfort and mobility inside the boxing ring. Regular shorts, on the other hand, are usually composed of thicker, more enduring materials like cotton or denim and are intended for everyday wear as opposed to athletic performance. They may be better fitting and shorter than boxing shorts, but they are often not as breathable or comfortable during vigorous exercise.
Best Fight Shorts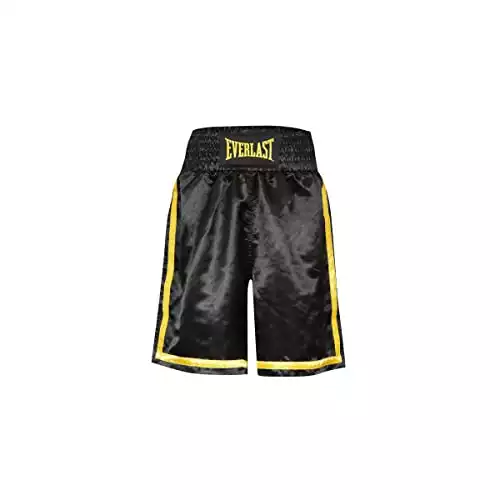 Everlast Competition Adult Boxing Shorts, black, L
Because they are made of lightweight polyester, the Everlast Boxing Shorts give you more freedom of movement and better airflow.
The EverCool technology helps to keep your body temperature in check, so you can train in comfort. The 100 percent polyester fabric and 4-inch elastic waistband ensure a secure fit, and the deep cut leg slits provide more movement.
Contras:
Could feel a little heavy to wear
Ver oferta
Compre na Amazon
Boxing Mitts
Focus mitts or pads, which are often referred to as boxing mitts, are a crucial piece of equipment for training in combat sports like boxing. To teach a boxer how to throw precise and potent blows, they are worn by a partner or trainer. As well as serving as a secure target for the boxer to aim at, boxing mitts are made to soften the blows of punches. In order to help the boxer develop their abilities, the trainer might provide real time feedback on their technique, power, and accuracy.
Boxing mitts are used in conditioning exercises to increase a boxer's strength and endurance in addition to their use in training. A boxer can develop the power and stamina necessary for competition by increasing and improving their mitt training. Overall, using boxing mitts is necessary for the growth and development of a boxer's skills and is a crucial component of any boxer's training gear.
Best Punch Mitts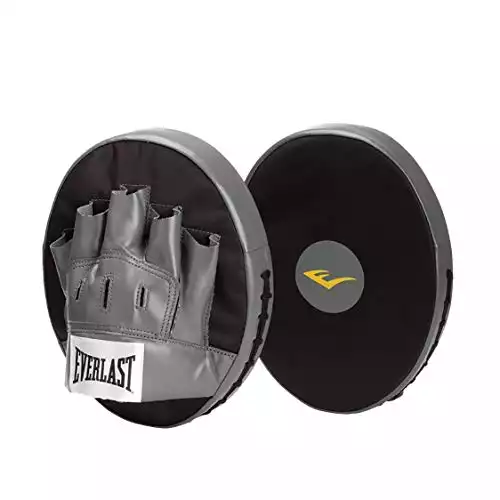 Everlast 4318 Punch Mitts ,black
The Everlast Punch Mitts are made of high-quality synthetic polycanvas and have a great design that makes them durable and useful for a long time.
The improved design is made with the utmost care, which boosts its usefulness, and you can practice your punches without worrying about being injured.
The antimicrobial treatment on these punch mitts stops bad smells and stops bacteria from growing, so they stay fresh and safe.
Prós:
Sturdy

Provides good support
Ver oferta
Compre na Amazon
Boxing Reflex Bag
A small, soft bag with a flexible stem is called a boxing reflex bag, and it is used to train reflexes and hand-eye coordination in combat sports like boxing. The trainer or partner holds the bag and swings it in a random manner. The athlete then tries to strike the bag with their fists, which will help them become more accurate and help improve quick-thinking and reaction time.
A boxing reflex bag can be used as a conditioning tool to increase hand speed and power in addition to hand-eye coordination and reflexes. A boxer can develop muscles in their arms and shoulders and enhance their punching technique by continuously hitting the bag. Boxing reflex bags are a practical and efficient training tool for athletes of all skill levels because they are portable and simple to use. Overall, using a boxing reflex bag is crucial for enhancing a boxer's abilities and physical fitness.
Best Reflex Bag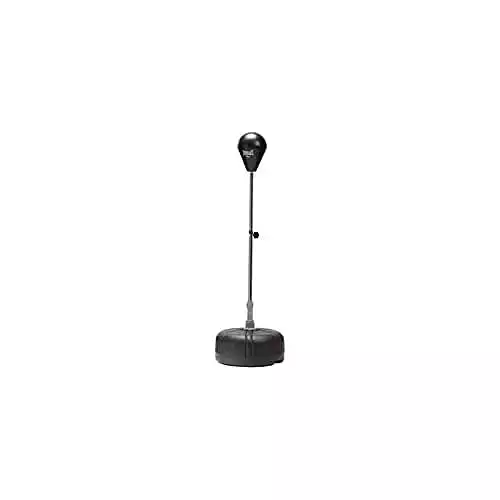 Everlast Reflex Bag (EA)
The Everlast Reflex Bag's design makes it simple to maneuver around the target, improving leg strength, cardiovascular fitness, and hand-eye coordination. The foundation is made of dense plastic. When filled with water, it weighs about 70 pounds and stands 63 inches tall.
These reflex bags can be used for a thorough reflex workout, a punching workout, or an aerobic workout. For quick reflexes, punches, locking the base, and unlocking the neck, practicing in this reflex bag is very ideal.
Agility, footwork, punching skills, defense, and timing are all best practiced using the Straight Flex configuration. Use the Hyperflex mode, which is like a sparring match for both attacking and defending, to improve your agility, speed, and accuracy.
Ver oferta
Compre na Amazon
Punching Bags
Boxing and other combat sports use heavy bags or punching bags, commonly referred to as boxing bags, as an essential training aid. Typically, they are suspended from a ceiling or placed on a fixed stand and contain big, cylindrical bags that are filled with sand, water, or other materials. Boxing bags are fail proof when it comes to developing a boxer's strength, stamina, and technique. The potency and accuracy of punches improve significantly even with basic training with the boxing bags.
Boxing bags are an efficient conditioning tool for enhancing a boxer's general physical fitness in addition to their use in training. Punching the bag repeatedly can strengthen the arms, shoulders, and back muscles as well as the heart's endurance. Boxing bags may be a fun and satisfying method to get a full-body workout while also being useful for reducing stress and releasing stored up energy. Punching a boxing bag is almost a meditative experience. Overall, using boxing bags is necessary for the growth and development of a boxer's abilities and is a crucial component of any boxer's training gear
Best Punching Bag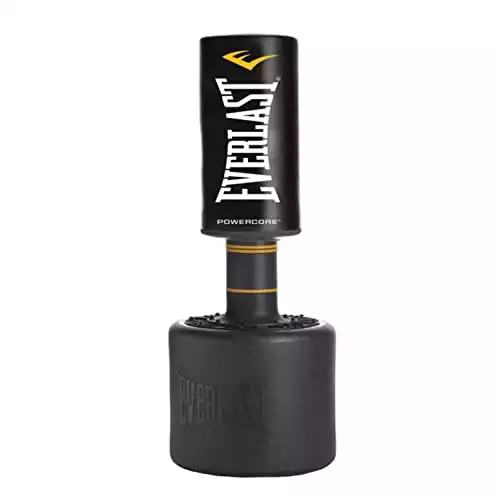 Everlast Power Core Bag
The Everlast Power Core freestanding heavy bag is ideal for a complete fight sports fitness routine. You can enjoy the cardiovascular, strength, and agility benefits of a heavy bag workout in the comfort of your own home. It's easy to assemble and durable enough for the toughest workouts.
An air-foam chamber provides a realistic feel. Rounded design allows for easy movement around target increasing cardio, leg conditioning & hand-eye coordination. The Powercore power transfer ring absorbs impact and reduces base movement and sliding. High density base can easily be filled with water or sand (approximately 250 lbs. with water, 370 lbs. with sand). A solid base provides an easy-to-hit target, maximizing your workout. Height is adjustable from 54" to 65"
Prós:
Easy to assemble

Good for your first bag

Budget friendly
Contras:
Cannot take powerful punches, not recommended for heavy weghts
Ver oferta
Compre na Amazon
Resumo
Over the years, I've used a lot of Everlast products. I have used speed bags, heavy bag stands, boxing hand wraps, and speed bag platforms. I might have unknowingly used some other Everlast products as well.
I found these products to be of quite high quality. For instance, the Everlast Freestanding Punch Bag is so strong that it barely vibrates at all. In my opinion, there is no better value for money. I used an Everlast Reflex Bag in the boxing gym. It leaked less air than most other reflex bags. Its balance was also incredibly good. It endured repeated abuse for years and was trouble-free for an entire year.
In the comments section below, please let us know what you think of our Everlast product purchase advice. Our advice is to save you money and guide you to purchase the best Everlast products available.
perguntas frequentes