Cleto Reyes E400 Boxhandschuhe: Bewertung
I'm really excited to review the Cleto Reyes E400 boxing gloves. As avid athletes and enthusiasts, we understand the crucial role that quality equipment plays in enhancing performance and ensuring safety. In today's post, we're strapping on these renowned gloves to analyze their design, comfort, durability, and overall performance, bringing you all the insights you need to make an informed choice. Whether you're a seasoned pugilist or just stepping into the ring, join us as we lace up and explore what makes the Cleto Reyes E400 series a contender in the realm of professional training Boxhandschuhe.
Cleto Reyes E400 Family Professional Training Boxing Gloves: Overview
A renowned manufacturer of high-quality boxing gloves, Cleto Reyes is used by boxers, notably the legendary Muhammad Ali. They are genuine cow leather gloves handcrafted in Mexico. These gloves include an extra-long cuff for security and are made according to traditional Mexican techniques. They work well for pad work and sparring but are not recommended for heavy bag work especially if you are just getting started and your hands are not used to stress and strain.
To provide you with superior protection, these genuine leather gloves have durable foam padding. The linked thumbs reduce the possibility of a thumb injury while protecting the eyes. They are perfect for providing the maximum comfort and protection throughout training, sparring, and punching bag exercises. With the addition of satin nylon water repellent lining, which also prevents moisture from entering the cushioning, they are perfectly designed for maximum comfort without any odor created by sweat.
Cleto Reyes E400 Family Professional Training Boxing Gloves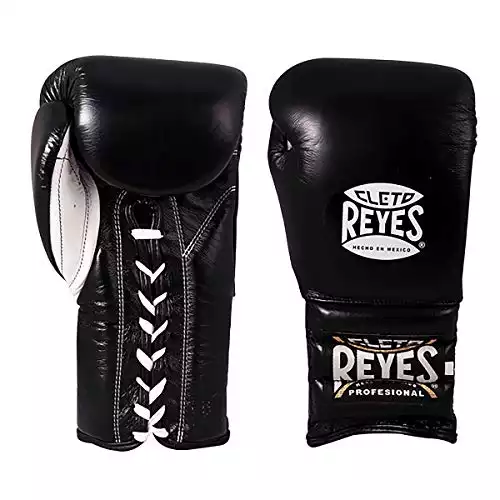 CLETO REYES Traditional Professional Boxing Gloves with Laces for Training, Sparring and Heavy Punching Bags for Men and Women, MMA, Kickboxing, Muay Thai, 12oz, Black CRE
Produktbeschreibung
The Cleto Reyes E400 Boxing Gloves are more geared towards professionals rather than beginners. These gloves blend style and function, elevating your training sessions to new heights. They are your ultimate companion, offering comfort, durability, and style in one remarkable package.
These gloves offer a form-fitting curved knuckle area that enhances fist closure and delivers a natural feel, amplifying your punching prowess. Crafted from high-quality genuine leather, they embody durability, ensuring they stand the test of time. Handcrafted in Mexico under stringent quality control, every pair exudes excellence.
The extra long cuff offers unparalleled wrist support, reducing the risk of injuries, while the water-resistant nylon lining keeps your hands dry, making them ideal for various combat sports. The attached thumbs enhance safety by preventing eye and thumb injuries. The gloves' foam padding guarantees superior protection and impact absorption.
Available in diverse weights and colors, each pair features a traditional lace closure for a classic touch. Bid farewell to sweat-induced odor, thanks to the gloves' odor-resistant design. Trusted by professionals, these gloves come with weight recommendations based on body weight.
Vorteile:
Composed of robust cow leather

Snug, at ease fit

Suitable for pad work and sparring

Excellent wrist support

No deterioration has been noted despite prolonged use
Nachteile:
Teuer

Less padding near the front and knuckles
Angebot ansehen
Kaufen Sie bei Amazon
Materials used for construction of the Cleto Reyes E400 Family Professional Training Boxing Gloves
The Cleto Reyes E400 Boxing Gloves are meticulously constructed using premium genuine leather, which offers exceptional strength and longevity. This material not only withstands the rigors of hard training but also develops a distinct character over time, molding to the wearer's hand for a personalized fit. The use of genuine leather ensures that these gloves provide unparalleled performance and protection. These gloves' superior craftsmanship truly speaks to the brand's dedication to crafting top-tier training equipment.
But perseverance is necessary if you want to extract maximum value from these gloves. When they are brand-new, they are incredibly stiff and unyielding since they are manufactured with heavy-duty leather. When you first put them on, they could feel hard and unpleasant, especially if your hands are wrapped. However, with continued use, these gloves will become very comfortable, which you won't typically find in other gloves.
Stand out Features of Cleto Reyes E400 Family Professional Training Boxing Gloves
The gloves feature a contoured design with a sleek appearance. This design not only enhances the aesthetics but also contributes to a more natural and comfortable fit on your hands. The gloves are equipped with a form-fitting curved knuckle area, promoting better fist closure and providing a more natural feel during training. This feature enhances your punching technique and overall comfort.
Crafted from high-quality genuine leather, these gloves are known for their durability and longevity. The use of real leather ensures that the gloves can withstand rigorous training sessions without much wear and tear. The gloves are meticulously handcrafted in Mexico under strict quality control standards. This ensures that each pair meets the brand's reputation for excellence and maintains consistent quality.
The gloves come with an extra-long cuff that offers excellent wrist support, reducing the risk of strains or injuries. The water-resistant nylon lining keeps your hands dry, making them suitable for various combat sports like boxing, kickboxing, Muay Thai, and MMA. The gloves are designed with attached thumbs, which serve to prevent eye injuries and limit the risk of thumb-related injuries during training.
The gloves incorporate long-lasting and durable foam padding, ensuring superior protection for your hands while absorbing impact from strikes. This padding enhances your safety during heavy bag work and sparring. Available in a range of weights and colors, these gloves cater to individual preferences and training requirements. The traditional lace closure adds to the classic appeal of the gloves.
The gloves are not only recommended for professional use but are also great for amateur training sessions. Their durability and design make them suitable for boxers at various skill levels. Designed to counteract the odor caused by sweat accumulation, these gloves ensure a more pleasant training experience and help maintain hygiene.
Professional trainers suggest specific weights based on body weight. The gloves come in various weight options, such as 12 oz (up to 129 lbs), 14 oz (130 to 159 lbs), 16 oz, and 18 oz (160 lbs and above), ensuring you can choose the appropriate weight for your training needs.
These gloves are offered in four sizes—12 oz, 14 oz, 16 oz, and 18 oz—and eleven colors—black, blue, electric blue, yellow, brilliant yellow, citrus green, red, metallic purple, silver, solid gold, and white. You should have enough options from these varying sizes and colors to accommodate most hand types and suit your personal preference.
Durable and comfortable top-quality fighting gloves.
Sleek and anatomical design.
Made of high-quality real leather and handcrafted in Mexico with strict quality control.
Attached thumbs prevent eye injury and limit the risk of thumb injury.
Made with long-lasting and durable foam padding to give you superior protection.
Form-fitting curved knuckle area for better fist closure and more natural feel.
Extra long cuff for support and water-resistant nylon lining to keep hands dry.
Variety of weights and colors with traditional lace closure.
Great for amateur training.
Recommended for sparring, heavy bags, and training in general.
Designed to prevent odor caused by sweat.
Weight suggested by professional trainers: 12 oz until 129 lbs, 14 oz for 130 to 159 lbs, 16 oz and 18 oz for 160 lbs and up.
Specifications of Cleto Reyes E400 Family Professional Training Boxing Gloves
| | |
| --- | --- |
| Farben | Black, Blue, Electric Blue, Yellow, Brilliant Yellow, Citrus Green, Red, Metallic Purple, Silver, Solid Gold, White |
| Größen | 12 oz, 14 oz, 16 oz, 18 oz |
| Material | Leder |
| Typ | Ausbildung |
| Verschlusstyp | Schnüren |
| Empfohlen für | Boxen |
Size Guide of Cleto Reyes E400 Family Professional Training Boxing Gloves
Besuchen Sie den Beamten Cleto Reyes website for the exact size guide for the Cleto Reyes E400 Family Professional Training Boxing Gloves.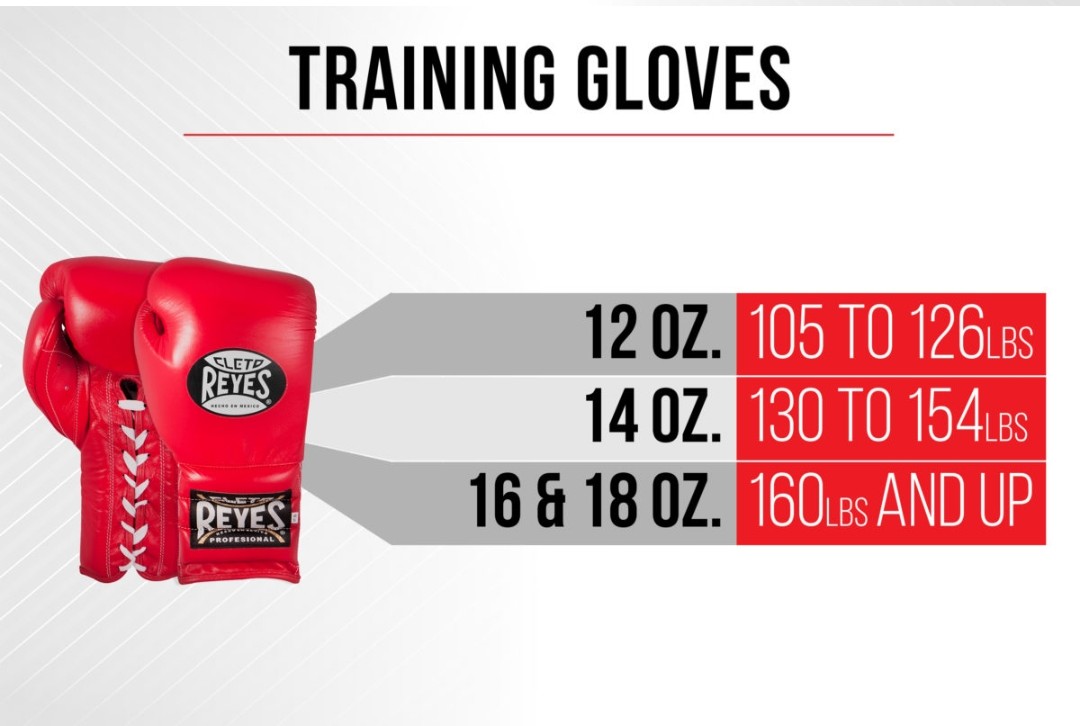 What are the alternatives to the Cleto Reyes E400 Family Professional Training Boxing Gloves?
If you're looking for a cheaper pair of boxing gloves, then the Cleto Reyes E400 Family Professional Training Boxing Gloves may not be the right choice for you. In that case, you can go for the Cleto Reyes Amateur Boxing Gloves for Sparring and Competition Matches. It is an excellent pair of boxing gloves at a comparatively lesser price.
Style Guide of Cleto Reyes E400 Family Professional Training Boxing Gloves
The gloves boast a striking blend of aesthetics and design, making them a coveted choice for fighters seeking both style and substance. The form-fitting curved knuckle area not only enhances fist closure and technique but also contributes to a more natural feel during training, amplifying the overall experience.
Crafted with a classic Mexican boxing glove design, the gloves showcase a timeless elegance that transcends trends. The traditional lace closure not only adds a touch of nostalgia but also offers a customizable fit, ensuring that the gloves remain securely in place during intense workouts.
The meticulously handcrafted construction and attention to every aspect of design speak volumes about Cleto Reyes' commitment to creating equipment that not only performs at the highest level but also exudes an aura of sophistication and authenticity.
The gloves are gorgeous overall, and wearing them makes you feel and look like a million dollars. People who know boxing and even those who do not will commend you on them since the gloves exude quality and enthusiasm, which is obvious to everybody.
Protection of Cleto Reyes E400 Family Professional Training Boxing Gloves
These gloves are excellent for punching with power from light to heavyweights in terms of protecting the hands and wrists. You must always wrap your hands with gloves. The only time you might feel discomfort when using these gloves is if you use power shots to strike one of those old, hard heavy bags, which happens with any glove. However, you may always apply tape to your wrists for added stability and wear a knuckle guard underneath your wraps for additional knuckle protection. The glove may first feel uncomfortable tight until it shapes around the extra bulk, so you'll just have to be patient.
Durability of Cleto Reyes E400 Family Professional Training Boxing Gloves
The durability of these gloves is unparalleled, thanks to their meticulous construction using high-quality genuine leather and advanced padding technology. These gloves maintain their structural integrity even through rigorous use. The combination of genuine leather and long-lasting foam padding ensures that the gloves offer consistent performance, making them a reliable companion for fighters who require equipment that stands the test of time. These gloves will easily last you 3-4 years with medium to heavy use.
Zusammenfassung
These gloves may not be suitable for everyone because they have less cushioning at the front and knuckle area. If you're just beginning out fighting or training, it's advised to start with a different brand, such as Venum oder Titel. A break-in period of 2 to 3 weeks is what average users experienced with moderate bag work. The gloves feature excellent wrist support and a close-fitting hand compartment that, after some break-in, feels comfortable. The only drawback highlighted was the high price.
I've had my current pair for a little over a year now, and I constantly air them out after training sessions in addition to periodically using leather conditioner to keep the gloves supple. The 16 oz gloves are a little on the heavy side. The hand compartment is really tight and took some getting used to, but it feels fantastic now.
Once you put them on you will know why they cost more than other gloves, the premium feel cannot be matched by gloves selling for cheaper. If you're really looking to get a solid pair of gloves that you want to keep for 3+ years, you cannot go wrong with the Cleto Reyes E400 Family. They'll probably be a hit with seasoned boxers because they're so worth the money.
If you're interested in purchasing other Cleto Reyes products, check out our post on the best Cleto Reyes products hier.
About the Cleto Reyes Brand
Cleto Reyes is a renowned Mexican brand known for its high-quality boxing equipment. Established in 1945 by Cleto Reyes Castro, the brand quickly gained popularity for producing top-notch boxing gloves that are favored by professional fighters around the world. Cleto Reyes gloves are handmade in Mexico using traditional craftsmanship and premium leather, resulting in durable and comfortable gloves with excellent performance. The brand's products have been used in countless championship matches and are recognized for their distinctive design and exceptional quality. In addition to gloves, Cleto Reyes also manufactures other boxing gear like Kopfbedeckung, punching bags, and hand wraps, maintaining its reputation as a trusted and respected name in the boxing community.
FAQ
Discover knockout gifts for combat sports fans and enthusiasts on our Gifts Page, just in time for the holiday season and Amazon Prime Day. Get ready to surprise your favorite fighters with the perfect presents they'll love! You can't go wrong with any of these gifts, they are all unique and made for people who love combat sports!
Wenn Sie andere Boxprodukte kaufen möchten, besuchen Sie zum Thema Boxen die folgenden Artikel mit der besten Liste der besten Boxkopfbedeckungen. beste Boxhandschuhe insgesamt, Die besten Boxhandschuhe für den Wettkampf, beste boxschuhe und beste Boxshorts. Wir haben auch einige großartige Rezensionen von Experten für MMA- und BJJ-Enthusiasten. Die besten MMA-Handschuhe, beste MMA-Kopfbedeckung, beste BJJ-Kopfbedeckung, bestes BJJ-Zubehör & beste BJJ-Kniestütze.
Für diejenigen unter Ihnen, die aus Fitnessgründen Kampfsport betreiben, sind hier einige Produkte, die man unbedingt haben muss beste freistehende Boxsäcke, beste Ergänzungsmittel, beste Kampfsportwaffen.
Für einige von uns, die gute Produkte lieben, ohne dafür viel Geld ausgeben zu müssen beste Boxhandschuhe unter $100, beste Boxschuhe unter $99, beste Boxkopfbedeckung unter $50, beste Boxsäcke unter $50.
Für markenbezogene Artikel klicken Sie hier Beste Hayabusa | Bester Sieg | Bester Everlast | Bester Cleto Reyes | Bestes RDX | Bester Rivale | Bestes Venum | Bester Ring zum Käfig