Wie wickelt man beim MMA die Hände?
Die Anatomie der Hand besteht aus winzigen Knochen und Gelenken, die brüchig sind und bei vielen Schlägen leicht brechen können. Wenn Ihre Gelenke in Bewegung sind, wenn Sie bei einem MMA-Kampf mit der Faust Kontakt aufnehmen, kann es zu einem Bruch kommen. Es können auch verschiedene Schäden an der Muskulatur vorliegen und…
But you might be wondering that since you already have your Boxhandschuhe on, why do you need a hand wrap for boxing or MMA? Simply put, hand wraps will give your hands the greatest amount of inside protection.
The fighters' hands are protected by hand wraps, which also stabilize the moving joints. It restricts certain joints, which allows the shock to be absorbed and redistributed across the entire hand. Additionally, hand wraps offer protection for the muscles, tendons, and wrist trauma.
This post will guide you on how to wrap hands the right way for MMA.
Step-by-step hand wrapping for MMA
Given the variety of hand-wrapping techniques, there is no one right method to do it. We'll go over one typical method of MMA hand wrapping and offer a few recommendations. Then, in an effort to facilitate your decision, we'll examine the many hand wrap varieties.
Get a good, standard 4.5-meter cotton hand wrap.
To start, unfold your hand wrap to expose the thumb loop at the end. Knowing which component should be down is always possible. The thumb loop should be placed on your thumb.
Wrap it over your thumb's base, then drag it across the back of your hand. Starting at the back of your hand, wrap your fingers such that when you make a fist, the beginning of the wrap "clinches-up" just a little to make it more secure.
Three times encircle your knuckles. In order to protect more of your punching surface than just your knuckles as you make a fist, be sure to wrap up high enough, generally just under the first knuckle.
Wrap around your wrist three times, somewhat tightly, three times over the back of your hand.
After going around your knuckles and palm, go back to the wrist once more.
Loop the wrap halfway around your thumb and across your palm. Return across your palm once more, then loop the wrap around your thumb from the opposite direction halfway. The thumb is held in place in both directions by this.
Re-encircle your wrist, then starting between your ring and pinky finger, start wrapping between each finger using your thumb as the "anchor." Alternate between the wrist and fingers while repeating for every finger.
It's critical to maintain extended, separated fingers that are not slack. Keeping them loose will cause the wrap to become excessively tight and restrict blood flow. Make a tight fist as you move between the fingers; after the wrap is around the wrist, let the fingers outward. For each new turn, repeat a few times.
To ensure that the wrap is coming up from the base of your thumb, keep your thumb completely extended. To preserve the appropriate and natural spacing that exists between each knuckle, you are wrapping in between each one. This will assist in maintaining the appropriate cushion and space between the knuckles if you miss-hit from the side.
Once you've wrapped the three spaces between your knuckles and fingers, come back up around the outside of your knuckles and wrap them together once more, this time three times, using your thumb as the anchor. By preventing them from separating upon impact, this also aids in maintaining the right space between your knuckles. The wrap preserves the natural gap between the knuckles. Wrapping the knuckles thereafter keeps them in their normal position.
Next, cross your palm over the back of your hand and wrap your wrist at least three more times. There ought to be a little wrap remaining at this stage. Use that to wrap the wrist, then finally close the Velcro strap.
There are innumerable additional ways to wrap your hands. This one is appropriate for MMA since it allows the thumb to be open and mobile while grappling.
Additional tips:
Do not tightly wrap your hands
Avoid using too loose of a wrap
When wrapping, be certain the proper side of the wrap is facing downward
To provide them the necessary support, make sure you wrap your wrists as instructed
If you have a lot more wrap, you can create an X pattern by crossing back and forth across the back of your hand. Your wrist wraps may be too tiny, and you should think about obtaining wraps that will provide you with total protection if you can't make three or more final wraps around it
On the other hand, you might think about obtaining shorter wraps if you have a lot more unnecessary wrap. You won't be able to make a solid, tight fist if your hands are too wrapped up
Different styles of MMA hand wraps
Choosing your hand wrap type is a crucial initial step that will ensure your comfort and ability to complete repeated hits. Most boxers will typically use cloth wraps, which are a good standard option. The lightest and most accessible option is tape and gauze wraps.
Cloth wrap
These are reliable conventional wraps that are offered in a range of lengths. The length of a cloth wrap ranges from 180 to 210 inches.
The length of the fabric should be determined by how much protection you require so that you have enough to wrap your hands in.
Choose shorter lengths if you're practicing alone or have smaller hands. Choose longer lengths if you have larger hands or for sparring.
Vorteile:
Customizable Fit: Cloth wraps can be adjusted to the individual fighter's hand size and wrist requirements, providing a personalized and snug fit.
Sweat Absorption: Quality cloth wraps can absorb sweat, keeping the hands dry and reducing the chances of losing grip during the fight.
Reusability: Cloth wraps can be washed and reused, making them a cost-effective option in the long run compared to disposable alternatives.
Nachteile:
Time-Consuming: Wrapping the hands properly can be time-consuming, and fighters may need assistance to achieve the correct technique, especially for beginners.
Hygiene Concerns: While reusable, cloth wraps can accumulate bacteria and odors over time, requiring regular cleaning to maintain proper hygiene.
Inconsistent Wrapping: If not wrapped correctly, cloth wraps may provide uneven support, leading to potential hand injuries and discomfort.
Tape and Gauze wrap
It's a common practice among professional boxers to wrap their hands with gauze and fasten them with a variety of tapes. It is regarded as the simplest and safest method for encircling your hands.
Vorteile:
Lightweight: Gauze wraps are lightweight, which can be beneficial for fighters who prefer minimalistic hand protection without added bulk.
Freedom of Movement: Due to their thin and flexible nature, gauze wraps offer excellent freedom of movement for the hands and fingers during fights.
Nachteile:
Time-Consuming: The process of wrapping hands with gauze can be time-consuming, potentially causing delays in training sessions or fights.
Disposable: Gauze wraps are typically single-use and need to be replaced after each training session or fight, which can add to the overall cost.
Hygiene Concerns: Like cloth wraps, gauze wraps can accumulate sweat and bacteria, requiring careful handling and disposal to maintain hygiene.
Elastic bandage wrap
Since elastic hand wraps have greater flexibility than reusable cloth, they may move with your hands as you do boxing movements and mold them. As you exercise or work out, they do not become looser.
Vorteile:
Adjustable Compression: Elasticity allows for adjustable compression, allowing fighters to customize the level of support and comfort based on their individual needs.
Breathability: Many elastic bandage wraps are designed with breathable materials, which can help reduce sweat buildup and maintain hand dryness during training and fights.
Reusability: Depending on the quality, some elastic bandage wraps can be reused multiple times, making them cost-effective in the long run.
Nachteile:
Limited Knuckle Padding: Elastic bandage wraps may not offer as much knuckle padding as other hand protection options, potentially leading to discomfort during intense striking.
Bulkiness: Compared to gauze wraps or thin hand wraps, elastic bandage wraps can be bulkier, which might affect the feel and fit of gloves.
Choosing the correct length and width of hand wraps
Knowing how much wrap you'll need is crucial because they come in a variety of lengths. The extra material you need to wrap your hands firmly depends mostly on trial and error, but as a general rule, the bigger your hands are, the more material you'll need. Running out of wrap can be very annoying, but you can always wrap the extra wrap around a couple more times.
You need to take breadth into account in addition to length. The typical wrap width is 2 inches, although you can also get thicker and thinner widths. Personal preference is what matters, not outcomes. Wider wraps will give you more grip if you fasten using velcro.
Maintenance of hand wraps
Before wrapping up and placing the wrap in the washing machine on a regular wash, check the wrap for any tears. Invest in a mesh bag to store the wraps in to prevent them from being entangled or trapped in the machine. Before using again, let everything air dry.
Zusammenfassung
When practicing for MMA, knowing how to wrap your hands is essential for preventing injury. You may initially find it difficult, but with practice, you'll master the art of hand-wrapping.
The initial step should be to select a wrap that is appropriate for your specific circumstance. Then, get to know how to wrap your hands and keep on practicing more. Finally, you'll be prepared to start engaging in MMA.
Want to learn how to wrap hands for boxing? Read our detailed guide here
Best MMA hand wraps
Beste Handwickel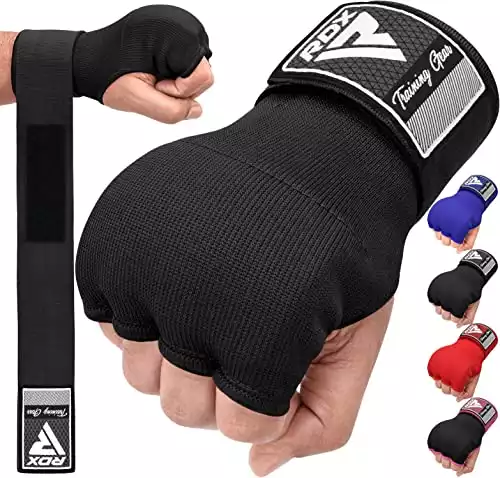 RDX Training Boxing Innenhandschuhe Handwickel MMA Faustschutz Bandagen Fäustlinge, Medium, Schwarz
Die RDX Boxbandagen für das Training in Muay Thai, MMA, Boxen und Kontaktsportarten bieten eine hervorragende Unterstützung des Handgelenks und bieten gleichzeitig höchsten Komfort für ein effektives Training.
Hergestellt aus einem strapazierfähigen Stoff mit Daumenloch für mehr Sicherheit, Temperaturkontrolltechnologie, damit Ihre Hände bequem, trocken und warm bleiben, einer Schaumstoffpolsterung, um Stöße zu verringern, und einem integrierten Gel, um Ihre Hände rutschfest zu halten.
Darüber hinaus können Sie mit einem um 75 cm erweiterten Rundum-Design die richtige Unterstützung erhalten, um Ihre Knochen jederzeit an Ort und Stelle zu halten. Die ideale Verteidigung für Anfänger und Experten, diese Handbandagen sind in verschiedenen Größen erhältlich.
Vorteile:
Ideal für Anfänger

Zeitersparnis
Nachteile:
Kann zwischen den Fingern schmerzhaft sein
Angebot ansehen
Kaufen Sie bei Amazon
Häufig gestellte Fragen
For MMA, should I wrap my hands?
Yes, you should wrap your hands; that is the quick and simple response. In order to lower your risk of injury, wrapping is crucial if you participate in sports like boxing, MMA, muay thai, or kickboxing, regardless of your skill level or degree of training.
Do UFC competitors wrap their hands?
Yes. Professional wraps made of tape and gauze are typically given to combatants in combat sports like boxing, MMA, and others.
Do hand wraps make it harder to strike?
Wraps, when worn properly, stop your wrist from bending excessively forward or backward. They maintain the ideal alignment of your hand and wrist, enabling you to deliver punches that are more precise. You could discover that you can strike more forcefully and with less effort after wearing hand wraps for a while.
Can you reuse MMA hand wraps?
Hand wraps are designed to be used again and again. Only cloth wraps, though, can be reused. Just be careful to wash them frequently to avoid bacterial growth and bad odor.
Wenn Sie andere Boxprodukte kaufen möchten, besuchen Sie zum Thema Boxen die folgenden Artikel mit der besten Liste der besten Boxkopfbedeckungen. beste Boxhandschuhe insgesamt, Die besten Boxhandschuhe für den Wettkampf, beste boxschuhe und beste Boxshorts. Wir haben auch einige großartige Rezensionen von Experten für MMA- und BJJ-Enthusiasten. Die besten MMA-Handschuhe, beste MMA-Kopfbedeckung, beste BJJ-Kopfbedeckung, bestes BJJ-Zubehör & beste BJJ-Kniestütze.
Für diejenigen unter Ihnen, die aus Fitnessgründen Kampfsport betreiben, sind hier einige Produkte, die man unbedingt haben muss beste freistehende Boxsäcke, beste Ergänzungsmittel, beste Kampfsportwaffen.
Für einige von uns, die gute Produkte lieben, ohne dafür viel Geld ausgeben zu müssen beste Boxhandschuhe unter $100, beste Boxschuhe unter $99, beste Boxkopfbedeckung unter $50, beste Boxsäcke unter $50.
Für markenbezogene Artikel klicken Sie hier Beste Hayabusa | Bester Sieg | Bester Everlast | Bester Cleto Reyes | Bestes RDX | Bester Rivale | Bestes Venum | Bester Ring zum Käfig