Short de boxe pour adultes Everlast Competition : examen détaillé
A boxing short is required as part of a boxer's training equipment. Especially when the boxers are in the ring, they should be as useful and comfortable as possible. Superior boxing trunks are roomy and loose so that athletes can move freely during competition and sparring. To keep boxers dry and cool, boxing shorts are specifically composed of breathable polyester and premium satin.
Boxing shorts come in different colors, styles, and patterns so that the wearer can choose what they like best. They should be loose-fitting, light-weight, and have enough room in the crotch for a pro-style cup.
I'll be reviewing the Everlast Competition Adult Boxing Shorts today with all of these considerations in mind, and after conducting extensive research, I can say with confidence that Everlast provides the highest quality and flexibility in boxing shorts for any boxing fan.
About the Everlast brand
Everlast began in the Bronx in 1910 as a producer of swimsuits, but today the name is linked with boxing. The original swimsuits designed by swimmer Jacob Golomb were guaranteed to last a year. Although the swimsuits did not last throughout history, the name Everlast, which Golomb proudly gave, is now one of the major sporting equipment companies.
In the years that followed, Golomb changed his business into a small store that sold a wide range of sports equipment. Golomb and Everlast were first introduced to boxing in 1917 by a young fighter called Jack Dempsey. When Dempsey won the heavyweight title while sporting gants de boxe created specifically for him by Golomb in 1919, Everlast rose to become the global leader in boxing equipment.
On October 24, 2000, the Everlast company was bought by the management and stockholders of the Active Apparel Group (AAGP). Everlast Worldwide Inc. was purchased by the British retailing group Frasers Group on September 20, 2007. As of today, there are 88 Everlast licenses globally and the Everlast brand is available in over 101 nations. It is currently headquartered in Manhattan, New York, United States.
Description du produit
Short de boxe adulte Everlast Competition
Meilleur short de combat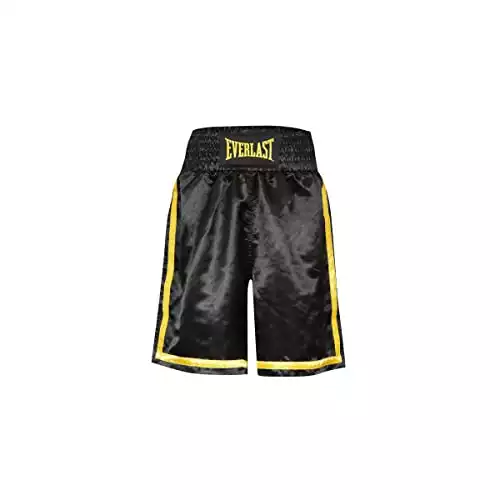 Short de boxe adulte Everlast Competition, noir, L
Parce qu'ils sont faits de polyester léger, les shorts de boxe Everlast vous offrent plus de liberté de mouvement et une meilleure circulation de l'air.
La technologie EverCool aide à contrôler la température de votre corps, afin que vous puissiez vous entraîner confortablement. Le tissu 100 % polyester et la ceinture élastique de 10,2 cm assurent un ajustement sûr, et les fentes profondes sur les jambes offrent plus de mouvement.
Avantages:
Excellent ajustement

Longue durée
Les inconvénients:
Pourrait se sentir un peu lourd à porter
Voir l'offre
Acheter sur Amazon
Features Of The Everlast Competition Adult Boxing Shorts
Excellent comfort and mobility
Coutures renforcées durables
Can be used both in training and competition
Appropriate for all martial arts
Cleaning Advice: Machine Washable
Specifications Of The Everlast Competition Adult Boxing Shorts
Brand: Everlast
Material: 100% polyester
Closure Type: Elastic
Fit Type: Snug
Color: Black/Gold, Red/White, and Blue/White
Size: Small, Large, and Extra-large
The Right Waistband
The waistband of the Everlast Competition Boxing Shorts is its most striking component. The 4-inch extra wide elastic waistband on these shorts strikes the ideal balance between comfort and usefulness.
It is so large in order to benefit from the "can't hit below the belt regulation." Thus, having a wider waistline can reduce the target area for body shots.
Matériel
The material of your boxing shorts is an important consideration to be made. It will affect its comfort and performance as well as its mobility and movability.
Since the Everlast Competition Boxing Shorts are composed entirely of polyester satin, they are breathable, tear-resistant, durable, and light-weight.
Durabilité
Because boxing is a hard sport and your shorts will take a lot of punishment, investing in sturdy shorts is crucial. Due to the use of reinforced seams, the Everlast Competition Boxing Shorts exhibit exceptional durability. You can train for as long as you like and not be worried about wearing out your shorts
Concevoir
The most important considerations when purchasing a pair of boxing shorts should be functionality and performance. But who, after all, does not want to look good?
The design, color, and fit of the Everlast Competition Boxing Shorts make you look excellent. These boxing shorts have side slits. With the black shorts, they have gold side stripes, and the red and blue shorts have white side stripes. Five flat elastic bands divided by stitching make up the waist.
Ease of movement
Whether you're performing cardio or ducking punches, boxing requires good movement skills. The Everlast Competitive Boxing Shorts give you comfortable, unrestricted movement. They offer extra leg slits for movement, which enables you to perform at your best with the fewest limitations.
protection
You're going to need a lot of protection if you're going to train boxing with a partner. The Everlast Competition Boxing Shorts have ample room for you to wear your customary groin guard. Although these shorts are spacious enough, they aren't too big, compromising the fitting. They are of the right size that fits properly and pleasantly.
Maintenance
30 ° C is the suggested washing temperature of the Everlast Competition Boxing Shorts
Wash the shorts inside out with items that are the same color
Never tumble dry the shorts
Iron the shorts on low temperature on the backside
Tableau des tailles
Boxing shorts are measured by waist size.
| | |
| --- | --- |
| Taille | Waist |
| S | 24″ – 25″ |
| L | 32″ – 33″ |
| XL | 34″ – 37″ |
Résumé
Despite their enormous appearances and garish patterns, boxing shorts are used for a variety of purposes more than only to appear fashionable. While you're in the ring, the Everlast Competition Boxing Shorts keep you at ease and cool. The groin protector fits within these boxing shorts without being visible.
You receive a lot of air flow and do not overheat because of its large size. They also aid in reducing the opponent's aim area. Since you're not supposed to hit under the belt, you'll frequently see combatants pulling their shorts as high as they can.
These shorts strike the perfect balance between utility and style. With the exceptionally light polyester satin material utilized in the construction, they are made with the intention of giving you a smooth and nice feeling. These shorts facilitate excellent movement and improve the fighter's overall performance.
Because of the excellent and tight stitching, these shorts will last you for a very long time, and the colors look fantastic. Under these shorts, a groin protector can be worn with ease, and you'll still have space to walk around comfortably.
To wrap it up, you can be sure that you are getting high-quality boxing shorts with the Everlast Competition Boxing Shorts since they are made by a firm that has a long history of producing incredible fighting products.
Questions fréquemment posées
Is Everlast a reputable boxing company?
When it comes to boxing, Everlast is the brand that most people consider. They have been around for more than a century and unquestionably provide high-quality pro fight merchandise.
What type of fabric works best for boxing shorts?
Popular materials for boxing shorts include polyester and polyamide, particularly when combined with satin and cotton.
What length are appropriate boxing shorts?
Wide and cozy cuts are ideal for boxing shorts. Typically, the bottom of the shorts should fall slightly above the knee. The elastic waistband ought to be quite adaptable.
Le short de boxe doit-il être porté serré ou lâche ?
Boxing shorts should not be constricted or uncomfortable. They are designed with an elastic fit that offers equal amounts of support and comfort to match the form of your body. They should hold your package comfortably in the front and rest on your skin on the legs.