RDX T15 Noir Gel Padded Boxing Inner Gloves: Review
Welcome to this post, where we'll be diving deep into the RDX T15 Noir Gel Padded Boxing Inner Gloves review. As we explore these inner gloves, I'll provide you with a detailed analysis of their design, materials, and construction quality, shedding light on how they contribute to a comfortable and secure boxing experience.
Throughout this review, I'll discuss the key features that set the RDX T15 Noir Gel Padded Boxing Inner Gloves apart from the competition. From the choice of materials that ensure breathability and durability, to the innovative design that guarantees a snug fit, we'll explore how these inner gloves address the needs of both novice boxers and seasoned fighters.
RDX T15 Noir Gel Padded Boxing Inner Gloves: Overview
These gloves are actually inner gloves. In essence, this means that they are primarily designed to be worn as an additional layer of protection underneath a second, larger boxing glove. They are ideal for striking but also good for grappling, wrestling, and other non-heavy striking open-hand arts and combat disciplines.
The advantages of both inner gloves and regular hand wraps are combined in the RDX T15 Noir Inner Gloves. Neoprene, which is used in their construction, offers a superb fit and exceptional durability. Add to this the double-stitched half-finger pattern.
These inner gloves are ideal for you if you enjoy switching up your workout routines during a session. To offer extra protection, train your knuckles against punching bags with these gloves or put them inside your larger boxing gloves. Use these inner gloves to perform rounds of punching or alternate between using weights, kettlebells, or bars.
RDX T15 Noir Gel Padded Boxing Inner Gloves
RDX Boxing Inner Gloves Hand Wraps Men Women, Hybrid Design Gym Weight Lifting Workout, 50Cm Long Wrist Support
Product Description
If you want the most mobility possible with a good degree of protection, the RDX T15 Noir Inner Gloves are a terrific pair of gloves. Additionally, it offers excellent value for money without sacrificing quality.
When lifting heavier weights, the silicone-dotted grid on the palm ensures an unbreakable grip and gives you complete control. Unrestricted movement is ensured with an open thumb design, which also accommodates different gripping techniques for maximum comfort.
The gloves are fastened with the Quick-EZ hook-and-loop closure system, which provides a tight fit and excellent wrist support due to its dual-point fixation. These gloves are essential for combat sports like boxing since they have dual padding integrated on the dorsal side, allowing you to train with different combinations.
The gloves' long-lasting construction includes spandex piping that protects against splits and tears, ensuring durability over time. The X-Foam Padded Slab on the dorsal side absorbs impacts and supports gel padding to distribute force during blows.
These gloves are made of high-quality neoprene fabric and offer heat resistance, rip resistance, and long-lasting comfort. Their adaptability extends to low-impact sports like kickboxing, mixed martial arts, and muay thai.
Pros:
Easy to wear.

High quality and Long-lasting.

Is excellent for cross-training.

It is multifunctional
Cons:
Slender for sustained hitting practice

Difficult to use with MMA gloves

It could be difficult to find the proper size
View Deal
Buy on Amazon
Materials used for construction of the RDX T15 Noir Gel Padded Boxing Inner Gloves
One of the strongest synthetic fabrics, neoprene, is used to construct these gloves. The synthetic rubber substance neoprene is renowned for its exceptional flexibility and durability. Neoprene is perfect for shaping around the hand since it can keep its shape and offer a secure fit. In addition to all of its practical qualities, neoprene is also quite cozy.
Additionally, these gloves' palm regions are entirely rubberized, which increases holding stability, adds to the structural integrity of the gloves, and makes it simpler to execute techniques. Rubberized palms also aid in achieving a genuine gripping sensation since they mimic the traction that comes from using bare hands. This contributes to the natural sensation these gloves have when worn.
In addition, these gloves are extremely breathable due to the clever stitching and choice of materials, which prevent excessive perspiration under the gloves and prolong their freshness and cleanliness.
Stand out Features of RDX T15 Noir Gel Padded Boxing Inner Gloves
I've had the opportunity to test the RDX T15 Noir Boxing Inner Gloves, and I must tell you that they offer several distinctive features that significantly improve your training. For improved control when lifting heavier weights, the silicone-dotted grid on the palm greatly enhances grip. Another revolutionary feature is the open thumb design. To hold the bars in a way that feels comfortable to you, it is essential that you have unfettered movement.
I liked the Quick-EZ hook-and-loop closure system, which is yet another outstanding feature. In addition to ensuring a tight fit, this closure fastens at two different spots along the 50-cm-long strap, providing superb wrist support while you exercise. It's a great idea to prepare for combat sports like boxing with two separate padding combinations on the dorsal side because it allows you to practice different combinations. These gloves may be used for a single gym session, including a variety of exercises, thanks to their dual-purpose design, increased grip, and excellent padding.
The use of spandex piping, which guards against splitting or tearing of the inner gloves, contributes to the product's exceptional durability. The dorsal side has an X-Foam-padded slab that lessens the force of the collision, and the gel cushioning works in conjunction with the X-Foam to absorb the force. The gloves' lengthy lifespan is made possible by the neoprene fabric and spandex piping, which give wearers a sense of resilience and happiness. These inner gloves are adaptable and ideal for grip-enhancing weightlifting as well as contact sports like MMA and boxing.
When using mitts and speed balls for precision training or mild sparring, these gloves are ideal. The distinctive open thumb design ensures a tight fit and prevents sliding through various activities, which increases your overall comfort. Overall, the RDX T15 Noir Boxing Inner Gloves are well-made, provide a number of features that improve your training sessions, and are appropriate for both combat sports and weightlifting.
These hand wraps are offered in four sizes—small, medium, large, and extra-large—and the color black. You should have enough options from these varying sizes to accommodate most hand types; however, there could have been more color options.
Silicone dotted grid.
Open thumb design.
Long strap with dual Quick-EZ hook-and-loop closure.
Spandex piping.
X-foam padded slab.
Gel padding.
Exceptional quality.
Specifications of RDX T15 Noir Gel Padded Boxing Inner Gloves
| | |
| --- | --- |
| Colors | Black |
| Sizes | Small, Medium, Large, Extra-Large |
| Material | Neoprene |
| Glove Type | Hand wraps |
| Strap Length | 50 cm |
| Closure Type | Hook and Loop |
| Recommended For | Boxing, Punching, Training, MMA, Muay Thai, Martial Arts, Kickboxing |
Size Guide of RDX T15 Noir Gel Padded Boxing Inner Gloves
Visit the official RDX website for the exact size guide for the RDX T15 Noir Gel Padded Boxing Inner Gloves.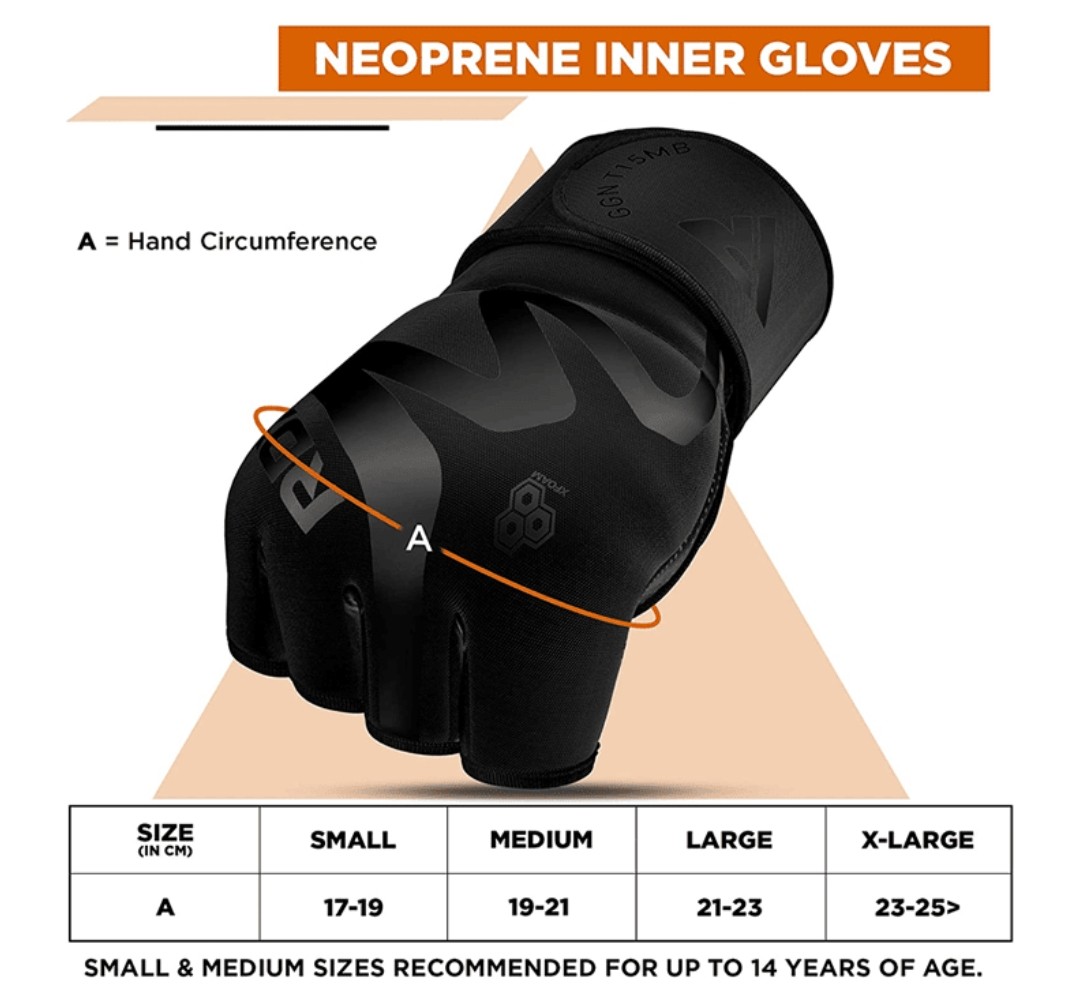 What are the alternatives to the RDX T15 Noir Gel Padded Boxing Inner Gloves?
If you're looking for another brand's inner gloves, you can go for the Hunter Gel Padded Inner Gloves.
Style Guide of RDX T15 Noir Gel Padded Boxing Inner Gloves
The RDX T15 Noir Inner Gloves are a replacement for hand wraps, especially for beginners who are unclear of how to correctly wrap their hands or more seasoned strikers who prefer the simplicity of putting a glove on rather than the more time-consuming procedure of hand wrapping before a workout.
These inner gloves' design strikes a balance between form and function to make sure they not only improve your training but also stand out visually. The gloves come in a variety of sizes, ensuring a secure and custom fit for different hand sizes. The sizing label is inconspicuously placed for easy identification.
The striking, deep black of the glove's color scheme makes it easy to match it with any outfit. The placement of the RDX emblem, which stands for quality and innovation, on the closure strap quietly confirms the gloves' authenticity and performance-driven design. The incorporation of simplistic branding components improves the gloves' professional appearance.
Comfort of RDX T15 Noir Gel Padded Boxing Inner Gloves
The comfort of hand wrapping is far superior to wearing these inner gloves. Even with a 50-cm wrist strap, these gloves can't provide the same level of support as hand wrapping because wrapping allows you to modify the thickness of padding around certain parts of your hand and the support for your wrist. On top of that, the material between your middle and ring fingers tends to be painfully pulled further into the webbing of your hand during a longer training session since the gloves have a tendency to slide up your wrist.
But that does not mean that these gloves aren't comfortable—in fact, they're rather cozy while still being useful. You can quickly put these gloves on, and they will provide you with enough protection to go through a pad session or some light sparring. Never use them in a match or when hitting hard; nonetheless, they are perfect for beginners and intermediates.
Protection of RDX T15 Noir Gel Padded Boxing Inner Gloves
The padding on the knuckles of the glove is sufficient to deflect quite a bit of impact on its own. The materials of the glove do an excellent job of shielding the hand's most vulnerable areas from impact. This is why you can practice martial arts like Muay Thai, MMA, Karate, or another striking-based discipline while wearing these gloves; however, it is not advised that you do so for an extended period of time.
These gloves are adaptable and can be used for a range of martial arts. Jiu-Jitsu, Brazilian Jiu-Jitsu, numerous wrestling styles, and grappling all need the greatest amount of hand mobility, which these gloves offer. The absence of significant padding or a knuckle guard allows for optimal grappling and wrestling technique because the fingers and hands may move freely.
Wrist Strap of RDX T15 Noir Gel Padded Boxing Inner Gloves
Given their length and simplicity of use, these gloves' extended bands are known as Quick-EZ hook-and-loop straps. Neoprene is used to create this wrist strap, which is strong and reliable. The wrist band's 50-cm length aids in snugly holding the gloves in position while minimizing arm fatigue. Additionally, the lengthy strap keeps the wrists more fixed and tight without impeding their range of motion, which is a tremendous help in lowering the danger of wrist injuries, which are rather common in combat sports. Your training will be much more pleasurable and carefree because you won't have to worry about the security of your wrist and hand thanks to the expanded band, which will reduce the danger of damage.
Summary
The RDX T15 Noir Inner Gloves are a fantastic set of gloves with several uses. This is one of your best options if you practice several different martial arts concurrently. It is ideal for the job if you need some protection for your hands when practicing ground combat skills or grappling maneuvers. To provide additional protection and further safeguard your hands, you can wear these under your actual boxing gloves if you intend to engage in vigorous boxing.
The glove is extremely protective and has a considerably heavier feel. When used with actual boxing gloves, it has an anti-slipping feature on the front, which is crucial. It covers more of the finger joint, and the arm wrap is somewhat thicker. The stitching is superb, and the material feels substantially better. Under my actual boxing gloves, it fits just right. The versatility of this glove is one of its key characteristics. These gloves will always provide exceptional performance, no matter how many various martial arts you train in them for.
If you're interested in purchasing other RDX products, check out our post on the best RDX products here.
About the RDX Brand
One of the most well-known combat brands in the UK, RDX specializes in gear for fighting sports, fitness, and training. Since its founding in 1999, RDX has built a reputation for producing high-quality equipment, including boxing gloves, MMA gloves, protective gear, and training clothes and accessories. Whether it's boxing gloves, hand wraps, or boxing shorts, many people own at least one item from the RDX brand.
The company has a reputation for making high-quality, reasonably priced gear for users of every skill level. When people first begin practicing martial arts, they frequently choose RDX's items as their initial pieces of gear. The company is well-known for its cutting-edge designs and technology-driven approach to sports apparel, and it has a significant online presence. Additionally, RDX has sponsored athletes and events within the combat sports and fitness industries.
FAQ