Cleto Reyes Hook and Loop Training Gloves Review – Updated 2022
Cleto Reyes Hook and Loop Training Gloves are the ultimate choices for boxers who want the best.
Cleto Reyes is one of the most respected names in boxing, developing some of the highest quality gloves available. Their Mexican-styled designs that feature minimal fist padding make them one of the most recognizable brands on the market. Their training gloves rival the quality of their fighting gloves. Today, we review the Cleto Reyes Training Gloves – Lace-up/Hook & Loop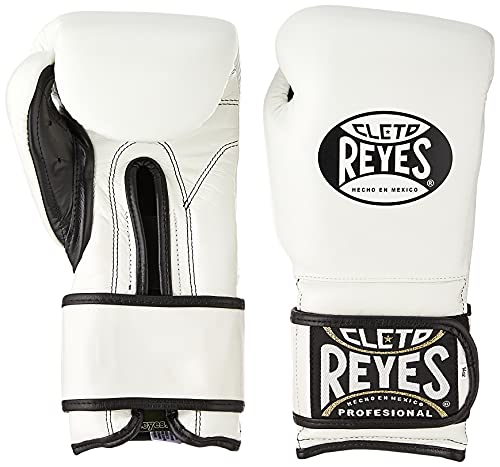 Cleto Reyes Boxing Gloves
Cleto Reyes is one of the most respected names in boxing and has developed some of the highest quality gloves available. When you're training for a competition, you want to make sure you're using gloves that are designed with your striking needs in mind.
These gloves have many excellent features, including an intelligently designed thumb and wrist support system that is made of 100% leather and waterproof nylon padding to keep your hands dry and ensure you have a superior training experience. These gloves are very comfortable and also feature a wrap-around hook enclosure that doesn't ever seem to slip. When it comes to comfort and performance, these are great gloves, second only to the winning boxing pair.
[toc]
Are Cleto Reyes gloves good?
Cleto Reyes boxing gloves are top-notch gloves made in Mexico. They are handcrafted and hand-stitched and when you put them on your hands, they feel natural like they're not even there. Cleto Reyes gloves are designated "puncher's gloves" as the knuckle area has less padding than other gloves, such as Winning or Grant. Reyes gloves are soft, and you can feel your knuckles through the padding when wearing them. This leads to higher punching power, but fewer superior protection options for your hands.
Manny Pacquiao, Juan Manuel Marquez, Kelly Pavlik, Marcos Maidana, Amir Khan, and a slew of other elite fighters use Reyes gloves. They're popular among fighters who haven't had any hand difficulties in the past and have above-average punching power.
What is the Hook and Loop closure Cleto Reyes best used for?
The loop training gloves can be used by both men and women and are best for sparring, heavy bags, punching bag workouts, and training in general.
These beauties are among the greatest training gloves on the market, with an ingeniously engineered thumb and wrist support system made of 100% leather and waterproof nylon cushioning. These one-of-a-kind gloves should be in your locker if you're looking for a new pair of training gloves and have some cash to spend.
If you practice with Cleto Reyes gloves, you'll never be without a thrill, since they protect you just enough to prevent bone fractures and sprains while yet allowing you to feel the raw strength of your strikes. These gloves provide a thrilling training experience and will last you years of training thanks to their 100% leather design and well-designed grip. These gloves also allow you to display your style thanks to the wide range of colors available.
What are the features of the Cleto Reyes training gloves?
Handmade leather strap with hook and loop closure for a firm and quick adjustment.
Increased wrist adjustment provided by a short cuff, laces, and leather wrist strap.
Best leather and synthetic materials manufactured under the strictest quality control.
Attached thumb prevents eye injury and keeps thumbs from being broken or sprained.
Water-repellent lining prevents moisture from entering the padding.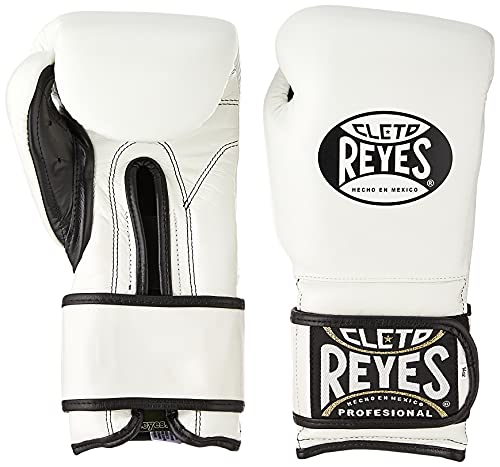 Will I look good in the Cleto Reyes gloves?
The iconic Cleto Reyes Training Gloves look and feel like champion gloves, featuring real leather and a traditional aesthetic design that live up to Cleto Reyes' unrivaled reputation. The enlarged Cleto Reyes emblem is sewn into the punch area and wrist guard, which are available in yellow, white, blue, black, pink, and Mexican flag colors and reflect the traditional Mexican craftsmanship. The gloves are substantially thinner in the punch area, resulting in a less bulky appearance. These leather gloves are also available in 10+ color options providing you the variety you need to showcase your style.
Padding and Protection of Cleto Reyes Gloves
The punch area of these training gloves has a full 2″ of padding to protect your hands while still letting you feel the "pop" in your strikes. The thumb and finger support mechanism is designed to prevent sprains and breaking better than competing training gloves. The padding is also protected from moisture damage since the gloves' nylon shell prevents water from soaking in and destroying the padding.
If you are not a fan of the 'thin' padding and a snug fit, we would suggest adequate preparation of your hands (hand wraps), compared to traditional training gloves to get the best protection.
Quality and durability of Cleto Reyes Gloves?
These gloves take a while to break-in, which means you'll be pounding the "Stiff" out of them for up to 6 months. That's fine because these beautifully crafted gloves will last you a lifetime. The Cleto Reyes Training Gloves are made of the highest quality material including durable foam and leather and are engineered to withstand a lot of abuse. The strong Velcro strap or lace-up strings on the wrist guard accommodate most hand sizes, making them as comfortable as they are robust.
How to clean Cleto Reyes gloves?
Always wear clean hand wraps
Remove excess moisture after each use
Air out to prevent bad smells after use
Periodically apply a leather conditioner
Never leave your Cleto Reyes gloves in your gym bag
Never expose your gloves to sunlight or heat
Never wash or soak your cleto gloves
Never use a washing machine or dryer
Cleto Reyes training gloves – Size guide
These gloves are available in different sizes and to ensure the best fit, the guidance according is to use the below sizes based on your weight
105 – 129 lbs: 12 Oz
130-154 lbs: 14oz
160 lbs and above: 16oz and 18oz
Amazon reviews and testimonials of Cleto Reyes
[blockquote cite="petinju13″]best Mexican glove I've ever had…I love the hybrid style (hook and loop plus lace) this is good for my wrist…and the padding is not so hard in my opinion especially if you used it for a couple of years. Fantastic for professional trainers and professional fighters. rate 9/10.[/blockquote]
Cleto Reyes 16 oz. 5 years used for sparring pad work and bag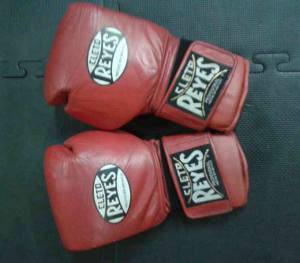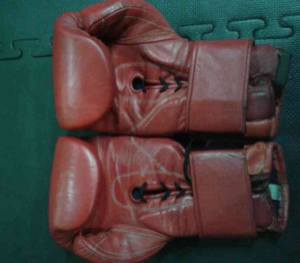 [blockquote cite="Rozwell"]The gloves have held up excellently. They remain in pristine condition, fit like a dream, and offer second-to-none wrist support. One issue I'd mention is that these are punchers gloves with lighter padding in the knuckles, so multiple hard rounds on the heavy bag will leave your hands a little sore. They're great for sparring, especially against someone a little bigger or stronger that you need a little pop in your hands to keep them off of you. That being said, you might want to tone down your power against amateur boxers and smaller guys, especially if you want them to have more practice sessions and training sessions with you. [/blockquote]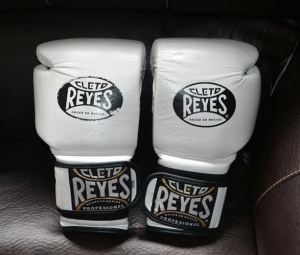 [blockquote cite="T. Smith"]…Mexican-style gloves are long, flat, almost rectangular, with minimal knuckle protection. It's a very polarizing style of a boxing glove, one you will either love or hate… Read full the review on Amazon>>
[/blockquote]
[blockquote cite="Eric"]…The build quality is superb from the stitching to the materials. The gloves look great aesthetically as well… Read the full review on Amazon>>
[/blockquote]
Cleto Reyes Training Gloves – Pros and Cons
Pros:
Feel the power of your punches with just the right protection to prevent injuries
Smartly designed and long-lasting gloves
100% leather design with great color variety allows you to express your style
Cons:
Mexican style minimal front padding may not be suitable for all and boxers usually 'Love it or hate it; risk of a thumb injury
Long break-in time can be frustrating for fighters who want a faster glove fir to perform immediately
NOT cheap gloves and have a pretty high price ( $180+ )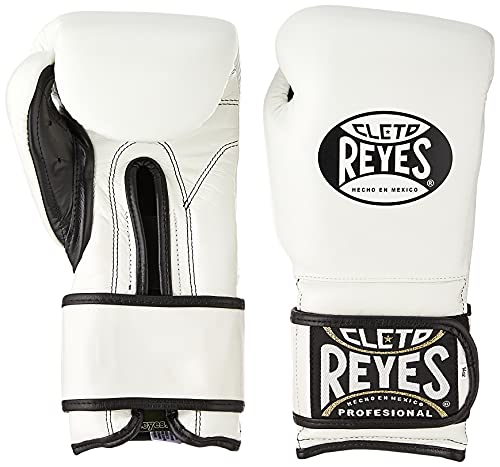 Give the Cleto Reyes Training Gloves a Try
In summary, the mastery by which Cleto Reyes gloves are designed is a true testament to their skill and excellence in design. The hand-made leather designs they put forth rival some of the best brand-name gloves on the market, and as long as you can look past the minimal front padding, these are some of the best training gloves that you can buy.
If you want to check options beyond the Cleto Reyes Gloves, read our  reviews of the TOP 10 BOXING GLOVES
Other Cleto Reyes products (soon to be reviewed): Cleto Reyes hybrid gloves, Cleto Reyes universal training gloves, Cleto Reyes head guard
[signoff icon=" comments"]Do you have anything to add or to ask? Feel free to leave a comment below! [/signoff]