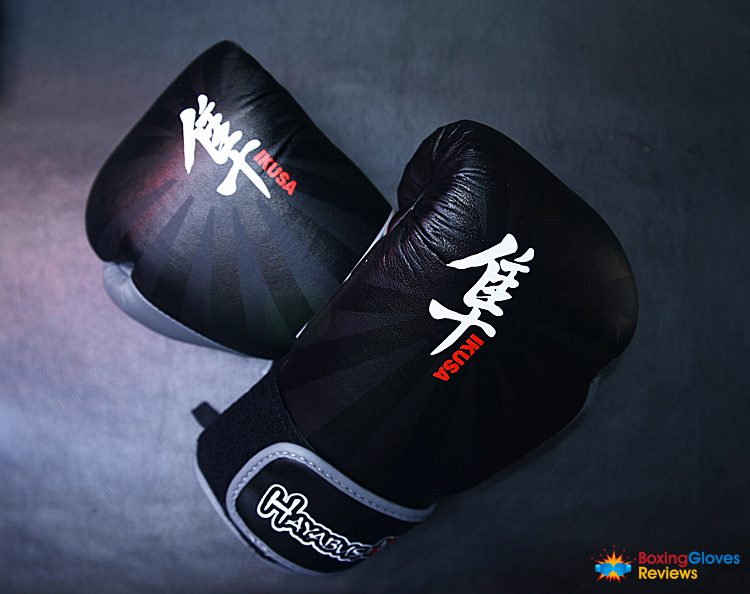 Overview
Item Reviewed
Hayabusa Ikusa Boxing Gloves
July 4, 2013
Positives
1. Advanced moisture-wicking system keeps gloves from sliding.
2. Patented Dual-X provides excellent wrist support for better power and protection.
3. Ample amount of research to support the design.
4. High quality inner lining and exterior leather.
5. Fully resistant to surface abrasion, tears, cracks.
6. Very flexible.
Negatives
1. Can be difficult to get off and on during training, due to dual strap, I simply use my mouth.
2. Tight fit for average hands
3. Can be a little bit pricey, depending on where are you buying them from.
Full Review
Hayabusa Ikusa boxing gloves (Est. $88 at Amazon) are rapidly becoming some of the most popular gloves in the MMA circuit. According to the Hayabusa website, these boxing gloves have been custom engineered to provide the perfect combination of performance, durability and comfort.
In Japanese, the word Hayabusa refers to the swift and deadly peregrine falcon—the fastest member of the animal kingdom. This bird of prey captures the essence of the Hayabusa philosophy: speed, strength, power and a warrior's spirit.
The Ikusa series of products include boxing gloves, headgear, shinguards, MMA gloves, Thai Pads and Focus Mitts. All of these products have been developed by Hayabusa's science team to provide superior quality products that give fighters an edge when training and competing. According to Hayabusa, these products are perfect for beginners and pros alike.
Hayabusa also has been one of the more popular sponsors of MMA competitors today. This includes professional fighters like:
Denis Kang
Frank Mir
Jeremy Stephens
Chael Sonnen
Matt Serra
Stefan Struve
Rory MacDonald
Takeya Mizugaki
Rousimar Palhares
And many more.
About Hayabusa Ikusa Boxing Gloves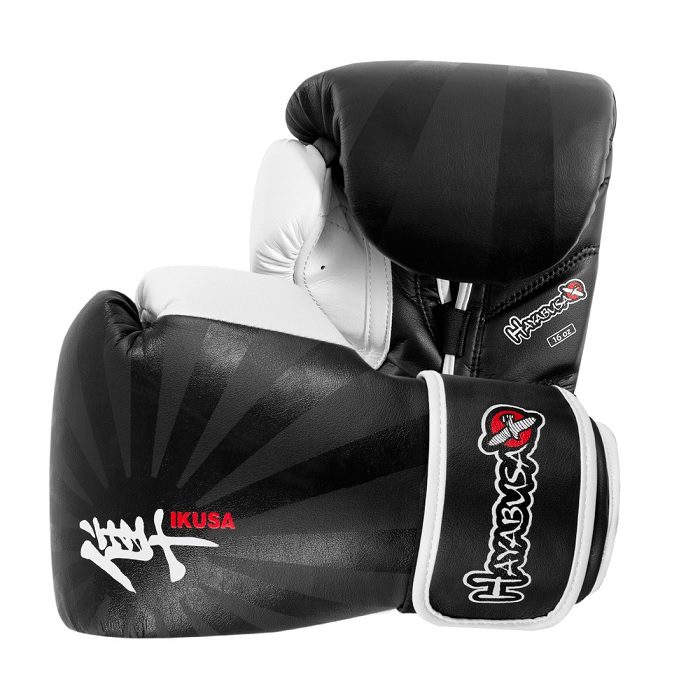 These gloves have been custom engineered using the most cutting edge technologies of fight science for maximum results during sparring and bag work sessions. What I really like about Hayabusa Ikusa gloves is that they include the patented Dual-X closure system for a better fit, wrist support, and striking energy dynamics.
The interior of the glove features an advanced moisture wicking lining and a responsive inner core—designed to protect your hands without shifting or sliding around.
These gloves "feel" very lightweight and secure when you put them on, and many fighters will tell you that they have become their "go-to" bag gloves. The fit and weight distribution of these gloves allows for quick punches and optimal energy distribution in your punches.
For a more in-depth opinion of the Hayabusa Ikusa boxing gloves, please take a look at the following key points.
Protection and Padding
In my opinion, the Hayabusa Ikusa boxing gloves get a 10/10 for padding and protection. When you're training in any form of combat sport, it's absolutely essential to have superior protection.
Without the right level of hand protection, you can suffer bruising, swelling, torn muscles, ruptured tendons—even broken bones! I've noticed a big difference when it comes to the support and alignment of your hand and wrist. This is due to the patented Duel-X closure system, which provides the perfect degree of alignment. Hayabusa went to great lengths to determine the right fit to prevent:
Damaging flexion
Improper extension
Twisting injuries
The padding is clearly a higher-grade material than most gloves in this price range—able to absorb the impact of even the most devastating crosses and uppercuts. When you're working your stand up game, you'll be subjecting your hands to hundreds of punches, day after day.
Without the proper padding and protection, you could face injury that could take you out of the ring for several months or longer. Hayabusa clearly designed these gloves with your safety in mind.
Quality and Durability
The design team at Hayabusa has a reputation for putting together some of the highest quality boxing gloves on the market today. According to accounts from several amateur and pro fighters, these gloves last longer and are more durable than many other brands. Both the interior and exterior elements last a long time without breaking down or degrading.
Style and Comfort
The Hayabusa Ikusa gloves have a relatively understated exterior design. The soft "rising sun" design is focused around a single Japanese character, while the wrist supports feature the Hayabusa name and logo—a soaring falcon bordered by a red orb. Fighters tend to love the interior core complex and advanced wicking system, and we have to agree that they are great features.
These gloves also fit very snugly and do not slide around the way other gloves can after around the 20-minute mark. This is HUGE when it comes to preventing misfired punches and ensuring proper alignment during training.
You can really notice a difference between these and other bag/sparring gloves. They seem to fit more snugly and "square up" your wrist and hands better. However the downside of that is that depending on your palm size it can be a bit difficult to get your hands in there with wraps on.
The weight is distributed evenly throughout, so there isn't that awkward feeling that you can get from top-heavy gloves.
Available Colors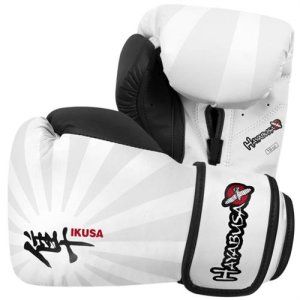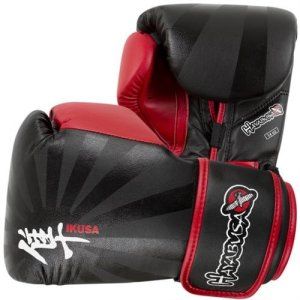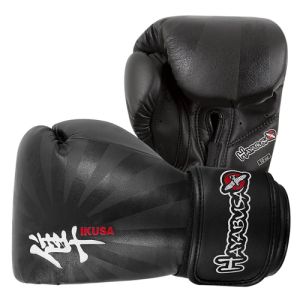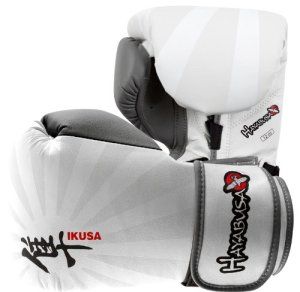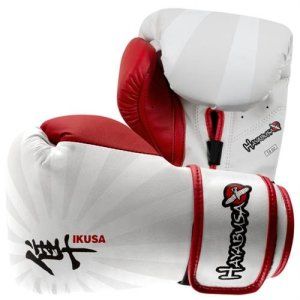 Size and Weight
The Hayabusa Ikusa boxing gloves come in 4 different weight options:
You should choose the 16 oz gloves if you're sparring, because this will provide you and your partner the best level of protection. However, if you plan on using these gloves primarily on a heavy bag, then you should choose the ones that fit your needs and body size.
Amazon Customer Reviews
"I have extremely thin wrists. I bought these gloves to minimize the chance of wrist pain…(read more here: Hayabusa Ikusa Boxing Gloves Review)"

"I thought about returning them immediately until i started breaking them in for about 15 minutes. They really…(read more here: Hayabusa Ikusa Boxing Gloves Review)"

"Great quality, great fit, I'm really glad I chose these gloves, gives me a better work out, I had troubles with my right wrist…(read more here: Hayabusa Ikusa Boxing Gloves Review)"
Price:
I've found that some Hayabusa Ikusa users don't agree that these gloves are worth paying $80-100 for a pair, while others are saying that it's a great investment. I personally think that if you can get them for around $80 or even bigger discount you won't regret it.
When you're putting in your time on the heavy bag or sparring with a training partner, you need a pair of gloves that will protect your hands, fit well, stay clean and prevent moisture from causing slippage.
If you're looking for a good pair of training gloves that are high quality and affordable, the Hayabusa Ikusa boxing gloves are an excellent choice.
Thank you for reading it. Leave your rating, feedback or a question about these gloves at the comment section bellow.
1. Amazon.com: Customer Reviews. Hayabusa Ikusa Boxing Gloves. [link]
2. Sherdog Forums. Hayabusa Ikusa 16oz Sparring Gloves. ElvisFan9889.
3. Sherdog Forums. Review Comparison: Fairtex Gloves BGV1 vs Hayabusa Gloves Ikusa [14oz].
4. YouTube. Hayabusa Ikusa Boxing Glove Review. Final Round Training. 

I've gone through great lengths to bring this list of the best boxing gloves on the market for you to try in 2021. My team has tested and reviewed countless gloves, analyzed video reviews, compared notes from professional boxers, MMA and Muay Thai [...]

Are you looking for the best pair of gloves to work the heavy bag? I think we've found a good contender – it's Title Gel World bag gloves. To be honest, I was never really impressed with Title products. But before I got to test these [...]

In this post, you'll discover what the best boxing gloves are for women, as voted by 28 professional female boxers. Are there any difference between men's and women's boxing gloves? The most popular brands of boxing gloves are making [...]