Best Hayabusa T3 Boxing Gloves Review – Updated 2022
T3 Boxing Gloves are recognized as the most advanced, best performance, and protective gloves in the world and this is why they are also ranked in our Best Boxing Gloves – Top 10 list.
Renowned for its incredible wrist support, T3 features two interlocking straps for a superb and secure fit every time. Its ergonomic design was developed to protect and align your hands with each strike, empowering you to train with confidence. The T3 is a popular brand and the range comes with unique features and unique designs developed by a team of experts and backed by a decade of research.
Top Pick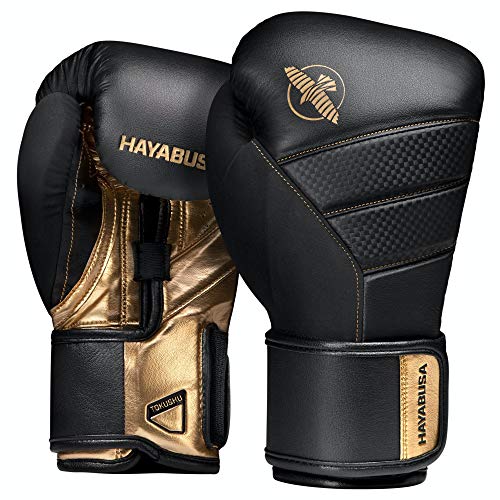 Hayabusa T3 Boxing Gloves
Hayabusa T3 Boxing gloves are one of the best boxing gloves choices we recommend. They are made with high quality and standards, which is exactly what you should be striving for when it comes to narrowing down your selection for boxing gloves.
If you are in the market for a new pair of boxing gloves that will stand up to the test, the Hayabusa T3 is a great pair of gloves to get.
What does Hayabusa T3 mean in boxing gloves?
The T3 Series symbolizes the third generation of Hayabusa's popular Tokushu range and sounds cooler than the 'Tokushu' brand name. If you're unfamiliar with Hayabusa's Tokushu gear, it's one of their most popular lines, alongside the Ikusa line, and is the next generation of kanpeki gloves.
The T3 range has been awarded 'Best Boxing Gloves' two years back-to-back (2019-2020) by Men's Health.
Purpose – What is the T3 best used for?
The Hayabusa T3 can be used by Men and Women and is the perfect choice for heavy bag work and training, hard sparring, and powerful punches. Specifically, the 8oz – 12 oz is recommended for Heavy bag, pad work, and cardio kickboxing while the 14oz – 16oz are recommended for sparring, cardio kickboxing, and hitting thai pads.
Are the T3 gloves good for Muay Thai? Not really! For Muay Thai, we recommend using Muay Thai specific gloves from our top 10 best boxing gloves list
What are the features of the Hayabusa T3?
The Hayabusa T3 specifications are pretty good and come with fantastic features listed below:
Comfortable and precise fit due to the Dual-X interlocking wrist straps
Perfect wrist alignment thanks to the world-renowned splinted support
Ultimate knuckle protection because of the multi-layered technology foam composition
Unparalleled resilience provided by the virtually indestructible Vylar exterior
Ultra-soft temperature regulating lining keeps your hands cool
Microfiber thumb allows you to wipe away sweat
Top Pick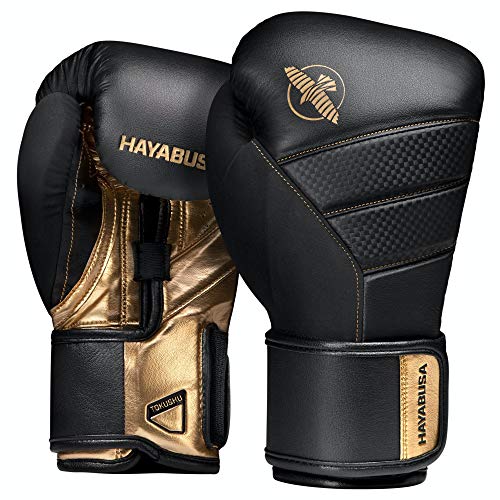 Appearance - Will I look great in the T3 gloves?
The T3 stands out from the crowd with its good looks - definitely our favorite-looking gloves. Unlike normal gloves, which have a single piece of leather covering the back of the hand, these gloves have five separate panels that create a segmented look and provide a range of color variations. Two black leather pieces (one of which covers the fingers), a colored leather section, a carbon-fiber-styled section, and a microfiber suede panel that extends to the thumb are among them. The inner architecture of the gloves is depicted in these panels, which also happen to look fairly cool thanks to the texture mix. There are multiple color options in the main glove range (15 on the last count). While most manufacturers provide a variety of outside colors, it's nice to see a company add color to the less visible features like stitching and interior lining, which are usually black.
Do the T3 gloves perform well?
The Hayabusa T3 gloves include an inner foam complex structure that absorbs energy to help you achieve the finest results for any type of training. The vast majority of fighters I know will go through a lot of gloves for a variety of reasons, including wearing them out, breaking the closure system, or simply being uncomfortable.
The Hayabusa T3 Boxing Gloves are lightweight, robust, and adaptable. They are unrivaled in terms of constant performance and durability, punch after punch. Fighters who have owned these gloves for a long time report that they have been their go-to option.
They also mention that the gloves haven't lost any stitching or pads and that they're comfortable to wear. These are the gloves to wear if you're hitting the bag all day; you'll notice that you're less fatigued almost immediately after switching to these gloves. The first thing you'll notice is the dual strap wrist closure support and foam padding.
What materials is Hayabusa T3 made of?
These gloves are made of Hayabusa's 'Vylar' engineered leather as the outside material. Yes, the gloves aren't officially made of leather; instead, they're made of an animal-free material that, according to Hayabusa, performed much better in tests against the normal wear and tear that gloves face. When you touch the gloves, you can tell it's not quite the same as real, high-grade leather, but you wouldn't be able to tell just by looking at them, and I have to say, out of all the synthetic leathers we've tried, Vylar is by far the most realistic.
The thumb on these gloves is a 'Sweat-X' thumb with a microfiber suede coating, which comes in useful for wiping sweat off your forehead mid-workout. When I'm training, I frequently find myself awkwardly wiping sweat away with the sleeve of my T-Shirt, thus these have come in helpful. If you're doing a very strenuous workout, you could find that you're trying to wipe away more perspiration than the thumb can dry, and they'll feel a little damp, but if you only use it once in a while, it appears to work fine.
The inner lining is nice and soft, and I haven't experienced any problems with the fabric bunching up in the usual trouble spots such as around the fingers. The texture isn't completely smooth or silky, but it isn't scratchy or too synthetic either.
Craftsmanship, padding, and protection of T3 gloves
The T3s come with four layers of Crush Zone™ foam, while most high-priced gloves on the market are made with three layers of foam padding. Before you even start striking anything, you can feel the support as you put these gloves on for the first time. The grip bar is in a good spot, and the hand compartment is also in a good spot. There's enough room within, but your hand feels protected without being overly squished by the padding. The fingers and thumb all fit snugly in the compartment, with the fingers resting comfortably at the compartment's end and the thumb in a natural-feeling position.
Our impression is that the microfiber coating isn't as durable as a leather covering, but that's a relatively rare event, and other than that, I've had no problems with the thumb-on pads, bag training, or sparring.
While the dual wrist straps are quite supportive, they are, however, a little more difficult to put on and remove than a single strap. You can't slide your hand in and out without undoing both straps, and it takes some getting used to if you aren't used to the two-strap system. The longer you use the gloves, the more comfortable you become with removing the straps, but it's still an extra step when removing or putting them on.
We've been using the 16oz version of these gloves, which has plenty of padding as you'd expect. Although there is no hard contact or a lot of bounce when you punch, the cushioning is a tad on the hefty side. Instead, your knuckles sink in slightly, with the padding virtually absorbing the force. I don't believe these gloves require much of a break-in period because they felt almost identical out of the box as they do now. The gloves are wonderful for many types of training and would make good sparring gloves for striking, but I've found them to be most useful for hitting Thai pads, where the support can help with alignment when pounding strikes in.
Top Pick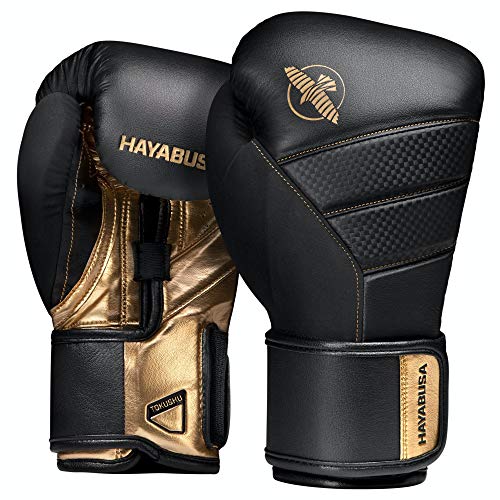 How durable are the Hayabusa T3 gloves?
These gloves are crafted with the utmost care and attention to detail. A 5-layer foam complex, 4x splinting, a dual closure mechanism, and a sweat-lined ergonomic thumb are all included. The Hayabusa T3 gloves will help you strike harder, train longer, and improve your overall performance. They have an antimicrobial fabric lining and the best and most secure fastening technique I've ever seen. I appreciate that there is no break-in period and that they have perfect thumb position, which is uncommon in other gloves; although I have heard from other boxers that it does take them 6 to 10 training sessions to break into the gloves and enjoy them.
What is the fit and comfort of the Hayabusa T3?
These gloves have a snug fit. Some boxers want a glove that fits them more snugly than others, without compromising comfort. The antimicrobial technology used provides a pleasant lining on the inside which one can wear without a hand wrap. Although Hayabusa T3 may feel a little tighter than usual for a few days if you like a hand wrap, they will mold to your hands with wraps after that.
The two-strap wrist clasp provides additional wrist support and allows for longer training periods on all types of exercises, reducing hand strain. The gloves have a nice look and feel to them. They are distinct from the rest.
Aside from the dual wrist strap, T3 gloves have another fantastic element that makes them stand out, they have splints down the back of the hand that are more durable than the padding and provide excellent wrist support when combined with the two-strap wrist closure.
Hayabusa T3 Boxing Gloves – Size guide
This size chart guide from the official Hayabusa website can help you decide on the size and padding that fits you best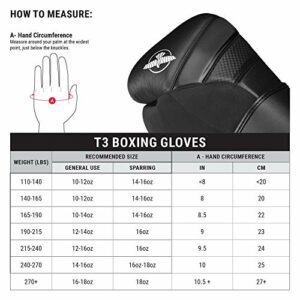 Hayabusa T3 Boxing Gloves – Cleaning and Care
How much cleaning does the T3 boxing glove necessitate? Not a lot, to be honest. This is because these (and all of Hayabusa's gloves) include an antibacterial silver lining (known as XT2®) that inhibits bacteria.
Unfortunately, I discovered that the inside lining takes considerably longer to dry than other gloves, so it's still vital to air out the gloves completely in between sessions and not leave them stuck in your gym bag. The fact that the numerous perforations on the palm are a little small doesn't help matters, and I'm not sure how much they assist the gloves 'breathe.'
Simply keep your boxing gloves separate from your gym bag and air them out after each session by completely opening the straps. We also recommend reading our post on 'How to clean your boxing gloves
How expensive are the Hayabusa T3 Boxing Gloves?
The price for a pair of Hayabusa T3 is ~$159 but as prices are dynamic and change based on location, we suggest you check the price on Amazon:
T3 Boxing gloves – Pros and Cons
Pros
Lightweight and suited for different levels of training
Supreme padding and protection resulting in the best hand protection
Best wrist protection with the dual wrist strap and wrist stabilization
Attached thumb for sweat wiping
Engineered leather material preventing bacteria growth
Cons
Small hand compartment prevents the use of hand wraps
Relatively expensive
Tough to get used to in the beginning
Summary
Are Hayabusa T3 boxing gloves good?
In summary, the Hayabusa T3 boxing gloves are one of the best gloves on the market right now. They have been rated a 9/10 based on countless fighters who have had personal experiences with them.
Although these gloves are quite versatile, these are not that great for controlling and implementing a clinch. Some fighters like to use one pair for everything, but if you are doing Muay Thai, I would recommend you to use a more Muay Thai-specific glove such as Fairtex.
The quality and comfort are unmatched. Hayabusa T3 is a great glove for professionals but can be a little costly for beginners. Although if you are serious about training regularly, you would benefit from spending the extra bucks to own a higher quality pair of gloves as well. A lot of beginners go for the less expensive gear and end up spending more money in the long run, due to equipment failure and risking injury to themselves.
Give it a Try
Check on Amazon
FAQs
Hayabusa T3 Boxing Gloves Review
Summary
Hayabusa T3 Gloves are crafted with the utmost care and attention to detail. A 5-layer foam complex, 4x splinting, a dual closure mechanism, and a sweat-lined ergonomic thumb are all included. Hayabusa T3 gloves will help you strike harder, train longer, and improve your overall performance. They have an antimicrobial fabric lining and the best and most secure fastening technique. Almost no break-in period and the perfect thumb position makes it one of the best training gloves in the market.
Do you love Hayabusa? Don't miss our other Hayabusa reviews – check them below!
Hayabasu Tokushu Boxing Gloves
Hayabasu Kanpeki Elite 2.0 Gloves
What do you think about Hayabusa T3 Boxing gloves? Tell us in our comments section.