Mary Kom Presents Priyanka Chopra With Prized Gloves
Two of the coolest women in India have recently charmed the world. Five-time boxing champion MC Mary Kom gave Bollywood actress Priyanka Chopra a pair of prized women boxing gloves – the same ones that she used when she won her first world championship!
What is the significance of this event, you might ask? Well, the gifting of the gloves means that Mary Kom has just placed a stamp of approval on the upcoming biopic by Omung Kumar titled "Mary Kom," which centers around the champion boxer's life and struggles as a woman, mother, and athlete.
Priyanka Chopra plays the role of Mary Kom, a part which she has extensively trained for. To add to the film's authenticity, Priyanka personally traveled to Mary's hometown in Manipur and learned boxing from the champion herself. She trained for three hours every day for four months, transforming her lithe frame into the hardened body of a boxer.
She trained so hard in fact, that she suffered an injury while they were filming. She fell on the floor and upon impact got a cut under the eye; the director decided to retain that shot and in the film, you can see the cut mark under Priyanka's eye. It's not make-up or prosthetics, it's a real wound.
Mary Kom was so pleased by Priyanka's dedication and performance in the film that she made it a point to gift the actress a truly memorable item- hence the boxing gloves. Priyanka proudly wore it during the trailer launch for the film, commenting that no one can touch her now, since she's become a real boxer.
The public had its first look at the film on July 14 when the trailer was released. It will have its premiere at the prestigious Toronto Film Festival in September. There will be two cut versions of the film, one that is primarily intended for local release (Indian audience) and one that will be released internationally.
Who is MC Mary Kom?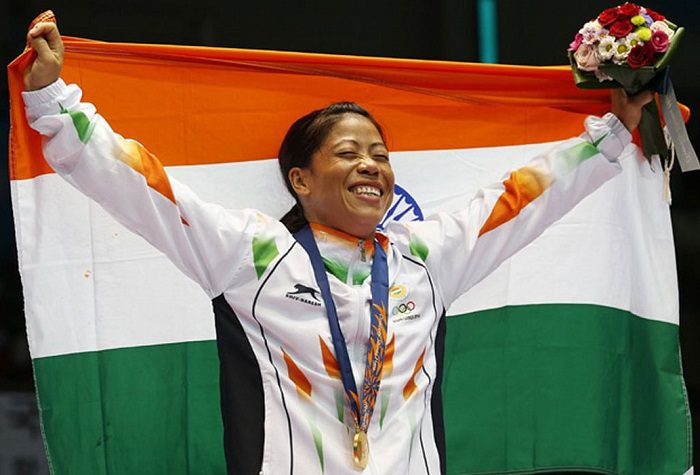 MC Mary Kom or Magnificent Mary singlehandedly made Indian women interested in the sport of boxing with her achievements. She had a string of successes that no other woman had achieved; for example, she won the World Amateur Boxing championship five times, and she is also the only woman who has won a medal in all of the six world championships.
She is also the sole Indian woman who managed to qualify for the 2012 Summer Olympics, wherein she won a bronze medal. Despite dropping out of high school to pursue a career in boxing, Mary Kom has been involved in a lot of advocacies.
She currently operates a female-only fight club and self-defense school in Imphal, in light of the recent rape and sexual violations scandals that rocked the country in recent history. She had also written a book titled, "Unbreakable" essentially a biography of her life and struggles that were released in December last year.
Truly she is a woman that all girls, boxers or not, should look up to. This biopic should give us a glimpse of how Mary Kom managed to balance the role of mother and athlete, in the context of a very man-dominated world.