Best BJJ Headgear: 2023 Review
Brazilian Jiu-Jitsu is an intense and dynamic sport that exposes athletes to various risks. One of the major risks is head injury, as the nature of the sport involves close contact, throws, takedowns, and ground fighting. This makes it crucial to protect the head from potentially life-threatening impacts.
To address this concern, headgear provides an effective solution by offering reliable protection against head injuries. Specially designed for the demands of tough sports like MMA and BJJ, this protective gear aims to minimize the risk of concussions, cuts, and other head-related injuries during training or an actual fight.
The effectiveness of high-quality BJJ headgear is backed by positive user experiences and the fact that most professional athletes wear a good quality headgear during competitions. The best headgear is crafted with durable materials and advanced padding technologies that greatly absorb and distribute impact forces, reducing the risk of head trauma.
The purpose of this article is to provide our readers with a list of the best BJJ headgear options available. I will narrow down the immediate specifics and features of each headgear with its pros and cons. I believe you can make an informed decision based on this review post.

Related Post: https://boxingglovesreviews.com/best-mma-headgear-2023-review/
Related Post: https://boxingglovesreviews.com/cheap-boxing-headgear/
Our Top Picks for Best BJJ Headgear
Importance of Headgear in BJJ
BJJ is one of the finest forms of martial art. However, it is not hazard free. In the BJJ sport, occasional accidents, although rare, might occur. They may range from smaller cuts and bruises to severe head injuries like concussions.
On top of that, BJJ has a notorious reputation for causing a condition of the ear called "cauliflower ear." This condition is the outcome of the outer ear being repeatedly subjected to impact. The result? Blood accumulation and painful swelling within the ear.
To avoid these catastrophic events, it is needless to say that BJJ practitioners should always wear protective BJJ headgear. By doing so, they can minimize and even avoid the accidental risks associated with BJJ.
The headgear basically acts as a shield for the head. It shields the user from the potential dangers of accidental head clashes. Additionally, headgear also helps to boost confidence during a fight. To know that the head is protected gives immense confidence, enabling users to fully immerse themselves in the BJJ sport.
So, if you want to minimize the risk of injuries associated with BJJ and protect your head during a grappling session, invest in a top notch high-quality BJJ headgear. It's like having a trustworthy protective shielding gear who will always safeguard your head!
Types of BJJ Headgear
The face guard and the ear guard are the two most common varieties of BJJ headgear.
Faceguards cost a little more than ear guards. They do, however, provide the best defense against injuries brought on by wrestling. They can shield the head, chin, ears, face, nose, and other parts of the face all at once.
Two cups that go over the ears make up ear guards. These two cups provide ear injury protection while wrestling. Straps that pass under the chin, around the back of the head, and over the top of the head are used to fasten the cups on this equipment.
Along with these features, ear guards are typically vented to provide airflow and to help the wearer hear the trainee's instructions.
Top BJJ Headgear Options
Best Overall: Gold BJJ Headgear
Best Overall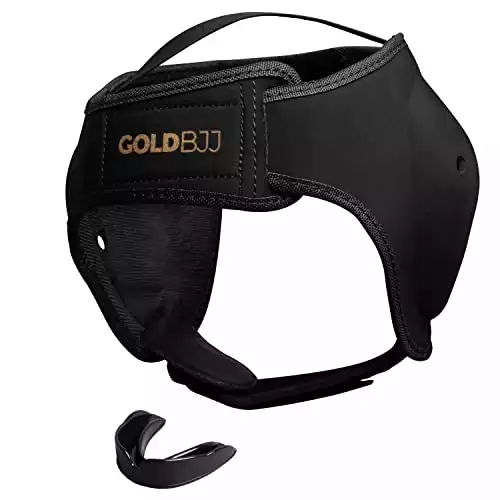 Gold BJJ Headgear for Jiu Jitsu, Wrestling, and MMA
Features:
An Ear Hole
Stronger Chin Strap
Flexible Headband
Light-weight Style
Product Description:
The Gold BJJ Headgear is your ultimate partner in the grappling world. As an experienced Jiu Jitsu enthusiast, I understand the importance of protecting the head during rigorous grappling sessions. That's why I trust the Gold BJJ Headgear to provide unbeatable comfort, durability, and safety while on the mat.
Its innovative design and high-quality materials ensure a secure fit, shielding your head and ears from impact. The velcro straps on this headgear are adjustable, protecting your ears while keeping the headgear in place. Gold BJJ has also thrown in a complimentary mouthguard as the icing on the cake.
With its sleek appearance and great protection, you'll feel confident stepping onto the mat. Numerous Jiu Jitsu competitors have worn headgear made by the reputable company Gold BJJ. This headgear has got your back whether you're competing in Gi or No-Gi, Open Mat or World Finals.
Pros:
Comfortable to wear

Is adjustable
Cons:
May not fit well for people with smaller heads
View Deal
Buy on Amazon
Best for Comfort: Cliff Keen Wrestling-Protective-Headgear F5 Tornado Headgear
Best for Comfort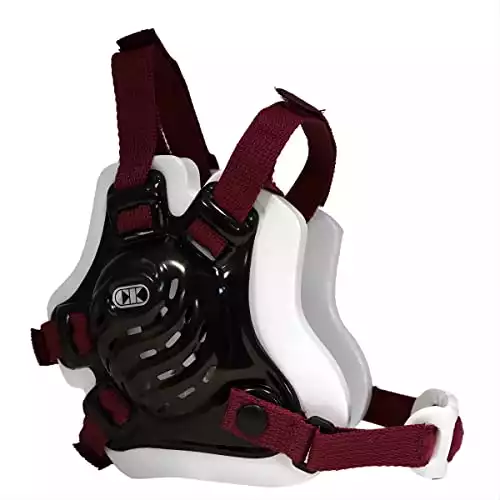 Cliff Keen Wrestling-Protective-Headgear F5 Tornado Headgear (Black/White/Maroon, One Size)
Features:
80% greater Audible Sound Technology
Ultra-deep Ear Cups provide maximum comfort and protection
Power Tab on-the-fly Strapping System
Patented Air Vent System Technology
Product Description:
I've got just the thing for all you passionate BJJ enthusiasts out there! The Cliff Keen F5 Tornado Headgear is a game-changer in the world of BJJ wrestling gear.
When it comes to protecting your head and face, this headgear is a force to be reckoned with. Its innovative design ensures you get the utmost comfort while being completely safe during training or in the event of an actual match.
Crafted with high-quality materials, it's built to withstand the toughest matches while providing reliable protection. Additionally, the headgear features a secure and adjustable fit, so you can customize it to suit your preferences.
The headwear has enough airflow so that you do not sweat a lot and keep comfortable when lying on the mat. Stay on top of your game with the Cliff Keen F5 Tornado Headgear, which comes in black, white, and maroon colors.
Pros:
Adjustable

Excellent airflow
View Deal
Buy on Amazon
Best for Minimalist Design: Adidas Response aE100 Wrestling Headgear
Best for Minimalist Design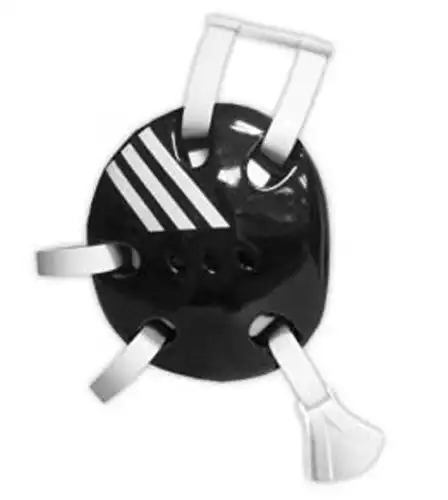 Adidas Response aE100 Wrestling Headgear – BLACK
Features:
Product Description:
I've got the perfect ear protection headgear for you: the Adidas Response aE100 Wrestling Headgear. This headgear provides top-notch protection and unmatched comfort for its users. What I like the most about this headgear is that it features a reinforced shell that shields the head and ears from any impact, ensuring safety during intense wrestling sessions.
What's more intriguing is that the headgear features adjustable straps that offer a customized fit, allowing you to focus on your moves. On top of that, the breathable and moisture-wicking fabric keeps you cool and dry, even during the most grueling workouts.
To sum it up, I feel confident, protected, and ready to conquer the wrestling mat with the Adidas Response aE100 Wrestling Headgear. Seriously, it's a must-have for any serious wrestler.
Pros:
Comes with a padded chin strap

Is great for protecting the ears
Cons:
It could be difficult to hear with the headgear
View Deal
Buy on Amazon
Best for Classic Style: Cliff Keen Two-Tone Signature Wrestling Headgear
Best for Classic Style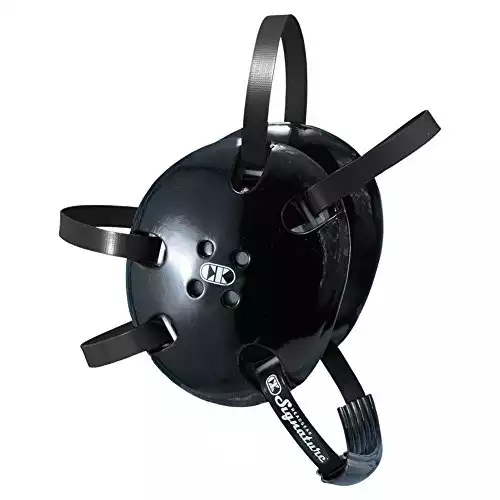 Cliff Keen Two-Tone Signature Wrestling Headgear – Color: Black/Black
Features:
Hard Shell Cup
4-Strap FOAM
Padded Chin Strap
Product Description:
As I slip on this exceptional headgear, the legendary Cliff Keen Signature Wrestling Headgear, I instantly feel the unbeatable combination of comfort and protection. This headgear is inspired by renowned and pioneering E41 foam headgear, which Cliff Keen created more than 50 years ago.
Its innovative design boasts a dual-density foam padding that cushions the ears and absorbs impact, ensuring maximum safety. The straps are strong because they are made of nylon. It is significantly more pleasant to wear thanks to the chin pad on the headpiece. The four straps, which are positioned at different angles, will keep the foam-padded ear protectors in place.
The classic black color adds an
Pros:
Easy to maintain

Light-weight
View Deal
Buy on Amazon
Best for Ear Protection: Adidas AE100 Response Earguard
Best for Ear Protection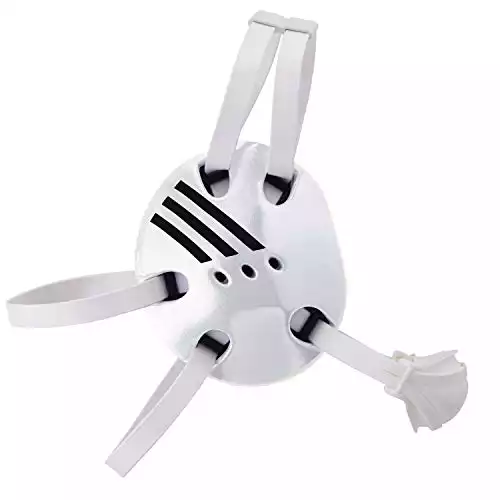 adidas Response Earguard White
Features:
4-Strap Design
Low Profile And Soft Foam Cover
Adjustable Vinyl Straps
Injection Molded Internal Plastic Ear Cup
Soft Chin Pad And Soft Foam Covered Ear Cups
Product Description:
The Adidas Response Earguard is the ultimate companion for BJJ athletes seeking unparalleled protection on the mat. Manufactured by one of the top companies, this state-of-the-art earguard combines innovation and performance in perfect harmony.
In school wrestling, the Adidas AE100 Response Earguard is a well-liked 4-strap ear guard style. The headguard has comfortable foam covering over the ear cups and low profile ear cups. Its sleek design effortlessly molds to the contours of your head, offering a secure fit that won't compromise your mobility.
In the event that you dislike the chin cup, the headwear also includes a chin strap pad. Since most head protectors only come with the chin cup option and the pad is sold separately, this is a pleasant touch.
Overall, the Adidas Response Earguard is the reliable shield that champions trust for unrivaled ear protection. Additionally, if you want to symbolize a specific color of your team, it comes in 11 various colors, which is wonderful.
Pros:
Comes with extra chin strap pad

Is available in 13 different colors
Cons:
For adversaries, the hard shell could be uncomfortable
View Deal
Buy on Amazon
Best for Wrestling: ASICS Unisex Aggressor Earguard Wrestling Headgear
Best for Wrestling
ASICS Aggressor™ Earguard, Black/Black, One Size
Features:
High Impact Resistant Padding
GEL Cushioning System
Injection Molded Polypropylene Shell
Quick Adjustable Strap System
Product Description:
A light-weight headguard that is unobtrusive and comfy is the ASICS Aggressor Earguard Wrestling Headgear. In addition to having a quick-adjustable strap system, this low-profile, impact-resistant ear guard safeguards the head and cradles the ear without blocking hearing. It has a low-key, traditional appearance.
During intense BJJ sparring, the headguard performs well in terms of comfort and standing up. If you already have a damaged ear, the ear protectors will provide you with a good level of protection because they are sturdy.
Overall, the ASICS Wrestling Headgear offers optimal protection and comfort during intense wrestling matches. Its durable construction and adjustable straps ensure a secure fit, while the padded ear cups provide excellent impact absorption. Stay focused on your performance with this reliable and essential wrestling gear.
Pros:
Comfortable fit

Excellent ventilation
Cons:
The straps are excessively frail and may readily break
View Deal
Buy on Amazon
How to choose the best BJJ Headgear?
There are numerous BJJ headgears flooded in the market. Choosing the best one among them can indeed be a daunting task. Here are some crucial aspects to watch out for while choosing the best BJJ headgear in order to avoid being influenced by dazzling marketing strategies:
The components used to create the Shell Cups
There are two widely used shell cup styles. The Hard Shell and the Soft Shell are among them. Always verify the type of material utilized in the creation of the shell cups when looking for BJJ headgear. The top materials are strong and cozy. They provide a cushioning effect by offering the ears some degree of protection while maintaining breathability.
"Hard Plastic" is typically used to make hard shell cups. They are highly strong and facilitate hearing for the wearer. Additionally, the hard shell cups occasionally have cushioning on the side of the head, which improves their comfort. However, some wrestling contests do not allow the use of hard shell cups because your opponent could be hurt if they are struck by one of these cups.
Alternately, the use of soft shell cups is permitted throughout all wrestling competitions. Typically, "Rubber" or "Polymers" are used to make them. Due to the tremendous comfort they provide for both you and your opponent, they are strongly advised for wrestlers.
The headgear's inclusion of Adjustable Straps
You must get a BJJ headgear with adjustable straps if you want it to fit you precisely. These straps are constructed from a variety of materials, which helps to ensure that they fit properly. "Spandex" and "Neoprene" are two common fabrics used to make straps. These materials provide a better grip. Furthermore, neither of these two materials slide off when you perspire.
Your headgear's quantity of adjustable straps is another important element to consider. The ideal headgear should include three to five straps to help with fitting and keep the headgear in place while being worn. The amazing characteristic of some headgears additionally includes padded chin straps. The chin is where these chin straps are intended to be placed.
Select headgear of the highest caliber that is composed of sturdy and cozy materials. During a battle, your headgear should be able to withstand a substantial amount of abuse without coming off.
To perform at your best when you step onto the mat, your headgear must be adjusted and fit precisely. So it's crucial to get the right size. Choose youth-size headgear if your child is under the age of 10 and adult-size headgear for adults.
Your entire performance will be significantly impacted by how well your headgear fits. Avoid selecting headgears that are extremely loose because they may start to fall off your face and ears. Extremely tight headgear should also be avoided. They may block off the oxygen flow to the cranium, which could have disastrous effects.
There is a phrase that goes, "Never sacrifice quality for cost." Cheap headgear may initially seem alluring, but it's possible that they were constructed with inferior materials or that some of the straps were missing.
Cheap headgears typically cost less than $20, but when you consider the risk
Conclusion
So, to conclude, when it comes to our beloved BJJ sport, it's essential to prioritize safety above all else. That's why I can't stress enough the importance of investing in high-quality headgear. Sure, we love the thrill of the fight, but protecting our noggin should always be our top priority.
Headgear models from trusted brands, such as Cliff Keen, Gold BJJ, and Adidas have consistently received positive reviews. Ultimately, the right headgear can be a game-changer, providing that extra layer of defense against those unintentional blows and attacks.
So, if you're ready to take your training sessions to the next level, I highly recommend checking out the above mentioned amazing headgears designed specifically for Brazilian Jiu-Jitsu. They offer top-notch protection and superior comfort, allowing you to focus on perfecting your techniques without worrying about unnecessary injuries.
For someone who enjoys BJJ, headgear can also make a thoughtful gift. Visit our Best Boxing Gifts Guide by clicking <here>. Do not miss out on this fantastic opportunity to enhance your boxing experience!
Our Top Picks for Best BJJ Headgear
Frequently Asked Questions