8 Best Boxing Shorts: 2023 Review
Selecting the right style of boxing shorts is a pivotal decision, regardless of whether you're a beginner, seasoned amateur, or a professional fighter. Your unique personal style and preferences will play a significant role in determining the perfect boxing shorts for you. To help you make the best choice, we've put together a list of the top 8 boxing shorts in this post, considering a wide range of attributes and features.
Features of boxing shorts
Boxing shorts are specially designed to provide comfort, mobility, and functionality to boxers during their bouts and training sessions. One of the key features of boxing shorts is their loose and relaxed fit, allowing for unrestricted movement and ease in executing various techniques. They typically have an elasticized waistband that ensures a secure and comfortable fit around the waist. The elasticized top region acts as a "boundary" for the opposing boxer. As a result, opposing fighters will strive to avoid striking "below the belt," which might result in serious injury, a loss of points, or even disqualification.
The length of boxing shorts is generally above the knee, enabling boxers to move freely without any hindrance. Another essential feature is the use of lightweight and breathable materials, such as satin or polyester, which help to keep the boxer cool and dry during intense workouts. Many boxing shorts also come with side slits, further enhancing flexibility and providing ventilation. Apart from their functional aspects, boxing shorts often showcase unique designs, logos, and colors, allowing boxers to express their individuality and represent their teams or countries in the ring. With a combination of comfort, style, and practicality, boxing shorts are an essential piece of attire for any boxer aiming to perform at their best.
Our Top Picks For The Best Boxing Shorts
Detailed Reviews Of The Best Boxing Shorts
Best Overall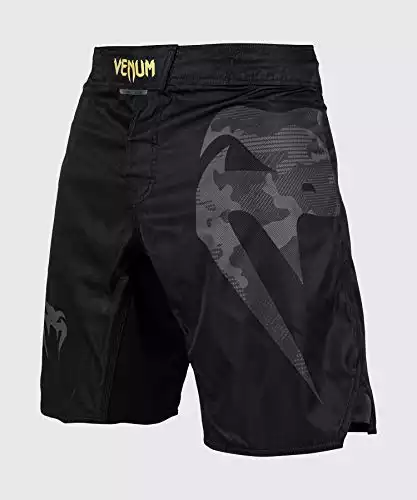 Venum Standard fightshorts, Black/Gold, X-Small
High grade polyester is used to create the Venum Standard Boxing Shorts, ensuring their sturdiness and lightness. The appearance of these boxing shorts is adaptable to every fighting style and is ideal for all skill levels, from beginners to experts.
The drawstring style of the shorts allows for effective waist adjustment and they will keep up with your footwork without any chance of slipping.
Excellent ventilation is provided by the mesh side vents. The drawstrings and the mesh side panels both have the Venum logo stitched on them for aesthetic purposes.
The fabric provides for complete freedom of movement, and the reinforced seams ensure that the shorts will last for a very long time as you practice and engage in combat.
Pros:
Tear-resistant, quick-drying, and light-weight material

Immense adjustment due to drawstring
View Deal
Buy on Amazon
Best for Professionals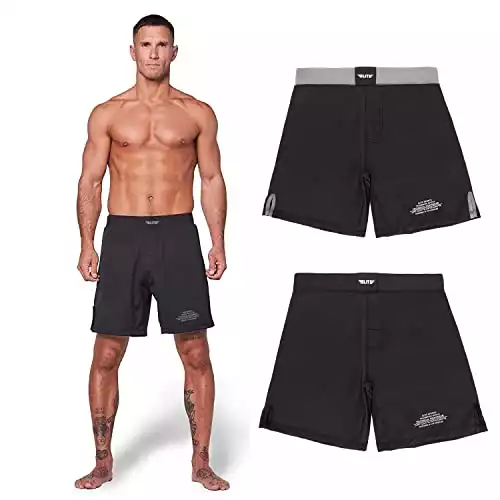 Elite Sports NEW ITEM Black Jack Series Fight Shorts,Black,Medium
The Elite Sports Men's Shorts are the greatest boxing shorts for you if you're on a tight budget. Although they are relatively inexpensive, the quality is not compromised. They dry quickly and inhibit sweat-related bacterial growth.
You may push yourself to your limits without worrying about overstretching your shorts because the waistband fits securely and the material is all tear-resistant. The side slits guarantee a complete range of motion and keep you cool.
These shorts are made to be light-weight, but the microfiber material also makes them incredibly strong and flexible. Even during rigorous training sessions, the Velcro clasp and two-fold non-chafing waistline keep them snug and in place.
View Deal
Buy on Amazon
Best Traditional Fight Shorts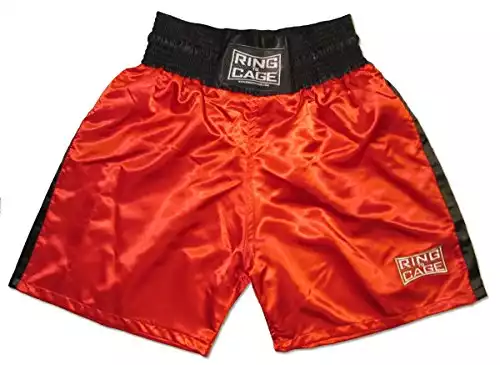 Traditional Boxing Trunks
The Ring to Cage boxing trunks are soft and light with a classic style. They can be used for boxing, kickboxing, Muay Thai, and various other sports as well.
There is a 4-inch waistband that is machine washable. Within the waistband is a concealed drawstring. The Ring to Cage logo is embroidered on the left leg.
Pros:
Comfortable on the waist

Great for training
View Deal
Buy on Amazon
Best for Tight Fit
Cleto Reyes Satin Boxing Trunks
The Ringside Satin Boxing Trunks offer the highest level of aesthetic and functionality because they are composed of 100% satin polyester. Compared to other loose boxing shorts, they are more form-fitting, which, depending on your preference, may be a positive thing.
The 4-inch waistband's numerous elastic channels provide a tight fit. The cuts include international leg slits and are unusually roomy and long. Durability is enhanced by the durability-enhancing stitching and seam protection. Your shorts are therefore less prone to rip as a result.
The shorts' anti-microbial technology prevents sweat and odor from depositing in the fabric, which also helps them stay dry and clean. These shorts' straightforward style was created to be as practical as possible.
Pros:
Tight fit

Durability provided by reinforced seams and stitching
Cons:
Not everyone may feel comfortable in the tight fit
View Deal
Buy on Amazon
Best for Ultra Light-weight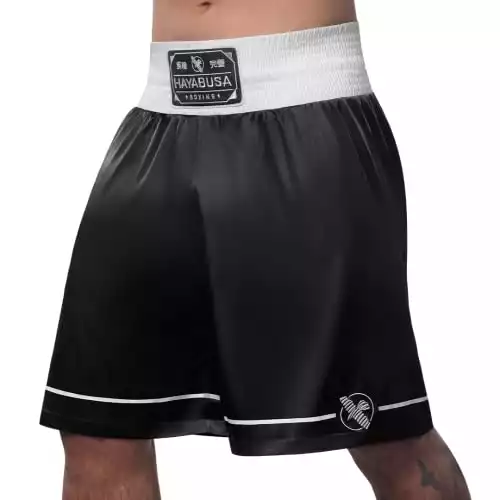 Hayabusa Pro Boxing Shorts - Black, Medium
If you desire extremely light-weight shorts, the Hayabusa Pro Boxing Shorts should be an ideal choice. They are appropriate for training and competition in amateur and professional boxing.
These roomy shorts include an ultra-wide elastic waistband that ensures a great fit that moves with your footwork without moving or riding up. Every time you train, the elasticized waistband and single loop drawstring guarantee a comfortable fit.
These roomy shorts have plenty of area for your groin protection. A special Hayabusa patch with completely embroidered details is embroidered in the front and center of its sleek, minimalist design.
With their classic elastic waistband and silky smooth fabric, these boxing shorts keep you cool and comfortable whether you practice or compete. They include wicking fabric that feels cool to the touch and keeps you dry and comfortable as you exercise.
Pros:
Simple and reliable closure

Durable reinforced seams
View Deal
Buy on Amazon
Are you a Hayabusa fan? Looking for other great Hayabusa boxing products? Check our favorites here!
Best for Design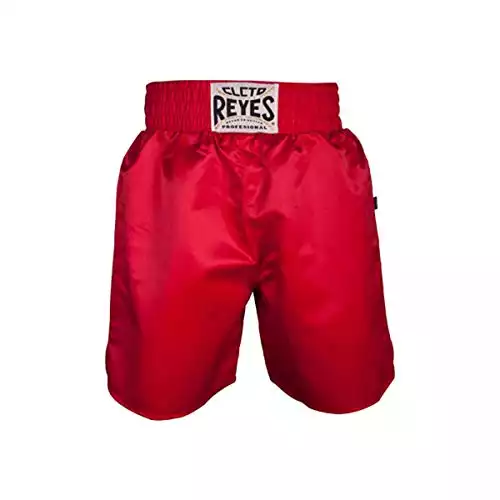 CLETO REYES Boxing Trunks for Man (X-Small, Classic Red)
The Cleto Reyes Boxing Trunks are the perfect boxing trunks for you if you desire stylish-looking shorts. They are made of strong fibers yet incredibly light-weight. They fit well and are available in a variety of design options.
The roomy fit of these boxing shorts gives you plenty of room to roam around. You can effortlessly fasten them because of the internal drawstring and broad waistline.
Pros:
Comfortable material

Affordable
Cons:
Possibly not as resilient as more pricey options
View Deal
Buy on Amazon
Are you a Cleto Reyes fan? Looking for other great Cleto Reyes boxing products? Check our favorites here!
Best Fight Shorts
Title Boxing Sweat Shorts, Red/Black, Small
The Title Boxing Trunks come with a 4-inch international style waistline and an elastic lining. With a roomier crotch and hemmed bottoms, the cut is baggy and extra long. Leg slits are extra long in these shorts for distinct style. They are made from good-quality polyester.
Pros:
Durable and flexible

Ideal for boxing
Cons:
Some boxers might find it slightly heavy
View Deal
Buy on Amazon
Best for Sparring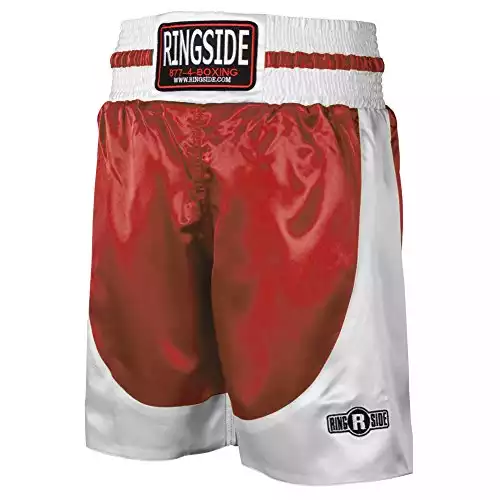 Ringside Pro-Style Boxing Trunks Red/White, Medium
The outstanding durability of the Ringside Pro-Style Boxing Trunks is its greatest asset. They can be utilized in amateur fights and are excellent for sparring. Fantastic artistry is used in the stitching of the satin polyester fabric.
These boxing trunks are durable enough to withstand years of punishment. They have a polished appearance and atmosphere. They are fantastic for practically all boxing activities despite not being at the top tier.
You get to pick from a huge selection of gorgeous hues. They are also very simple to use because they have a drawstring closure and can be washed in the machine. They'll perform well in the ring and look amazing doing it.
Pros:
Thick satin construction

Drawstring fastening
View Deal
Buy on Amazon
How to pick the right boxing shorts?
Before making a purchase, be sure to choose the right size for you.
Avoid purchasing shorts that are too large, as they won't fit snugly around your waist.
Wearing shorts that are too tiny can lead to tightness around the waist and lower body, making stretching painful and challenging.
When trying on boxing shorts to ensure the proper fit:

Make sure the elasticized waistband is at or slightly below your waist.
Avoid wearing the shorts too high or too low to prevent constriction in the lower body.
Test the shorts by moving or kicking as you would during exercise.
The shorts should allow you to move freely without feeling restricted or uncomfortable.
Summary
The eight pairs we examined here are all excellent, but if we had to choose one pair from this list, it would be the Venum Standard.
They are made of incredibly soft, elastic, quick-drying, and durable material. They are ideal for all boxing activities, have a professional level of quality, and also look fantastic.
Our Top Picks For The Best Boxing Shorts
Frequently Asked Questions
How were boxing shorts created?
The first boxing shorts had an elastic waistband, which allowed for improved footwork throughout the fight. Less than ten years later, the first briefs, known as jockeys, were developed.
Boxing shorts: Why are they so big?
It is forbidden for boxers to strike below the waist. In order to at least persuade their opponent to aim higher, where the elbows can defend more easily, they prefer to drag it up higher. When your body is more covered, you could feel that it is better protected.
Should boxing shorts be worn tightly or loosely?
No,they should not be constricted or uncomfortable. They are designed with an elastic fit that offers equal amounts of support and comfort to match the form of your body. On the legs, they should rest against your skin.