RDX Kara Boxing Gloves: Review
I recently tested the RDX Kara Pro-Training Sparring Boxing Gloves to write this review. Much like the LiberLupus Boxing gloves, these gloves were a plesant surprise given the price I paid for them. I must admit that I was genuinely impressed, but there are some obvious problems too. So, here is my honest review of this set of beginner-friendly, highly affordable gloves.
RDX Kara Pro-Training Sparring Boxing Gloves: Overview
These are a reliable pair of entry-level gloves that are in high demand. These boxing gloves, designed from Maya Hide convex skin leather, are cozy and provide excellent wrist support. The "Max-ShockTM Equilibrium Foam" in the gloves evenly distributes force, making it the ideal shock absorber. Punches are adequately protected by "Quadro Dome3 Technology," while wrist position is maintained by a calibrated impact diffusion sheet and SpongeX Padding.
For the first time, "Loma Tech Technology" has been introduced to improve the build. The QD 1 lining is strategically positioned to provide breathability and a dry battle experience. The "Quick-EZ hook-and-loop strap" provides the best wrist alignment with the added benefit of being comfortable to wear. Hard hitters should choose these gloves since they keep their hands safe during the entire training session.
RDX Kara Pro-Training Sparring Boxing Gloves
RDX Boxing Gloves Men Women, Pro Training Sparring, Maya Hide Leather Muay Thai MMA Kickboxing, Adult Heavy Punching Bag Gloves Mitts Focus Pad Workout, Ventilated Palm, 8 10 12 14 16 Oz
Product Description
RDX boxing gloves have to be an option for any dedicated martial artist. With these gloves, you can take part in various training activities, focus on various elements of your hitting game, and develop your technique.
Impactful blows are distributed across the pre-curved anatomical structure of the gloves thanks to the Quadro Dome 3 cushioning, which is infused with EVA foam and SpongeX sheet. This innovative design ensures a relaxing training session while reducing hand fatigue and improving accuracy.
Your fist and thumb are properly aligned thanks to a ground-breaking patent-pending Loma Tech design in the palm and thumb regions, which results in more effective punches. These gloves are made of high-quality Maya Hide ConvEX Skin Leather and are not only incredibly durable but also have a luxurious appearance and feel.
The full wraparound wrist strap with hook-and-loop clasp straps ensures a snug fit and long-lasting comfort because wrist support is crucial. The dual stitching increases their durability, making them a dependable training partner.
The gloves have strategically positioned ventilation holes in the thumb regions and a sweat-wicking perforated sheet in the palm area to ensure performance. Furthermore, strengthen your punches with the DenZo-Tron grip bar in your top palm, which will improve your posture for powerful blows.
Pros:
Effortless yet elegant design

Exceptional value for the money

Outstanding defense

The knuckles have a lot of additional padding
View Deal
Buy on Amazon
Materials used for construction of the RDX Kara Pro-Training Sparring Boxing Gloves
The high-quality, resilient Maya hide leather used to make these gloves enhances their overall performance and longevity. However, some more expensive variants feature actual cowhide leather stitching. The Maya hide leather is renowned for offering exceptional palm protection to elevate your striking performance.
Maya hide leather is synthetic leather, not true leather. If you take care of the gloves, they're still made of high-quality material that should last well over a year. That said, while costing much less, synthetic leather is not as strong or long-lasting as genuine leather.
These gloves are expertly made, as with all RDX products, so there won't be any issues with the stitching coming undone. Put these gloves on, punch a heavy bag as hard as you can, and with the skillful construction of these gloves, worry no more about hand injuries.
Stand out Features of RDX Kara Pro-Training Sparring Boxing Gloves
Quadro Dome 3 cushioning with EVA foam and SpongeX sheet is used in the gloves to distribute impact force over the pre-curved anatomical structure. This lessens the strain on your hands during intense training sessions and ensures comfort. The gloves provide better alignment between your fist and thumb due to their seamless design in the palm region and thumb. This aids in making a flawless fist, which improves punching power and accuracy.
These gloves are built with high-caliber Maya Hide ConvEX Skin Leather and are intended to survive rigorous training sessions and continue to be dependable over time. The tough material also improves the look and feel of the gloves. With hook-and-loop fastener straps, the gloves are easy to wear and fit securely. During exercise, the wide wraparound wrist strap gives your wrists plenty of support, and the dual stitching ensures their durability.
Say goodbye to sweaty hands and palms. In order to control airflow properly and prevent sweat buildup, the gloves have ventilation holes strategically positioned in the thumb region and a sophisticated perforated sheet in the palm region. These gloves aid users in assuming the best posture for throwing potent punches during both training and contests thanks to the DenZo-Tron grip bar in the upper palm region.
These gloves are offered in five sizes—8 oz, 10 oz, 12 oz, 14 oz, and 16 oz—and five colors—black, golden, pink, red, and white. You should have enough options from these varying sizes and colors to accommodate most hand types and suit your personal preference.
Quadro-Dome-3 technology with Max-ShockTM Equilibrium FOAM for efficient shock absorption.
Maya Hide leather with SpongeX padding ensures added resistance against high-intensity force.
The Quick-EZ-EZok-and-loop strap diminishes any chance of injury due to wrist misalignment.
Evolutionary Loma Tech technology is incorporated for a more conclusive build.
QD 1 lining effectively assists in sweat wicking.
Exceptionally durable material.
Full wraparound wrist support.
Power-aligned punches.
Specifications of RDX Kara Pro-Training Sparring Boxing Gloves
| | |
| --- | --- |
| Colors | Black, Golden, Pink, Red, White |
| Sizes | 8 oz, 10 oz, 12 oz, 14, oz, 16 oz |
| Material | Maya Hide ConvEX Skin Leather |
| Type | Training |
| Design | Solid Attached Thumb Design |
| Padding | SpongEX and Quadro Dome 3 |
| Closure Type | Hook and Loop |
| Hand Orientation | Ambidextrous |
| Recommended For | Boxing, Kickboxing, Muay Thai |
Size Guide of RDX Kara Pro-Training Sparring Boxing Gloves
Visit the official RDX website for the exact size guide for the RDX Kara Pro-Training Sparring Boxing Gloves.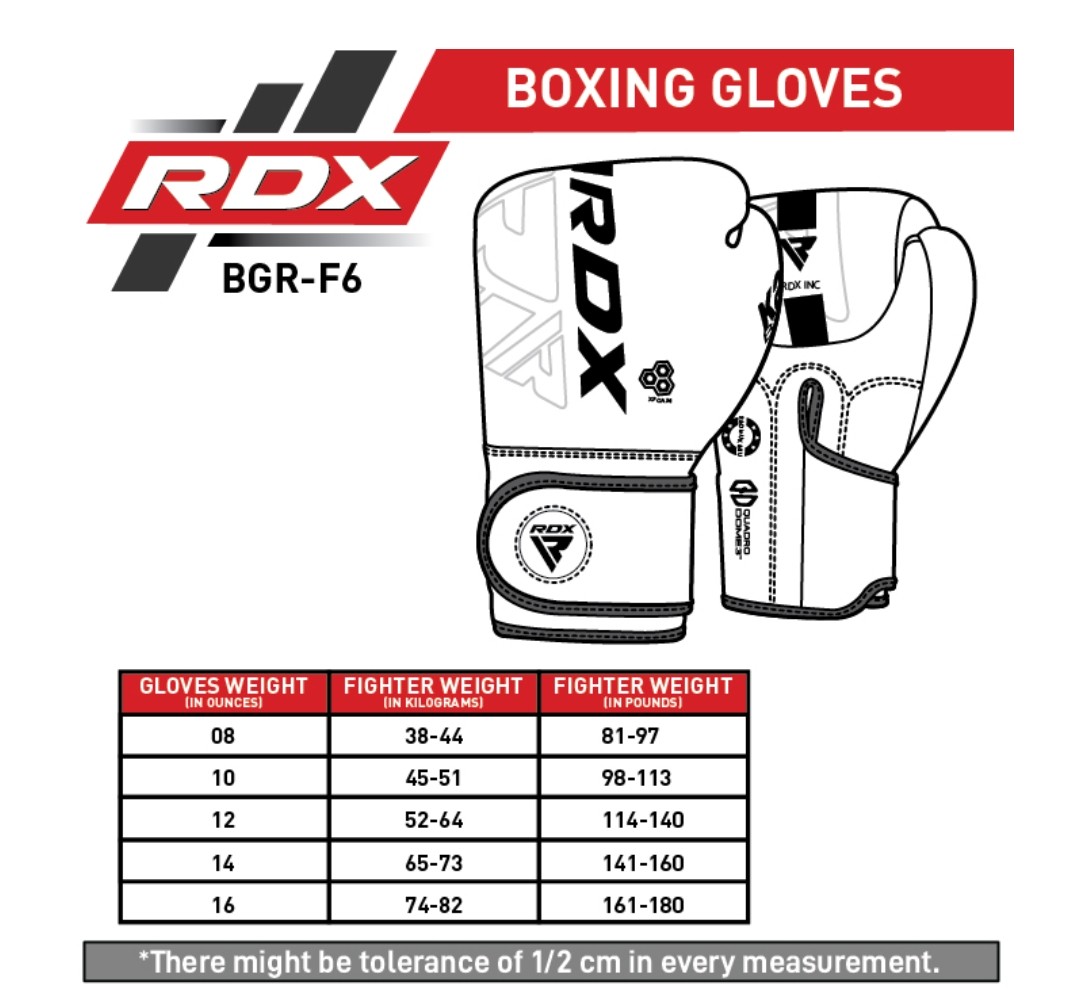 What are the alternatives to the RDX Kara Pro-Training Sparring Boxing Gloves?
If you're looking for a more premium pair of boxing gloves, then the RDX Kara Pro-Training Sparring Boxing Gloves may not be the right choice for you. In that case, you can go for the RDX EGO Boxing Gloves. It is a popular high-end boxing glove, but it comes at a higher price.
Style Guide of RDX Kara Pro-Training Sparring Boxing Gloves
RDX is the brand for you if you want simplicity. The design is quite modest, finished in all-over black with golden, pink, red, or white accents. It isn't flamboyant or garish, like some less expensive boxing gloves may be.
Without a doubt, the appeal of these gloves is due to their design and choice of colors. They feature a fairly simple design that uses black as a foundation and a highlight color to enhance detail. Any of your outfits will match the colors. My favorite pair is the golden one because, in contrast to the others, it has a faint metallic sheen that really highlights the pattern.
Overall, I think these gloves look quite nice; they're fashionable and elegant while still having a professional appearance, unlike many starter gloves from other brands that have bizarre designs and graphics. The knuckles of the gloves may begin to show some wear over time, but with good care, this should take much longer.
Protection and Padding of RDX Kara Pro-Training Sparring Boxing Gloves
These gloves' cutting-edge padding and protective features provide a secure and comfortable training environment. They are fairly nicely padded, so you should be able to exert some force without getting hurt. Although it's vital to wear hand wraps or other additional hand protection, it appears to be a characteristic of these gloves that they offer better hand protection than many other gloves available today.
Intense training sessions put less strain on your hands and wrists thanks to the Quadro Dome 3 padding technology, which is enhanced with EVA foam and SpongeX sheets. The gloves' uniquely designed, pre-curved anatomical construction intensifies the impact of this padding, enhancing protection and precision.
These gloves provide superb fist alignment in addition to superior protection. By ensuring that your hand stays in a natural and secure position while delivering strong punches, this alignment reduces the chance of damage. By preventing potential thumb injuries, the attached thumb design significantly enhances the overall level of protection.
Breathability of RDX Kara Pro-Training Sparring Boxing Gloves
These gloves put a high priority on your comfort by offering fantastic breathability. The perforated sheet in the palm and the strategically positioned ventilation holes in the thumb sections enable proper airflow, preventing sweat accumulation and allowing you to concentrate on your workout without being distracted.
Summary
This glove is a top-notch item with an outstanding price-to-quality ratio. It is a fantastic training tool to help you improve your striking technique. Hard hitters and level-change experts should choose this glove because it keeps your hands safe during straight punches, overhands, uppercuts, and powerful hooks.
When using these gloves, you're probably going to be sparring or working a punching bag, so safety for your wrist and knuckles should be your top priorities. The RDX Kara boxing gloves, which are constructed of Maya Hide Leather and anatomically molded to add extra protection to the wrist and hand, did not hurt my hands while testing them for this review.
Special layers of padding ensure that your hands are kept safe. The hook-and-wrist strap offers a secure and personalized fit, while the ergonomic shape allows for a pleasant and simple grasp.
It's important to keep in mind that some people have reported that these gloves are particularly stiff; nevertheless, your experience may differ. Overall, these are a good pair of entry-level gloves; however, more seasoned combatants may want to consider investing in a more quality and consuquently more expensive set of tried-and-trusted real leather or synthetic leather gloves.
If you're interested in purchasing other RDX products, check out our post on the best RDX products here.
About the RDX Brand
One of the most well-known combat brands in the UK, RDX specializes in gear for fighting sports, fitness, and training. Since its founding in 1999, RDX has built a reputation for producing high-quality equipment, including boxing gloves, MMA gloves, protective gear, and training clothes and accessories. Whether it's boxing gloves, hand wraps, or boxing shorts, many people own at least one item from the RDX brand.
The company has a reputation for making high-quality, reasonably priced gear for users of every skill level. When people first begin practicing martial arts, they frequently choose RDX's items as their initial pieces of gear. The company is well-known for its cutting-edge designs and technology-driven approach to sports apparel, and it has a significant online presence. Additionally, RDX has sponsored athletes and events within the combat sports and fitness industries.
FAQ