Sanabul Headgear – Core Series: Detailed Review
The risks of taking punches and kicks to the head are always present in combat sports like Muay Thai, MMA, and boxing. When training combat sports, it is impossible to avoid these types of headshots. These types of blows are known to result in permanent brain damage and concussions. Fortunately, wearing combat headgear can increase your chances of avoiding injuries. We will be reviewing the Sanabul Core Series Headgear, an excellent piece of head safety gear, in this blog post today.
Sanabul Core Series Boxing MMA Kickboxing Headgear: Overview
For a professional or intermediate-level MMA fighter, the Sanabul Core Series Headgear is an excellent choice. A traditional design of boxing headgear, the Sanabul Core Series Headgear provides a little bit more protection than its Essential Headgear counterpart. Sanabul's response to the demanding athlete seeking superior protection as their skill level rises is the Core Series headgear. This headgear provides superior shock absorption, complete protection from all forms of attack, as well as a precise fit and clear vision while you practice any striking technique. With improved full-face protection and additional chin cushioning, it helps to avoid cuts and nicks.
Sanabul Core Series Boxing MMA Kickboxing Headgear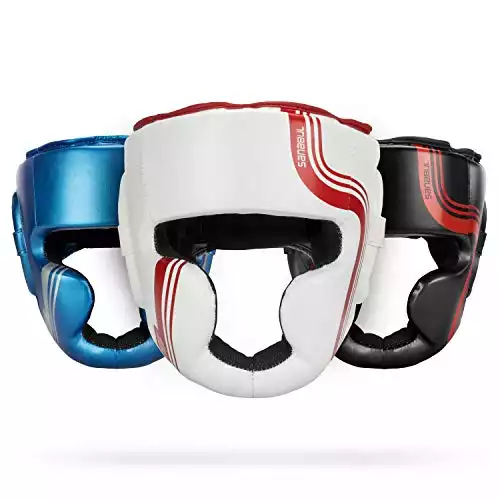 Sanabul Core Series Boxing MMA Kickboxing Head Gear (White/Red, S/M)
Product Description
The remarkable Sanabul Core Series headgear is here to elevate your training regimen. Designed to provide unparalleled coverage and protection, this headgear is your ideal companion for various disciplines, including boxing, kickboxing, mixed martial arts, karate, and taekwondo.
Featuring state-of-the-art impact dura-shock foam, this headgear guarantees exceptional shock absorption, ensuring that powerful punches and kicks won't hinder your sparring sessions. Feel confident as you engage in dynamic exchanges, knowing that your most vital areas, from your head to your cheeks and chin, are comprehensively shielded.
What sets this headgear apart is its meticulous attention to detail. Added chin padding complements the full-face protection, providing a higher level of safety. The innovative design extends its lifespan thanks to the high-quality lining that can withstand the rigors of intense training.
Experience uninterrupted sessions as the headgear's secure hook-and-loop closure system stays firmly in place, eliminating the need for constant adjustments caused by sweat or impact. This feature allows you to focus solely on refining your skills rather than worrying about gear stability.
Pros:
High-quality headgear with adequate cushioning and absorbency

Terrific cushioning

A velcro back and a tie-top

A slim fit
Cons:
Fit issues, especially around the chin

Currently, it is not permitted to compete in boxing in the USA
View Deal
Buy on Amazon
If you are looking for other great headgear options: Read our expert reviewed best list here
Here's another list focused on best MMA Headgear
Materials used for construction of the Sanabul Core Series Boxing MMA Kickboxing Headgear
The Sanabul Core Series headgear is crafted from engineered leather in both its inner and outer parts. The choice of engineered leather is significant due to its specific qualities and advantages.
Engineered leather is designed to be highly durable, capable of withstanding the intense impacts and abrasions that are common in boxing, MMA, and kickboxing. Unlike natural leather, it is less prone to cracking, fading, or deteriorating over time, which ensures the headgear's longevity.
By utilizing engineered leather for both the inner and outer layers of the headgear, Sanabul aims to provide athletes with a product that combines comfort and protection. The inner layer ensures a comfortable fit, helping to prevent chafing and discomfort during training sessions. The outer layer, designed for impact absorption, shields the head from strikes while maintaining its structural integrity over time.
Engineered leather has a uniform texture and appearance, which can be advantageous for maintaining a consistent look and feel across multiple units of this headgear. This type of material is relatively easy to clean and maintain. As a result, this headgear can be wiped down with a damp cloth to remove sweat, dirt, and grime, helping to keep it in good condition.
Stand out Features of Sanabul Core Series Boxing MMA Kickboxing Headgear
The Sanabul Core Series Boxing, MMA, and Kickboxing Headgear boasts several standout features that make it a top choice for fighters. The headgear's construction from engineered leather not only provides a stylish and premium appearance but also ensures exceptional durability.
The incorporation of a core performance lining inside the headgear enhances the overall comfort level. This lining is designed to wick away moisture, keeping the head dry and preventing discomfort from sweat buildup during workouts. It also contributes to a comfortable fit, reducing the likelihood of chafing and irritation.
One of the key features of the Sanabul Core Series headgear is its full-face coverage. This design choice ensures that not only the forehead and crown area but also the cheeks, chin, and jawline receive protection. This comprehensive coverage is especially important in combat sports, where strikes can come from various angles.
The design of this headgear for use in various striking arts, such as boxing, MMA, and kickboxing, highlights its versatility. The headgear's structure and padding are engineered to provide adequate protection for different types of strikes, making it a suitable choice for athletes engaged in multiple disciplines.
The headgear's impact-dura shock absorption technology is a significant safety feature. It's designed to disperse and absorb the force of impacts, reducing the risk of concussions and minimizing the jarring effects of powerful hits. This feature is essential for ensuring the well-being of fighters during training and bouts.
The headgear is equipped with a secure hook-and-loop closure system. This system allows fighters to adjust the fit according to their preferences, ensuring a snug and secure feel during training. The hook-and-loop closure not only provides a customizable fit but also prevents the headgear from shifting or coming loose during movements.
These features collectively make the Sanabul Core Series Boxing MMA Kickboxing Headgear a reliable choice for fighters seeking a high-quality and protective headgear option.
This headgear is offered in two sizes—small/medium and large/extra-large—and four colors—white/red, black/gunmetal, black/red, and blue/silver. You should have enough options from these varying sizes and colors to accommodate most head types and suit your personal preference.
Engineered-leather construction.
Core performance lining.
Full coverage of the face.
Designed for use in any striking art.
Superb impact-dura shock absorption.
Maximum protection.
Secure hook-and-loop closure system.
Specifications of Sanabul Core Series Boxing MMA Kickboxing Headgear
| | |
| --- | --- |
| Colors | White/Red, Black/Gunmetal, Black/Red, Blue/Silver |
| Sizes | Small/Medium, Large/Extra-Large |
| Material | Engineered leather |
| Recommended Uses | Boxing, MMA, Kickboxing, Karate, Tae Kwon Do |
| Coverage | Full face including the head, cheeks, and chin |
| Closure Type | Hook and Loop |
Size Guide of Sanabul Core Series Boxing MMA Kickboxing Headgear
Visit the official Sanabul website for the exact size guide for the Sanabul Core Series Headgear.
S/M – Head Circumference up to 22.25 inches.
L/XL – Head Circumference 22.25 inches and up.
(I could not find a size chart.)
What are the alternatives to the Sanabul Core Series Boxing MMA Kickboxing Headgear?
If you're looking for more premium headgear, then the Sanabul Core Series Headgear may not be the right choice for you. In that case, you can go for the Sanabul Battle Forged Professional Boxing MMA Kickboxing Headgear. It is the Sanabul brand's most popular high-end headgear, but at a higher price.
On the other hand, if you're looking for cheaper headgear, try out the Elite Sports Best Celestial Head Guard. It is excellent headgear that is ideal for beginners.
Style Guide of Sanabul Core Series Boxing MMA Kickboxing Headgear
The Sanabul Core Series Boxing, MMA, and Kickboxing Headgear is a masterpiece of form and function. Every aspect of its design serves a purpose, ensuring unparalleled coverage, protection, and comfort for a range of striking disciplines.
With four captivating color combinations—white/red, black/gunmetal, black/red, and blue/silver—this headgear collection ensures that you can express yourself while staying protected. Whether you're drawn to the bold contrast of black-gunmetal or the dynamic energy of black-red, each color choice reflects a facet of your training persona.
At the heart of the design is the cutting-edge impact-dura shock foam. Strategically integrated into the headgear's structure, this innovative foam provides exceptional shock absorption properties. The design seamlessly bridges various striking arts, making it suitable for athletes practicing kickboxing, MMA, karate, Tae Kwon Do, and beyond.
The headgear's design showcases a sleek profile that reflects the product's confidence and empowerment. The strategic color choices and branding elements reinforce the product's identity and align with Sanabul's commitment to excellence.
Comfort of Sanabul Core Series Boxing MMA Kickboxing Headgear
Comfort begins with the advanced impact-dura shock foam. This cutting-edge material not only absorbs powerful punches and kicks but also contours to your head, ensuring a snug and comfortable fit. The foam's adaptive nature minimizes pressure points, allowing you to focus on your techniques, not your gear.
The ergonomic design isn't just about protection; it's about comfort. The full-face coverage, extended panels, and added chin padding are strategically integrated to provide a secure and comfortable fit. With a design that feels like a natural extension of your movements, you'll experience unhindered training sessions.
Comfort is extended through the high-quality lining that lines the interior of the headgear. This lining not only contributes to the headgear's durability but also enhances your comfort. Even during prolonged sessions, the headgear remains comfortable against your skin, ensuring irritation-free training.
Protection of Sanabul Core Series Boxing MMA Kickboxing Headgear
At the heart of its protective prowess is the revolutionary impact-dura shock foam. Engineered to absorb and dissipate impact energy, this foam transforms formidable punches and kicks into manageable forces. With this advanced protection, you can engage in intense sparring sessions without hesitation.
The headgear's design delivers comprehensive coverage that goes beyond the norm. Extended panels envelop your head, safeguarding vital areas, such as your head, cheeks, and chin. The addition of chin padding further fortifies protection, ensuring you can navigate training exchanges with confidence.
The secure hook-and-loop closure system not only enhances comfort but also bolsters protection. With a stable fit, the headgear remains firmly in place even during the most intense training moments. This minimizes any potential exposure to strikes and impacts, adding an extra layer of defense.
Summary
The Sanabul Core Series Boxing, MMA, and Kickboxing Headgear is designed to provide a secure fit during intense training sessions. The head portion of the headgear offers a snug fit that helps keep it in place, even when taking punches. This is crucial for maintaining proper protection and comfort during combat sports activities.
However, users frequently express concern that the headgear's face and chin areas might be smaller, particularly for those with longer and slimmer faces. This can lead to a less-than-optimal fit around the chin, which is an important area for protection. To address this issue, the headgear features an adjustable string at the top of the head.
This string can be tightened or loosened to customize the fit around the chin area, ensuring a better fit for a variety of face shapes. Unlike traditional velcro closures, this string system not only provides a more precise fit but also avoids tangling in the hair. Additionally, the string adjustment system is less likely to wear out over time due to frequent adjustments.
The headgear also incorporates a velcro closure at the back, which makes it easy to put on and take off once you've adjusted the fit to your liking. Users generally find this velcro closure to be durable and long-lasting, ensuring the headgear remains securely in place during training.
In terms of build quality, the headgear is praised for its good padding and absorption. This is crucial for minimizing the impact of punches and strikes and helping to prevent injuries. The cushioning also adds to the overall comfort of the headgear, enhancing the training experience.
One of the standout features of this headgear is its slim fit. This slim profile means that your head does not become an overly conspicuous target for head hunting during sparring sessions. Additionally, the headgear is designed to provide good eyesight for the wearer, allowing for better situational awareness during training.
Overall, the Sanabul Core Series Boxing MMA Kickboxing Headgear offers a snug and secure fit with an adjustable string system that improves customization around the chin area. Its durability, padding, and absorption capabilities contribute to its overall quality. The slim fit and good eyesight it provides are appreciated features. However, the headgear's effectiveness might be compromised for those with a longer, slimmer face due to a somewhat imperfect fit around the chin.
If you're interested in purchasing another leading brand's headgear, check out our post on the best boxing headgear here.
About the Sanabul Brand
Sanabul is a relatively new player in the combat sports equipment industry, having been founded in 2014. The brand was established with the aim of providing high-quality gear at affordable prices, making combat sports more accessible to a wider audience of enthusiasts, beginners, and professionals alike.
The name "Sanabul" itself is derived from the Korean words "sa" (together) and "nabul" (hands), which emphasize unity and the importance of hands in combat sports like boxing, MMA, and Muay Thai. This ethos is reflected in their commitment to crafting gear that not only performs well but also helps athletes develop their skills effectively.
Sanabul quickly gained recognition for its innovative approach, focusing on both functionality and design. Their range of products expanded to cover various aspects of training and competition, including gloves, shin guards, hand wraps, punching bags, apparel, and more. One of the brand's standout features is its ability to offer high-quality equipment at prices that are often more affordable compared to some of its more established competitors.
The brand's popularity grew due to its commitment to using quality materials, innovative designs, and thorough testing of its products. As a result, Sanabul gained a loyal following within the combat sports community. Athletes and enthusiasts appreciated the fact that they could access reliable and well-designed gear without breaking the bank.
Over time, Sanabul's product offerings continued to evolve, keeping up with the latest advancements in sports technology and design. They also expanded their market reach by leveraging online platforms, which allowed them to reach a global audience.
By providing accessible and effective gear for various combat sports, Sanabul has managed to carve out a niche for itself in the industry. Its history is a testament to the brand's commitment to quality, affordability, and innovation, which has helped it become a popular choice among athletes and enthusiasts alike.
FAQ