Everlast Everfresh Headgear: Detailed Review
Wearing the right equipment is essential, whether you're a seasoned wrestler or a novice seeking to take up the sport; failing to do so will leave you vulnerable to numerous injuries and unable to absorb the forceful strikes delivered by your opponent. One of the first and most crucial pieces of wrestling equipment you should get is headgear. During a game, your headgear will shield your head from various injuries.
When purchasing wrestling headgear, there are many options available. We have chosen the Everlast Everfresh Headgear, which we will be reviewing today, to make things simpler for you.
Everlast Everfresh Headgear: Overview
The Everlast Everfresh Headgear offers adequate protection against cuts, scrapes, and swelling during sparring sessions. Despite its limited padding, it ensures safety and has proven durability in both sparring and rolling. Constructed from quality materials, it's lightweight and reasonably priced, making it a valuable investment.
This headgear belongs to Everlast's level II tier and includes cheek protectors. It's important to remember that it isn't approved for regulated amateur boxing competitions. Instead, it's designed to provide protection during gym sparring sessions.
Available at local sporting goods stores and online, this beginner-level headgear serves as a cost-effective option for those new to sparring, providing a basic and budget-friendly choice.
Everlast® Durahide Headgear (EA)
Product Description
The Everlast Everfresh Head Gear is an essential companion tailored for newcomers and seasoned contenders alike. Meticulously constructed using the formidable Durahide material, this headgear guarantees unwavering durability, standing firm against the fiercest impacts from adversaries.
One of the defining features of the Everfresh Head Gear is that you may unleash unmatched visibility coupled with comprehensive safeguarding for your head and cheeks. Its advanced architecture not only acts as a bulwark for your head but also adeptly absorbs even the most punishing blows, empowering you to train fearlessly.
The adaptable chin strap, adorned with Velcro fasteners and accompanied by Zip-lock Velcro closures positioned on the head's crown and rear, ensures a swift, secure, and snug fit, catering proficiently to individuals of all dimensions.
Exclusively calibrated for the boxing arena, the Everfresh Head Gear seamlessly adapts to the dynamic demands of indoor martial arts. Its sleek, commanding black color epitomizes elegance intertwined with durability. All in all, you can rely on this top-of-the-line head gear that seamlessly merges optimal safeguarding and comfort.
Pros:
Crafted from superior materials

Offers sufficient defense against swelling, scratches, and cuts

Comfortable and light to wear

Holds up well when rolling and sparring
Cons:
Minimal padding

Not enough color options
View Deal
Buy on Amazon
If you are looking for other great headgear options: Read our expert reviewed best list here
Materials used for construction of the Everlast Everfresh Headgear
The headgear's interior is lined with a special fabric and has an outside made of synthetic leather. For boxing headgear like the Everlast Everfresh, synthetic leather is a good option because it can maintain its appearance over time and is frequently more moisture-resistant.
It has excellent cheek guards that will enable the headgear to absorb punches better and reduce the possibility that strikes will actually result in any damage or swelling. Contrary to many other headgear, which allows blows to pass through, the Everlast headgear has the special ability to deflect strikes by evenly distributing weight throughout it and making clever use of chosen materials that feel soft yet are excellent at deflecting punches.
Stand out Features of Everlast Everfresh Headgear
The Everlast Everfresh Head Gear boasts several standout features that make it a reliable choice for head protection during training or sparring sessions. The use of synthetic leather is a notable feature, as it combines durability with a smooth and consistent surface. Synthetic leather offers the advantage of being resistant to wear and tear, ensuring that the headgear maintains its protective qualities over time.
Excellent visibility is a crucial aspect of any headgear, especially in combat sports where split-second reactions are necessary. Everlast has taken this into consideration, ensuring that the design of the headgear does not obstruct the wearer's field of vision. This feature contributes significantly to the wearer's ability to anticipate opponents' actions and adjust their own movements accordingly.
The headgear's adjustability is a standout characteristic that caters to a wide range of head sizes. The combination of an adjustable chin strap with Velcro fasteners and zip-lock Velcro closures on the top and back of the head allows users to customize the fit to their individual comfort levels. This level of customization not only enhances comfort but also plays a role in securing the headgear in place during rigorous training sessions.
The inclusion of a speed bag made from rugged and resilient Everhide material adds durability to the headgear. Everhide is known for its toughness and ability to withstand repeated impacts. This ensures that the headgear can endure intensive training sessions without losing its protective qualities, making it a dependable choice for athletes and trainers who demand durability.
The incorporation of cheek protectors addresses two essential factors: safety and visibility. Cheek protectors provide an added layer of defense against direct impact to the cheeks, which are particularly vulnerable during sparring. Simultaneously, these protectors are designed in such a way that they do not compromise the wearer's field of vision. This dual functionality enhances both safety and the ability to react effectively to opponents' actions.
The headgear's adjustable closures, in combination with the design's versatility, ensure that it can comfortably fit most adult head sizes. This inclusivity means that athletes and trainers with diverse head shapes can find a suitable fit that does not compromise their comfort or protection.
This headgear comes in one size and in black.
Made from synthetic leather.
Offers excellent visibility.
An adjustable chin strap with Velcro fasteners and Zip-lock Velcro closures on the top and back of the head allow for great size adjustment.
Speed bag made of rugged and resilient Everhide.
Cheek protectors provide optimal safety and excellent visibility.
Adjustable closures fit most adult head sizes.
Specifications of Everlast Everfresh Headgear
| | |
| --- | --- |
| Color | Black |
| Size | One size |
| Material | Premium synthetic leather |
| Closure Type | Velcro closure |
| Chin Strap | Adjustable |
| Sport Type | Boxing |
| Recommended Uses | Indoor Martial Arts |
Size Guide of Everlast Everfresh Headgear
Visit the official Everlast website for the exact size guide for the Everlast Everfresh Head Gear. Use the size chart below to determine your ideal size. Measure the circumference of your head with a tape measure above the brow bone and around the broadest area of the rear of the head.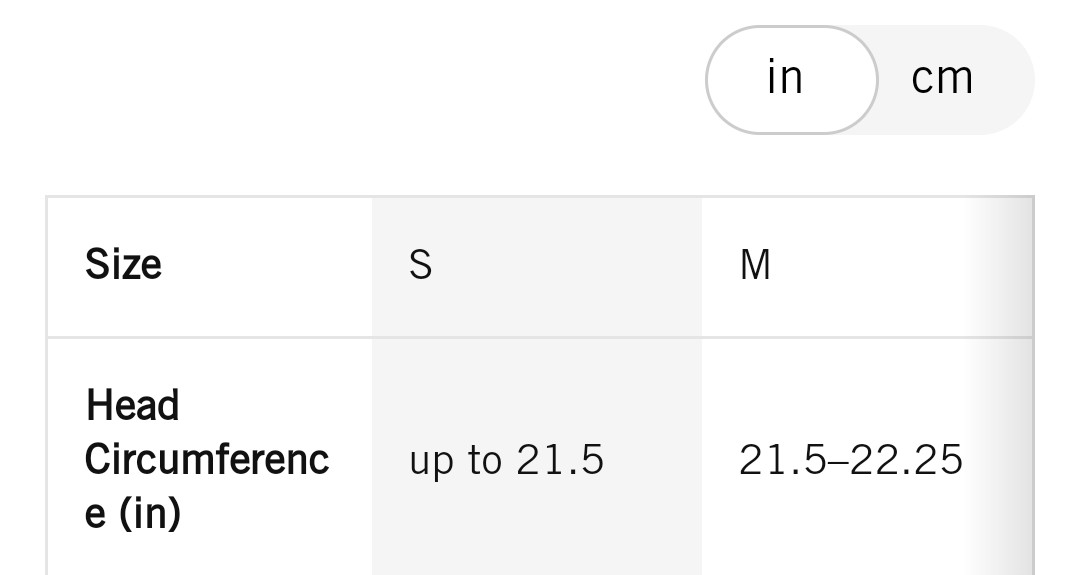 What are the alternatives to the Everlast Everfresh Headgear?
If you're looking for more premium headgear, then the Everlast Everfresh Head Gear may not be the right choice for you. In that case, you can go for the Everlast Elite Headgear. It is the Everlast brand's most popular high-end headgear, but at a higher price.
Style Guide of Everlast Everfresh Headgear
The headgear's design not only contributes to its visual appeal but also aids in minimizing potential obstructions during training or sparring. The choice of a black color scheme adds an element of understated elegance to the headgear. Black is not only a classic choice but also has the practical benefit of not showing signs of wear as prominently as lighter colors might. This color choice gives the headgear a timeless quality that can seamlessly complement various training attire.
For your head's continued freshness, the headgear incorporates Everfresh technology. When you wear boxing headgear, you'll be aware that it keeps your face and head slightly compressed. After a few rounds of boxing, you may realize that you cannot breathe very well and that your cheeks are starting to become a little sweaty when this occurs. Through a micro bacterial treatment, Everfresh technology essentially reduces the odor. Therefore, while wearing this headgear, your head will always feel cool.
While the headgear comes in one size, the adjustable components play a significant role in achieving a personalized fit for a range of head sizes. The adjustable chin strap, Velcro fasteners, and Zip-lock Velcro closures on the top and back of the head allow wearers to fine-tune the fit to their preference, regardless of the one-size limitation.
Comfort and Fit of Everlast Everfresh Headgear
The headgear may be rapidly put on and taken off thanks to the use of Velcro. Furthermore, you are spared the inconvenience of lacing. The headgear is intended to be universally sized thanks to the chin strap and the adjustable straps behind the head. Some people with larger heads, though, have complained that it's tighter.
It will only be necessary to tighten the chin strap and fasten its Velcro components together once you have customized the back of the headgear to your desired size. The chin strap's material is quite thin; it is unpadded, and it is also rather short. People with wide faces or large heads may have trouble with this. These people might be able to acquire just the right amount of Velcro to hold on, but in intense combat situations, the chin strap stands a good chance of coming undone.
Protection of Everlast Everfresh Headgear
An important component of protection is the headgear's inclusion of cheek protectors. They provide protection from direct strikes to the cheeks, a sensitive area in combat sports. However, the padding on the cheek protectors points outward rather than wrapping around the cheeks. It is also substantially higher in elevation. Your vision will be slightly blurred, and you won't be able to see uppercuts as well with these cheek guards on. The cushion that spans the forehead also slightly obstructs some of the eyesight.
This headgear should not be used for intense sparring sessions due to the average quality of the padding. The headgear is made of a single, firm-density padding that works well to prevent cuts and bruises but is not great at absorbing impacts. Wearing this headgear generally gives you a reasonable capacity to notice punches coming from your side. The corner of the eye slot should be at least half an inch wider on both sides.
It provides medium protection as a whole for a headpiece. It's a good deal, given the price. The design of the headgear strives to give complete head coverage. Important parts like the forehead and rear of the head are therefore safeguarded.
Summary
The Everlast Everfresh Head Gear stands out as a remarkable addition to Everlast's lineup of fighting products. Crafted from synthetic leather, this headgear boasts exceptional durability, making it well-equipped to endure even the most forceful impacts. What truly sets the Everlast Everfresh Head Gear apart is its capacity to allow easy breathing, a crucial aspect during intense training sessions. The headgear's design does not compromise peripheral vision either, ensuring that you remain aware of your surroundings while wearing it.
One of its standout features is the EverFresh technology, which prevents the accumulation of unpleasant odors over time, allowing you to utilize the headgear for extended periods without worrying about it becoming uninviting. Affordability is another appealing aspect, making this headgear a practical investment for those seeking quality without breaking the bank.
The headgear excels at providing ample cushioning and protection, particularly in the critical areas around the jaw and cheeks. While you do experience the impact of hits, it facilitates a realistic training experience while safeguarding your facial integrity. This balance between protection and sensation is perhaps the headgear's most commendable trait, giving both you and your sparring partner an effective workout.
The headgear's well-constructed straps deserve special mention. They allow for easy adjustment, ensuring a snug fit that minimizes movement during impact. Consequently, you can spar with confidence, knowing the headgear will stay securely in place.
However, a few drawbacks exist. After intense use, the headgear tends to become sweaty due to its high absorbency. While the adjustable straps are commendable, there are some limitations to the extent of the adjustments that can be made. Additionally, the ear holes may feel slightly tight, though this is manageable.
To sum it up, the Everlast Everfresh Head Gear emerges as a highly commendable product. Despite a couple of minor downsides, the value it offers for its price point is nothing short of exceptional, making it a must-have for anyone engaged in rigorous sparring sessions.
If you're interested in purchasing other Everlast products, check out our post on the best Everlast products here.
About the Everlast Brand
Everlast is a venerable and widely recognized brand that has left an indelible mark on the world of combat sports. Founded in 1910 by Jacob Golomb, the brand was initially focused on swimwear, but it soon shifted its focus to boxing equipment due to the growing popularity of the sport. This transition marked the beginning of Everlast's journey as a leading name in combat sports gear.
What sets Everlast apart is its dedication to producing top-quality equipment and apparel that withstand the rigors of training and competition. The brand's boxing gloves, for instance, are designed with meticulous attention to detail, incorporating advanced materials and ergonomic designs to provide both protection and comfort to the wearer. Numerous athletes, from beginners in the gym to world-class champions in the ring, wear these gloves, which have become synonymous with the sport.
Everlast's range of products extends beyond just gloves. They offer a comprehensive lineup of training equipment, including heavy bags, speed bags, focus mitts, and more, catering to various aspects of combat sports training. The brand's heavy bags, in particular, are known for their durability and ability to withstand intense training sessions, making them a staple in gyms worldwide.
Over the years, Everlast has formed partnerships with legendary athletes and trainers in the combat sports world, further enhancing its reputation. This includes collaborations with boxers like Muhammad Ali and Mike Tyson, as well as MMA fighters like Randy Couture. These partnerships not only showcase the brand's commitment to authenticity but also demonstrate their influence in shaping the industry.
FAQ