RDX HGR-T1 Headgear: Review
I really can't emphasize enough how important it is for boxers to have headgear since it will increase your comfort and confidence while sparring with your opponent and, most importantly, protect your head. Generally speaking, there are numerous options for headwear protection. But if you're just starting out, full-face protective headgear is the best option. So, here is a thorough evaluation of the RDX HGR-T1 Boxing MMA Muay Thai headgear (a full-face protection headgear) in this review.
RDX HGR-T1 Boxing MMA Muay Thai Headgear: Overview
Are you looking for headgear that will help you avoid head injuries and give you the confidence to engage in sparring and boxing sessions? The RDX HGR-T1 headgear, which is offered at a very affordable price, is the best option for beginners if you want to be sure that your head is completely protected. This headgear is strong and well-built for optimal comfort and endurance, as it is made of premium Maya hide leather. This offers everything you could possibly want, including unrivaled safety, more shock absorption, and a lightweight face grill.
The best feature of this headgear is that it ensures that your head is positioned properly. Essentially a zero-impact headgear, it is made of triple-padded Tri-Slab with Shell-Shock gel liner between each slab for optimal shock absorption and Supremo-Shock foam cushioning, making it a very shock-absorbent device. For complete face protection, an optional detachable face grill is available, which is composed of lightweight, high-quality polymer. So, get in there and fight with total confidence, knowing that your head is secure.
RDX HGR-T1 Boxing MMA Muay Thai Headgear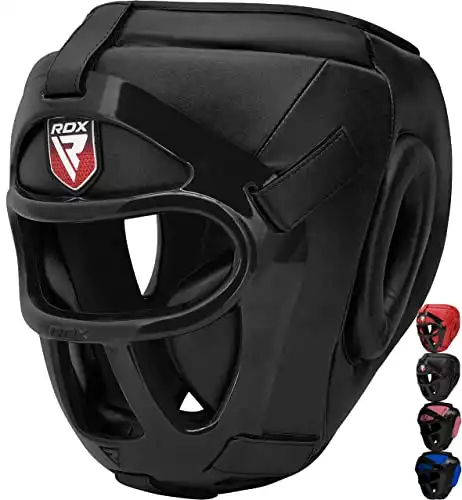 RDX Boxing Headgear for Sparring
Another cheaper option out there is this RDX head guard. They have created a bar guard to protect your nose along with a resilient foam shock-absorbing gel leather to give you fantastic protection all round and great durability. If you are only going to be sparring every now and again this is definitely a cheaper option you can consider getting.
Elevate your training with the RDX HGR-T1 Boxing MMA Muay Thai Headgear. Crafted from top-tier Maya Hide leather, this headgear is your ultimate companion for boxing, MMA, Kickboxing, and Muay Thai sessions. It ensures unmatched durability and resistance to tears, providing supreme protection without limiting your range of motion, so you can perform at your peak.
Prepare for any challenge with confidence. The polygonal fusion foam and sweat-absorbing dazzle fabric lining offer robust protection and comfort. Its ingenious design absorbs heavy blows, preventing them from reaching your face. The headgear's Quick-EZ hook-and-loop closure ensures a secure fit that won't budge, giving you a comfortable and efficient training experience.
Do not hold back during takedowns – RDX has you covered. The removable lightweight polymer face grill safeguards your facial features without compromising your vision. Feel the confidence to train rigorously, thanks to the Sponge-X Padding and Compressed Polygonal Fusion Foam. These advanced features guarantee that your head is shielded, allowing you to focus on perfecting your defensive and offensive techniques.
When it comes to head protection, RDX stands above the rest. Unleash your potential with this headgear that combines unparalleled durability, precision engineering, and maximum comfort. Train relentlessly and fearlessly, knowing that the RDX HGR-T1 is your steadfast partner in pushing your limits and achieving greatness in the ring.
Pros:
EVA Padding

Tri-Slab Foam

Removable PVC Grill

Full-face Coverage

Chin Strap
Cons:
Does not completely cover the back of the head which is vulnerable.

Some people might find the PVC grill uncomfortable
Koop nu
Kijk op Amazon
Materials used for construction of the RDX HGR-T1 Boxing MMA Muay Thai Headgear
The materials used to build the RDX HGR-T1 headgear are, in my opinion, really impressive. It is constructed of durable Maya hide leather like most RDX combat products. It serves mostly as the outside material that is used to make this headpiece. I've noticed that this material gives the headgear an outstanding level of resilience.
This version of synthetic leather shows a remarkable capacity to withstand the demands of combat sports. I've seen firsthand how the inside foam material considerably improves the overall comfort and protection qualities of the headgear. As a shock absorber, the foam padding evenly distributes the force of collisions across the surface of the headpiece. This careful design choice reduces the possibility of injuries occurring during practice, which is crucial in combat sports. Additionally, the foam padding's capacity to adapt to the wearer's head shape results in a snug and stable fit even during erratic motions.
Stand out Features of RDX HGR-T1 Boxing MMA Muay Thai Headgear
Let me share with you some observations I've made regarding the RDX HGR-T1 headgear that I've been testing. This is not your standard equipment; instead, it has some unique qualities that make it a formidable piece of gear.
The materials used are quite high quality, so that's the first thing. With its high-quality Maya hide leather construction, this headgear is like the Hulk of combat sports equipment. This headgear has been put through several rigorous training sessions with me, including boxing, MMA, kickboxing, and more, and it is still in good condition. Pure toughness without any rips or wear and tear!
Let's move on to discussing protection. They created a polygonal fusion foam that is comparable to having a personal bodyguard for your head. Even though I've taken some hard hits, this foam absorbs the blow and spits it out before it can touch my face. It's like carrying a fortress on my head.
And the best part? The game-changer Quick-EZ hook-and-loop fastener It fits your head shape like it was built for you, and it won't even slightly move. Simply a tight fit that allows you to concentrate on what you do best without sliding or changing mid-fight.
The face grill is the apex of add-ons, so to speak. It is comparable to wearing a superhero mask and is made of lightweight polymer. You still see it clearly even after it absorbs the blows. Just a strong blanket of protection—no hazy eyesight, no terror.
I do not want any interruptions when I'm working out. That's where this headgear really excels. You can go all out because it has multiple layers of padding: sponge-x padding and compressed polygonal fusion foam. This headgear can withstand combos and takedowns, so practice those.
In the end, this headgear has exceeded my expectations in every way. The RDX HGR-T1 is the gear to get if you're serious about combat sports and want something as durable as you are. This headgear is without a doubt one of the best pieces out there!
This headgear is offered in four sizes—small, medium, large, and extra-large—and four colors—black, blue, pink, and red. You should have enough options from these varying sizes and colors to accommodate most head types and suit your personal preference.
Maya hide leather for top-level durability.
Polygonal fusion foam for maximum shock absorption.
Dazzle fabric inner lining for sweat absorption.
Quick-EZ hook-and-loop closure for snug fitting.
CE-certified head guard with the additional bonus of a high-quality removable face grill.
Ensures zero budge or slip.
Lightweight polymer to ensure overall protection.
Specifications of RDX HGR-T1 Boxing MMA Muay Thai Headgear
| | |
| --- | --- |
| Colors | Black, Blue, Pink, Red |
| Sizes | Small, Medium, Large, Extra-Large |
| Outer Material | Maya Hide Leather |
| Inner Material | Foam |
| Design | Padded Top, Removable Grill |
| Padding | EVA-Lution,SpongEX Padding |
| Closure Type | Rear Hook and Loop |
| Recommended For | Boxing, Training, Muay Thai |
Size Guide of RDX HGR-T1 Boxing MMA Muay Thai Headgear
Visit the official RDX website for the exact size guide for the RDX HGR-T1 Boxing MMA Muay Thai Headgear.
What are the alternatives to the RDX HGR-T1 Boxing MMA Muay Thai Headgear?
If you're looking for more premium headgear, then the RDX HGR-T1 Boxing MMA Muay Thai Headgear may not be the right choice for you. In that case, you can go for the RDX Boxing MMA Training Kickboxing Headgear. It is popular, high-end headgear, but it comes at a higher price.
Style Guide of RDX HGR-T1 Boxing MMA Muay Thai Headgear
Both elegance and practicality were taken into consideration when designing the RDX HGR-T1 headgear. Small, medium, large, and extra-large are the available sizes, ensuring a snug fit for a range of head sizes. It also comes in a range of colors, including black, blue, pink, and red, to suit different tastes and fashion choices.
The headgear has a contemporary, streamlined appearance, and the attention to detail elevates its overall visual appeal. The curved form not only ensures a secure fit but also adds to the fashionable appearance of the headgear. Users can express their personalities through color selection and match the headgear to their workout clothing.
This headgear is constructed similarly to that of a face mask, unlike other headgear. There is a detachable PVC grill that shields your face, although the initial base barely covers it. For users who want partial face coverage, however, this equipment could be uncomfortable.
Comfort of RDX HGR-T1 Boxing MMA Muay Thai Headgear
The RDX HGR-T1 headgear excels in terms of comfort. The headgear's inside lining, which is made of dazzling fabric, is a prominent feature that significantly improves comfort. This fabric is designed to effectively absorb sweat, keeping moisture off of your skin. This sweat absorption reduces discomfort and irritability, so you can concentrate on your workout without being sidetracked by moisture.
Another factor that improves your comfort during training is the fit of the headgear. Your head will fit perfectly inside the Quick-EZ hook-and-loop closing system because of its ergonomic design. This prevents the need for repeated modifications and guarantees that the headgear will remain in place during your training session. Because of the snug fit, the headwear won't move about, which could cause discomfort and distractions.
Your comfort is also taken into consideration in the design of the headgear's layered polygonal fusion cushioning and Sponge X padding. In addition to providing excellent protection, these padding layers also produce a cushioning effect that improves your comfort during demanding training sessions. With the padding there to support you, you can confidently practice both defensive and offensive moves.
Protection of RDX HGR-T1 Boxing MMA Muay Thai Headgear
The Maya Hide leather used in its production is one of the main protective components. The headgear can endure the challenges of boxing, MMA, kickboxing, and Muay Thai training thanks to Maya Hide leather, which is renowned for its outstanding durability. This substance creates a thick, protective coating that serves as a barrier against collisions and abrasions.
When it comes to shock absorption, the polygonal fusion foam used in the design is revolutionary. This cutting-edge foam structure is cleverly positioned to deflect the force of powerful blows, lessening the force that strikes your face and head. This defense is essential for avoiding injuries during workouts.
The headgear also has a detachable face grill constructed of a lightweight polymer. This component serves as a bulwark against blows, adding another layer of defense to your face. The face grill is made to protect you, but it also keeps your field of vision intact, so you can observe your opponent's moves and respond to them quickly. Notably, your back head only receives partial coverage despite the headgear covering your entire face. As a result, the equipment is not ideal if you fall on your back.
Summary
If you want to be a pro boxer, you will eventually have to stop relying on full protection headgear, either due to competition rules or to have the visual field as your opponent. However, if you're new to boxing, this headgear is excellent for boosting your confidence as you can train without fear of head injuries.
The headgear is sweat-absorbing and can be worn pretty comfortably. You can put it on yourself and tighten it as per your requirements. Even when you move about, are heavy-hitting, or are highly perspiring, this headgear stays in place. The face, back of the head, and area surrounding the ears are all well cushioned.
After rigorous use in arduous sparring by me, it functions as it should. Just remember to clean it up after each use to prevent a bad odor from developing. Also, be careful because the safety bars may partially obstruct your peripheral vision. Otherwise, things will go pretty well with this headgear.
I've rarely encountered any headgear as comfy or as good as this. I would advise everybody who trains to use this. The XL would suit you perfectly if you have a large head. Overall, it's a really decent piece of headgear, especially if you're wearing braces because it will help protect them from blows.
If you're interested in purchasing other RDX products, check out our post on the best RDX products here.
About the RDX Brand
One of the most well-known combat brands in the UK, RDX specializes in gear for fighting sports, fitness, and training. Since its founding in 1999, RDX has built a reputation for producing high-quality equipment, including bokshandschoenen, MMA gloves, protective gear, and training clothes and accessories. Whether it's boxing gloves, hand wraps, or boxing shorts, many people own at least one item from the RDX brand.
The company has a reputation for making high-quality, reasonably priced gear for users of every skill level. When people first begin practicing martial arts, they frequently choose RDX's items as their initial pieces of gear. The company is well-known for its cutting-edge designs and technology-driven approach to sports apparel, and it has a significant online presence. Additionally, RDX has sponsored athletes and events within the combat sports and fitness industries.
FAQ