Rival d30 Intelli-Shock Bag Gloves Review
Rival d30 Intelli-Shock Bag Gloves are a cut above the rest in the world of bag gloves.
Rival develops some of the finest MMA gear that money can buy, but that quality doesn't come without a steep price. Their presence as an all-around gear supplier has made them a favorite of many contact sport enthusiasts. Though their pricing may be in the upper brackets, the quality of their products speaks for themselves.
Take for instance the d30 Intelli-Shock bag gloves
RIVAL Boxing d30 Intelli-Shock Bag Gloves-Black/Gray-Medium
They cost more than your average bag glove, but are well worth the price hike due to the extreme advantages in comfort and safety that their design offers. Built with just as much durability and efficiency as other high-end bag gloves, this pair of gloves will leave you coming home without sore knuckles every time.
[section label="Protection"]
Protection and Padding:
It can't be stressed enough that the Rival d30 Intelli-Shocks Bag Gloves are the luxury sofas of bag gloves in that they offer world class comfort and protection. You get what you pay for in this department as Rival spared no expense when designing these gloves to keep your hands completely safe from injury. Even extended bag sessions will leave you with only minor soreness.
[section label="Design"]
Design: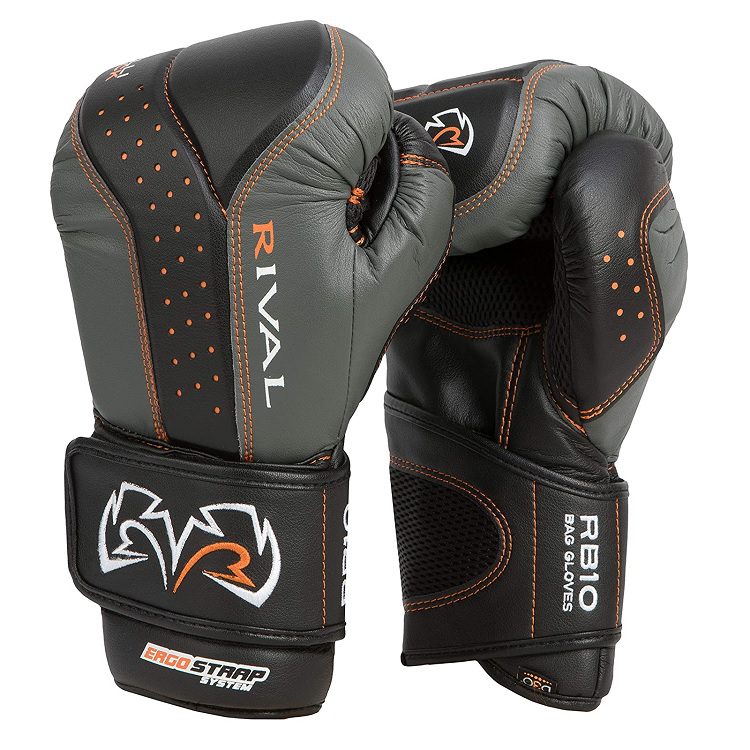 The Rival d30 Intelli-Shock Bag Gloves sport a killer look that will really help you stand out in a crowd. The orange logo and stitching accentuate the bold edges and smooth curves around the black and grey design of the gloves. The classic wrist strap and separate thumb design help enhance their overall aesthetic and give it that luxurious appearance.
[section label="Quality"]
Quality and Durability:
Built to withstand light sparring, this tough pair of gloves can take whatever you have to throw at the bag and then some. Don't let their highly comfortable build fool you, Intelli-Shock gloves can withstand all the stresses of day to day use without falling apart in your hands. This is a great investment for anyone who plans to make a full-time hobby out of boxing and wants nothing less than the finest.
[section label="Reviews"]
Rival d30 Amazon Customer Reviews
"Superior nuckle protection due to d30 Technology(I have had no knuckle pain since…(read more here: Rival d30 Intelli-Shock Review)"

"these gloves do a great job of absorbing impact…(read more here: Intelli-Shock Bag Gloves Review)"

"I have a much better time using these without my fist guards…(read more here: Rival d30 bag Gloves Review)"
[section label="Price"]
Check current price:
Buy from Amazon