Muhammad Ali's Fight of the Century Gloves Sold in Auction
A very important and unique piece of boxing history has been sold to a very lucky boxing collector. In an auction held at the National Sports Collectors Convention in Cleveland, Ohio this July, the Everlast brand gloves that Muhammad Ali used against Joe Frazier in their highly touted "Fight of the Century" match were sold to an anonymous bidder for nearly $400,000.
The auction was spearheaded by Heritage Auctions, the same auction house who previously sold another item of Ali's- the gloves which he used to claim his first World Championship way back in 1964. Then a year ago Ali's shorts were sold in in Tommy Scragg auction for £2,500.
Still, the "Fight of the Century" gloves is still a valuable memento from that match which can be considered as one of the most significant in Ali's career- it was his first professional loss, and marked the start of a bitter rivalry between him and Frazier that would see them fight it out in two more matches (both of which Ali won) and a deep feeling of resentment for each other that they never really got over (even after Frazier's death in 2011).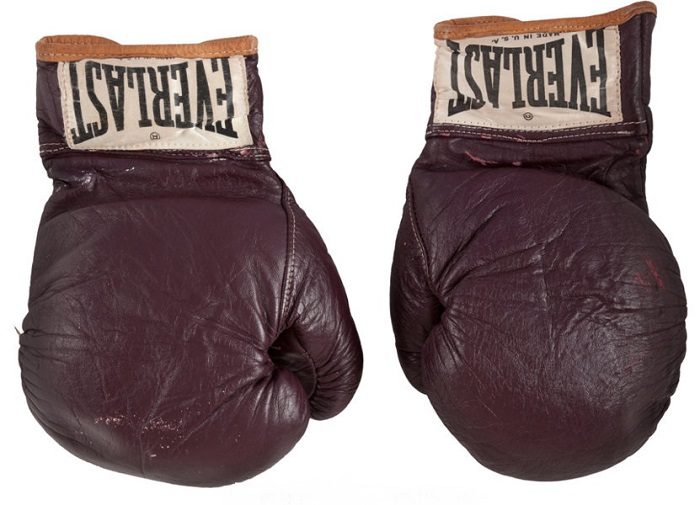 But that fateful day on the eighth of March in 1971 is not a mere boxing match between two highly regarded heavyweights. It was a match with a lot of political undertones. It is to be noted that the reason why the fight was being held in the first place is to find out which fighter had a legitimate claim to the title "World Heavyweight Champion."
Ali already won it back in 1964, but the title was taken away from him in 1967 when he refused to sign up for military service. This fight was supposed to be his comeback after nearly four years of absence in the boxing world. In Ali's absence, Frazier managed to earn the title after defeating both Buster Mathis and Jimmy Ellis. Your political stance back then will greatly affect who your bet is: Frazier is for white religious conservatives, while Ali became the symbol for young liberals who are anti-War.
But the young Ali's speed was outclassed by Frazier's aggression on the ring. Ali squarely caught a number of Frazier's famous left hooks that left him dazed. The match was set for 15 rounds. By round 14, it was clear that Frazier has a very clear lead by way of points. In round 15, Ali caught another left hook in the jaw, yet he still managed to stand up for the rest of the round.
Back to the gloves. For a pair that is more than 40 years old, Ali's brown Everlast gloves are still in tiptop condition. These gloves were found in the collection of Angelo Dundee, Ali's trainer, and the same person who cut off the gloves from Ali's hands (gloves are tied and taped before every match) after the fight.
There are a few discolored parts from where the tape has been wrapped around the gloves; the inside of the gloves contains the signature of Dundee, plus a scrawl that says "Ali-Frazier 3/8/71." It's boxing nostalgia at its finest. You cant find a pair of  boxing gloves like these anywhere else.