Hayabusa Pro Boxing Shoes: Detailed Review
As a boxer, your footwork is the key to quickly landing strong blows and blocking straight shots. Foot grip in the boxing ring is one of the most underrated features, confidence with footwork leads to fantastic posture and impactful shots. While skill plays a major role in developing good footwork, one of the prerequisites is a great pair of boxing shoes and you cannot go wrong in terms of quality with the Hayabusa pro boxing shoes. We'll tell you what we like about these shoes and what we don't. But make sure you read this review before you make a buying decision.
Boxing shoes are made with stability and traction in mind, but not all of them have these qualities. The fit, flexibility, grip, design, and rotation of these shoes, among other characteristics, vary. This is why it is important to try a few brands and see what fits you the best. Hayabusa makes some of the best boxing shoes and these pro boxing shoes is one of their best yet.
Product Description
De Hayabusa Pro Boxing Shoes gives you fantastic control over your movements in the boxing ring. You will not have the fear of slipping even if you move around the ring a lot. This shoe holds up to whatever you put it through and is designed for performance round after round.
The synthetic sole of the Hayabusa is its best feature. It is very flexible and grips the ground very well. The midsoles were created to provide a sturdy base. By design, they are not as cushioned as other boxing shoes. This is a benefit if you're looking for active feedback from the ground, agility and power. However, these are harsh if you have flat feet or other foot issues.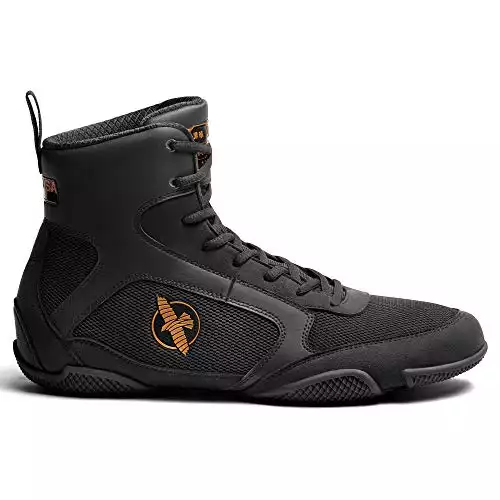 Hayabusa Pro Boxing Shoes for Men & Women - Black, 8 Men/9.5 Women
When entering the ring, use the Hayabusa Pro Boxing Shoes to refine your footwork. These boxing shoes from the Hayabusa Pro Boxing Collection are offered in four different colors, including black, blue, red, and white.
You can move in the ring with complete control if you wear the Hayabusa Pro Boxing Shoes. Their grooved soles give them a stable, rooted grip for transferring punching power well and making sharp turns. These mid-height shoes are light-weight for quick movements and precise footwork, making you feel like one with the canvas.
Their light-weight construction enables accurate, rapid motions around the ring in terms of performance. Even though the shoes are light, the grooved sole lets you stop quickly when you need a firm grip on the canvas. With these shoes, the fighter can turn quickly and precisely so they can get the most power out of their punch.
The shoes are also mid-height and have long laces to make sure they stay on the canvas and the fighter's feet. Its design focuses on both performance and safety by making sure the shoe is as flexible and agile as possible while still stabilizing the ankle for safety.
Pros:
The materials are breathable and light

Durable

Cushioned insoles for comfort

The custom outsole is excellent
Cons:
More on the expensive side

Less reliability
View Deal
Buy on Amazon
About Hayabusa
With items sold all over the world, Hayabusa is a leader in the fighting gear and technical fight apparel sectors. Hayabusa is the best when it comes to performance and safety for all fighters. They make gear and clothes for boxers, martial artists, and people who are into fitness. The Japanese name for the peregrine falcon is Hayabusa, which was established in 2006 by Craig Clement, David Zikakis, Ken Clement, and Luke Harris.
Since these were the essential training items needed by fighters, the initial product offering included a customized line of combat gloves, battle shorts, and rash guards. More products were made with the goal of making clothes and gear that would meet and exceed the needs and expectations of a new generation of athletes.
Features
Flexible soles with angled grooves and toe creases that give traction for maximum power transfer and precision pivots by providing a stable, anchored hold in the ring when you deliver a punch.
These shoes are made to last thanks to their mesh panels, sturdy microfiber leather, and a thin rubber outsole that performs best on canvas in the ring.
These shoes blend comfort, stability, and traction to create the perfect shoe for the ring. Rapid agility is made possible by the light-weight construction.
The mid-height construction of these shoes ensures a comfortable fit while supporting your ankles. As you exercise, the mesh ventilation keeps you comfortable and cool while the cushioned footbed molds to your foot with gentle padding.
These shoes are light-weight for explosive movement as you shuffle and slide around the ring with agility and precision. This gives you complete control in the ring.
Specifications
Build: Mid-height build
Support: Mid-height ankle support
Outsole: Flexible rubber outsole
Exterior Materials: Mesh and microfiber leather
Materials used to construct the Hayabusa Pro Boxing Shoes
The sole material of the Hayabusa Pro Boxing Shoe is made from rubber, and the outer material is made from mesh and microfiber leather. The strong midsole additionally gives your feet a secure foundation for balance and comfort. Professional boxing shoes use grooved rubber soles. Rubber soles allow for greater speed generation because of their superior grip and light weight.
To improve airflow inside and around the shoes, breathable mesh is used. Mesh allows the shoes to dry out more quickly after getting wet and keeps your feet cooler. These also dry out quit quickly when left in open air.
Professional boxing shoes are made from the more recent, high-quality synthetic material known as microfiber leather. It smoothes out the shoes, makes them lighter, and does not deteriorate over time. In contrast to most synthetic materials, it is also quite good at handling moisture and smells.
Are the Hayabusa Pro Boxing Shoes reliable?
One of the most popular boxing shoe options is the Hayabusa Pro Boxing Shoes. These are among the most favoured shoes among top professional fighters. This boxing shoe is undoubtedly more expensive than any other common boxing shoes available but that is because its quality and build is significantly more premium.
The lightness of these shoes will probably be one of the first things you notice, but that does not mean these shoes are less durable. Many people like to wear these boxing shoes to the gym, mostly because they have a hybrid design and are very comfortable.
Design of the Hayabusa Pro Boxing Shoes
For a good grip in the ring, the Hayabusa Pro Boxing Shoes have a rather unusual outsole design. This increases your agility and speed and helps you stand on your feet more firmly. The best thing about these boxing shoes is that they combine tried-and-true traditional features with more modern ones.
De Hayabusa Pro Boxing Shoes provide ideal ankle stability without significantly compromising mobility. These are extremely lightweight due to the mesh material and microfiber leather, as any boxing shoe should be. The angle-grooved soles, which are more common in wrestling shoes but provide a better anchoring grip in the ring, cover the edges of the shoe.
You can slide and pivot freely thanks to the sole's extreme flexibility and thinness. The soft padding of the cushioned insole molds to your feet. While exercising, the mesh ventilation keeps you comfortable and cool. The unique toe creases aid in pivoting and power transmission during punches.
Why does the Hayabusa Pro Boxing Shoe stand out among the rest?
De Hayabusa Pro Boxing Shoes help you move with complete control in the ring. With a form-fitting design, mesh panels for maximum airflow, flexible rubber soles, and an ergonomic midsole drop for cushioned comfort, these shoes are mid-cut and light, so you can feel the canvas during sparring and competition.
The support, grip, and protection of the Hayabusa Pro Boxing Shoes give you a more stable, accurate stance and better movement in the ring and during a fight. They help to stop sweat-slipping, stuck toes, and twisted ankles, all of which can distract you during a fight or cause you to lose focus during a workout.
De Hayabusa Pro Boxing Shoes are an important part of your boxing gear and will help you improve your footwork. This is because you can train with confidence that your feet and ankles are well protected.
Can you casually wear the Hayabusa Pro Boxing Shoe?
If you view boxing shoes from outside the ring, they appear to be quite fashionable and streamlined. They are so fashionable that you may wish to occasionally wear them casually. But here are the three primary reasons why doing that would be unwise:
Boxing shoes lack enough cushioning to survive on hard surfaces.
Boxing shoes do not provide enough traction for everyday use.
Because of this, you can't wear the Hayabusa Pro Boxing Shoes outside of the ring. They have a unique way of supporting the ankles, great grip, and fit true to size, but their overall shape isn't great for everyday use.
Size Chart
Review (Customers and Experts)
Comfort: 4.2
Light weight: 4.2
Durability: 5.0
Range of motion: 4.6
Value for money: 4.4
Summary
Most boxers train hard on their upper-body movements, jabs, and punches. But the actual force in your punches starts generating from your legs. Elite boxers were found to utilize their legs to drive 38.6 percent of the force in their blows, according to a 2013 study published in the journal of strength and conditioning research. Your footwork sets everything in motion in boxing.
De Hayabusa Pro Boxing Shoes make it easy to move around and turn while keeping your feet light. From amateurs to professionals, coordinated footwork is crucial to their technique.
Furthermore, the Hayabusa Pro Boxing Shoes do not slow you down, which is essential to move around and miss those heavy punches from your opponents.
Summary
The Hayabusa Pro Boxing Shoes are a top-notch choice for serious or hobby boxers alike. They are lightweight, yet durable, and offer excellent support and stability in the ring therefore protecting your ankles from injury. The soles are non-slip, ensuring that you can pivot and move quickly and confidently. The shoes also have a snug and comfortable fit. While the padding is adequate you can still feel the feedback from the ring to improve your posture and footwork. Overall, I highly recommend these shoes to anyone looking for a high-quality piece of boxing gear.

Pros:
The materials are breathable and light.
Durable.
Cushioned insoles for comfort.
The custom outsole offers excellent grip.

Cons:
They are quite expensive.
Reliability is an issue especially on poor quality rings or on the gym floor.

Other Hayabusa boxing products
If you are a fan of the Hayabusa brand and are looking to buy other Hayabusa products, here's a great article about the best Hayabusa Boxing and MMA products.
Other Options
If you would like to look at other options for boxing shoes, please read our article about the top 10 best boxing shoes.
Frequently Asked Questions
Do boxing shoes run big or small?
Boxing shoes should fit true to size because they are sized to fit similarly to athletic and running shoes. The sizes of men and women differ by one to two sizes. Order a size 6.5 or 7 if you typically wear size 8 athletic shoes.
Do boxing shoes actually help?
The perfect boxing shoe gives the wearer the flexibility and dexterity they need to move, dodge punches, and know where to throw, as well as a strong grip and stability on the canvas. Your boxing sneakers are probably second in significance to your boxing gloves.
Do you wear socks with boxing shoes?
Even though some people like to wear regular socks with their shoes, boxing socks are better because they give your shoes the right amount of support and help keep you from getting hurt. Boxing and training socks are made to last and can handle the wear and tear of a hard workout.
Can boxers fight barefoot?
Both amateur and professional boxers must wear specialized boxing shoes. They are not permitted to compete barefoot. At first, boxers and other combat athletes competed without shoes. As the sport changed and became more modern, however, fighting became more organized and civilized.