Hey all, this is Nathan Webb, writing for Boxingglovesreviews.com. Recently, I did a short little blurb about Title Boxing gear for this site and, during my research, I found out that Title Boxing had one of its gyms right in Knoxville, Tennessee, my hometown. To give you all a fair representation of their brand (and because they offered me a free chance to get back into a gym), I decided to go check out both their products and their facilities.
[toc]
What is Title Boxing Club?
Title Boxing Club claims to be the first and only fitness club dedicated to giving people the most empowering boxing workout of their lives. No matter your age, body type, weight, or ability, you will love, benefit, and have fun in our classes. Our exercise classes engage the body, mind, and spirit by channeling the fundamentals of a true boxer's workout.
TITLE Boxing Club has the made oldest sport in the world new again and modernized the sport into a workout like nothing else you've ever experienced. We can't wait to share our experience with you.
TITLE Boxing Club is a franchise of boutique fitness clubs specializing in boxing and kickboxing classes with more than 140 locations and 30,000+ members. TITLE Boxing Club increases fitness while decreasing stress, and also allows consumers to workout anytime, anywhere through their digital subscription service TITLE Boxing Club On Demand. In January 2021, TITLE Boxing Club was acquired by BoxUnion to form the nation's premier omnichannel fitness brand.
The Gear: Comfy, Solid, and Designed for Abuse.
Let's start with the basics. I came in at around eleven o'clock in the morning to find a wood-paneled floor, wire racks with Title Boxing products, and a man with a four-month-old baby on his arm. I'll be honest; I was surprised. I was even more surprised when the man introduced himself as Ashley Burns, a former Air Force captain, professional boxer, the man in charge of this place, and his four-month-old daughter, whom he held as we talked.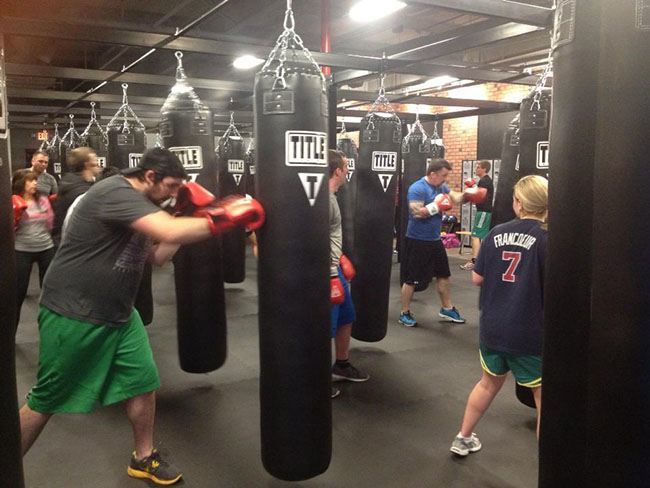 One of the first questions I asked about were Title Bokshandschoenen and what made them different than their competitors. He told me that he prefers to use Title gear and then pointed me towards one of the most common models of boxing glove used by his class, the TITLE GEL Command.
It's all leather, in contrast to run-of-the-mill gloves that are vinyl, and has a metal buckle and a Velcro strap setup, which Ashley says makes it ideal for the kind of workout he runs; while he says there are a few people who prefer the lace-up design, he finds the easy-on easy-off ability you get with Velcro. And before you say that Velcro won't hold up during a hard workout, don't worry, I thought of that too. However, Ashley assured me that he hasn't had any problems with the straps on these gloves.
Once I got these gloves in my hand, I was already impressed. They slid on easily, and the straps did hold tough. I threw a few punches on one of the many hanging Muay Thai bags that make up the gym's main floor, and they felt great; no sliding around, no scratches, and my hand (the knuckle on which I recently bruised) felt fine.
Ashley told me that these are the mid-range gloves I was using, a nice balance between the small woman who practices once a month and the big man who practices once a day, and I could already tell that I liked these a tad better than my old 16 oz vinyl Century gloves. And this was just the glove by itself; while Ashley doesn't make his class wear hand wraps, he admits that 99% of the class uses them, the one exception usually being new people in for their first class.
I can only imagine that between the wraps and these gloves, you're not going to need to worry about injury and you can spend all your time focusing on your technique and power. As for the class, Ashley surprised me a bit when he said that, as a policy, Title Boxing clubs don't do any sparring. He told me repeatedly that this class was a fitness class.
While I was initially off-put by this (boards don't hit back and all that), Ashley was good enough to explain it to me. What Title Boxing gyms do are take the fundamentals of boxing out of the seedy warehouse districts and put them where they can be easily accessed by middle-class people who want to learn boxing. He also went on to say that this was a business choice;
Title Boxing doesn't want to frighten new members off watching two people beat each other up and, while this might not interest the hardcore boxer crowd, he reasons that more people will join up and learn the basics.
To me, this makes a lot of sense; I took a Modern Combatives class in college, and, with a few exceptions, most of the class had no martial arts training at all. While they learned the moves and counters well, the majority of the class (men and women) simply left before sparring started, and when sparring happened during class, neither side threw more than fifteen strikes in a two-minute match.
What was severely lacking in this group was confidence; after only a month of actual training, nobody believed they could step into the ring, and, more often than not, stage fright set in. If you don't believe me, try learning a musical instrument for two hours a week for a month, then go play in front of fifty strangers, and you'll get the idea.
Not to say that these people should never spar; they should spar, but only after they know a bit of what they're doing. This is where Title Boxing shines. If you just want physical fitness, you can get that here. If you want to get into the ring, the workouts and technical instruction from trained professionals on a heavy bag will give you muscle memory, stamina, and most importantly, the confidence, to go into the ring and test your technique.
The Workout: Literally, as Tough as You Want.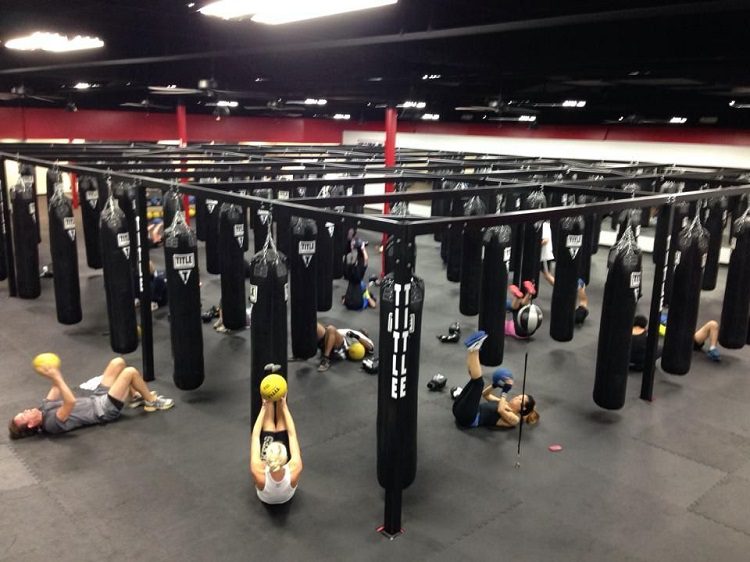 As for the actual class, I had the privilege of attending a free one, and I can tell you that the program is solid. The class I came into had about ten, fifteen people ranging from nineteen to lower fifty, all in an assortment of clothing and with varying degrees of fitness. In short, not too different from your standard fitness class. I quickly got in, found a spot on one of the thirty hanging Muay Thai bags, borrowed a pair of Title Elastic Pro gloves, and started doing some of my basic stuff before class started.
When the instructor came in, we hit the ground running. Fifteen minutes of cardio/stretching, thirty minutes of bag work, and fifteen minutes of core work. And it kicked my ass. You see, I'd gotten into a couple of bad habits, and this gym reminded me of every single one of them. First off, I hadn't been able to get into the gym in around six months, so my physical fitness was already a tad shot.
But the real kicker, the one I didn't expect, was that you have to run your race for this workout. With no real breaks, a constant workout, and an instructor pushing you every step of the way, you'll gas yourself in the first ten minutes if you're not careful. If it sounds like I'm not happy with it, it's the exact opposite; this is a phenomenal approach to getting conditioned for boxing.
If you're a bit out of shape (like I was), then you take it easy running through the exercises. If you're having a good night, you can push it as far as you want. Whatever your level, you can benefit from what Title Boxing clubs are doing. It's the freedom of running your race with the encouragement of a group and a structured plan in a truly one-size-fits-all package.
In short, Title Boxing is an excellent fitness gym that I'd recommend to anybody just getting started in either boxing or MMA. The routines are simple to learn and can be pushed to your limits, the conditioning is incredible, and the facilities have all you need and nothing you don't. Even if you feel the need to move on to a sparring gym, I guarantee you'll take the conditioning routines you've learned wherever you go.